If you want your Android mobile to keep the screen on when charging, these are the steps to activate this function
The developer options on our Android mobile give us access to a series of additional functions. These are functions that allow us to make better use of the telephone, or to personalize various aspects of it. One of those options is to keep the phone screen on when charging.
When we charge our Android phone, the screen remains off during this process. There are users who would like to keep it on and thanks to the developer options this is possible. The steps to do it are very simple.
Keep Android screen on when charging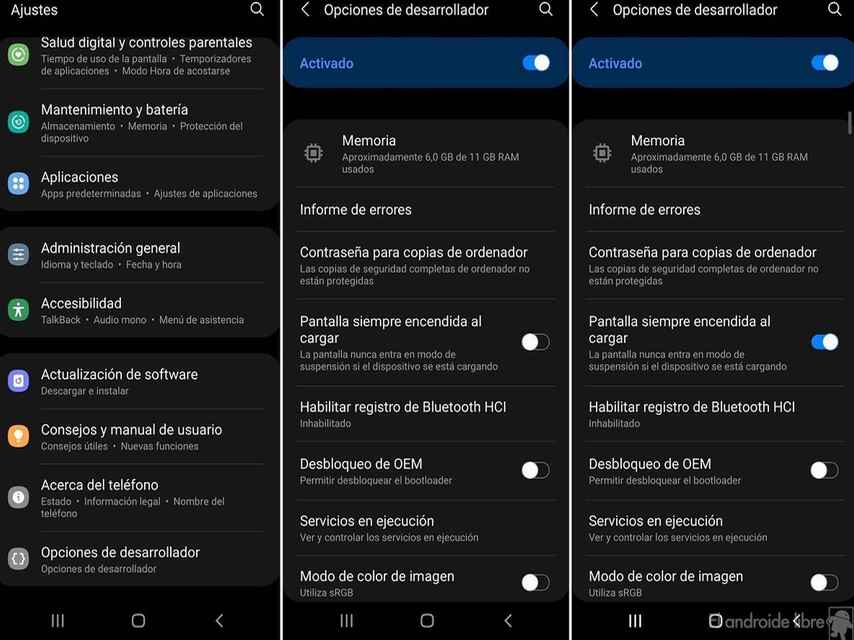 Most Android phones have this option available, as long as the developer options were activated in it first. This is something that we already know, because you have to press several times on the compilation number of the mobile in the About phone section.
The way to activate these options is practically the same on any mobile that uses this operating system. Once activated, we can see that there are a huge number of functions available that we can use on our phone. To activate this function we have to follow these steps:
Go to the Device information section in the settings.

Scroll down to Build Number.

Press several times until the developer options have been activated (about seven times).

Exit this section and return to settings.

You will see that there is a new section called Developer Options.

Enter this section.

Look for the "Always-on display when charging" option.

Activate this option.
With these steps, this option is already activated on our Android smartphone. When we put it to charge the next time, the screen will stay on for as long as the phone will be connected to the charger. This will be both with a normal charger and if you are using wireless charging to charge the device.