If you want the navigation gestures on your Samsung mobile to work faster, you can improve its sensitivity on the screen.
Many users in Spain with a Samsung phone use the navigation gestures instead of the navigation buttons. Moving on the phone using gestures is something that for many is more comfortable, although the result is not always the desired one, because the screen does not always respond well.
Increasing the sensitivity of these gestures is something we can do, because it is a very simple way that they will work better on our Samsung mobile. We thus make sure that the screen detects each gesture we have made.
Increase the sensitivity of gestures on Samsung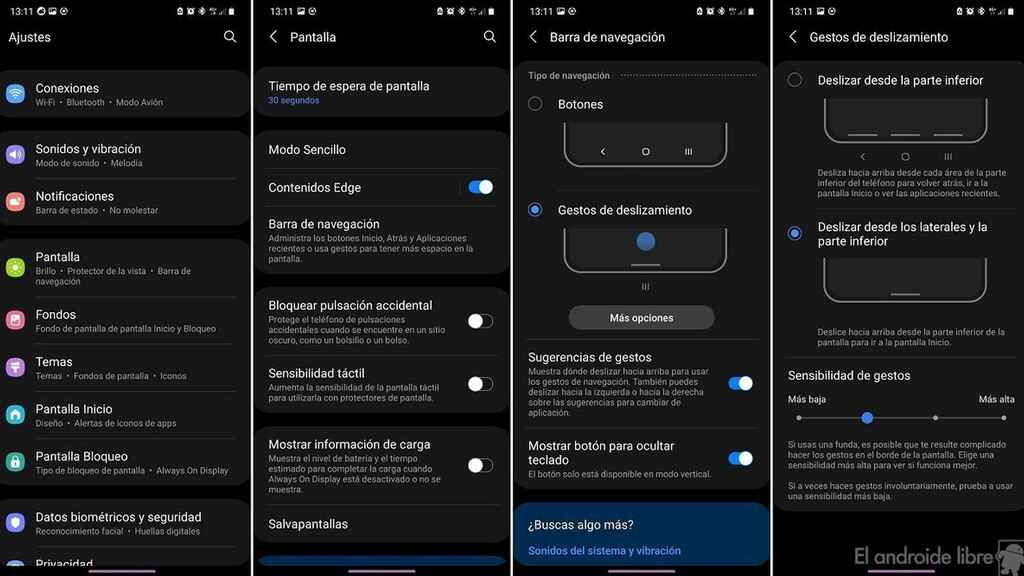 Samsung has one of the few customization layers that allows users to adjust the sensitivity of these navigation gestures . This is something that will make each user adjust them to their liking or need, depending on the response of their screen. It is undoubtedly a very comfortable option, which users with Android 11 and One UI 3.1 can enjoy now.
If you have a Galaxy phone that has already updated to Android 11 and you have the latest version of the brand's customization layer, you will be able to use this feature now. The steps to activate it are:
Open your phone settings.

Go to the Screen section.

Scroll down to the Navigation bar section.

Go to More options.

Go to the Gesture sensitivity option.

Move that sensitivity on the bar.
This function can be especially helpful for those users with a Samsung mobile who use a case on it. When using a cover it is common for the sensitivity of the screen in the corners to be somewhat lower , so it does not always detect gestures correctly.
If you use a cover, increasing the sensitivity of the gestures will allow the screen to better detect at all times whether you are making a gesture or not. So you can have a better use of the phone with these gestures, without having to use the navigation buttons.