If you want to hide applications on Android so that someone cannot see them, discover the ways there are to do this on your phone.
There are times when we want to keep some things on our Android phone private. This assumes that there are files that we want to hide, but this is something that also extends to applications . It is likely that there are some applications that are not visible, so we look for a way to hide them.
In Android we can hide applications , although we have to resort to third parties, because the operating system does not have a function that makes this possible natively. Luckily, there are launchers that make this possible on a phone. Also, some customization layers have such an option.
Samsung One UI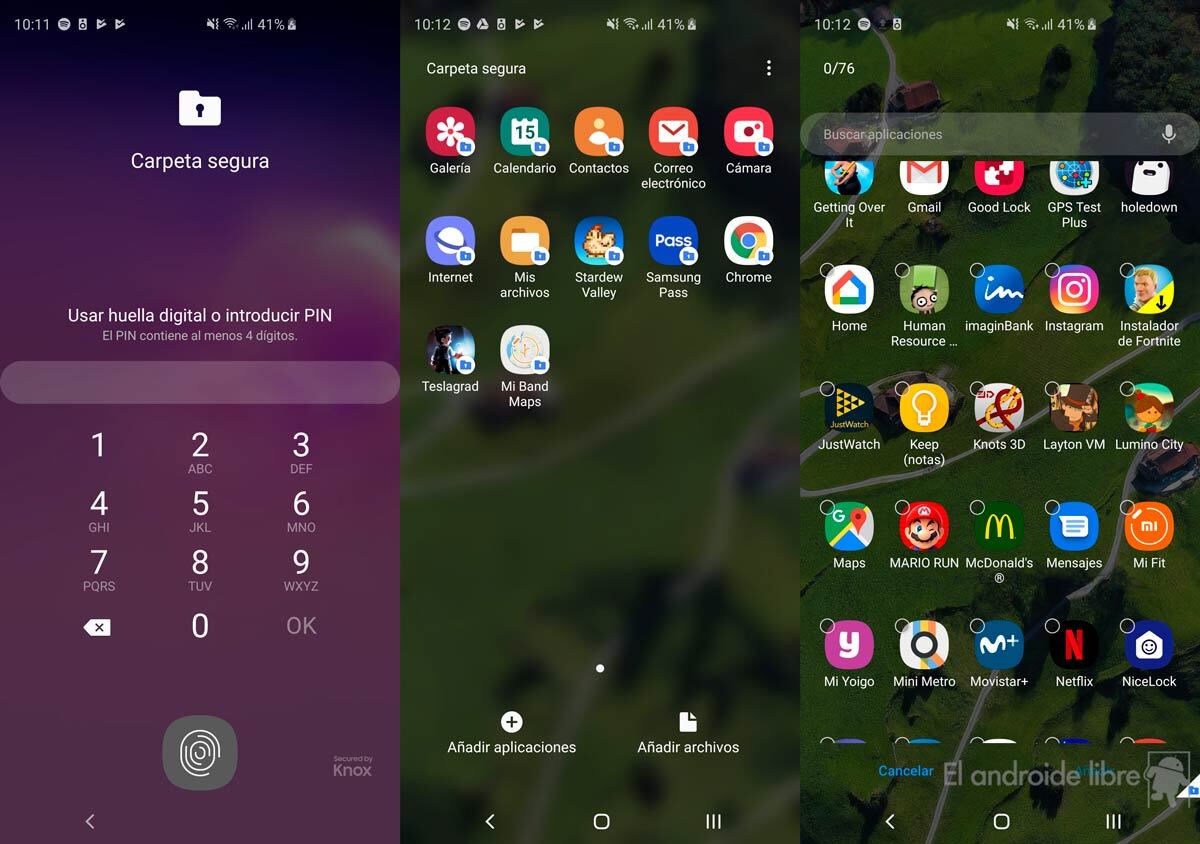 The current customization layer for Samsung phones has a feature that allows you to hide or protect applications on the phone. This function makes only the owners of the phone have access or can use these applications. In addition to allowing you to hide those that you do not want other people to see on the phone, as we already told you about this function . The way to hide apps in One UI is as follows:
Hold down on a desktop to display the configuration options.

Go to «Home 

screen settings

 «, the icon located at the bottom right.

Scroll down to " 

Hide applications

 ".

Add the apps you want to hide and the mobile will no longer show them among the available applications.
This method allows these applications to be hidden from other people . Although if the user wants it, he can access them, since it is enough to search for them to see them on the phone. But if someone enters the device, they will see that they are hidden.
Hide apps using launchers
The other main option that we can resort to to hide applications on Android is to use a launcher . The launchers that we can install on a phone usually have this option to hide applications, so in general it will be possible to do this on them. We show you the way in which this is possible in some of the most popular launchers that we can use on an Android phone.
Nova Launcher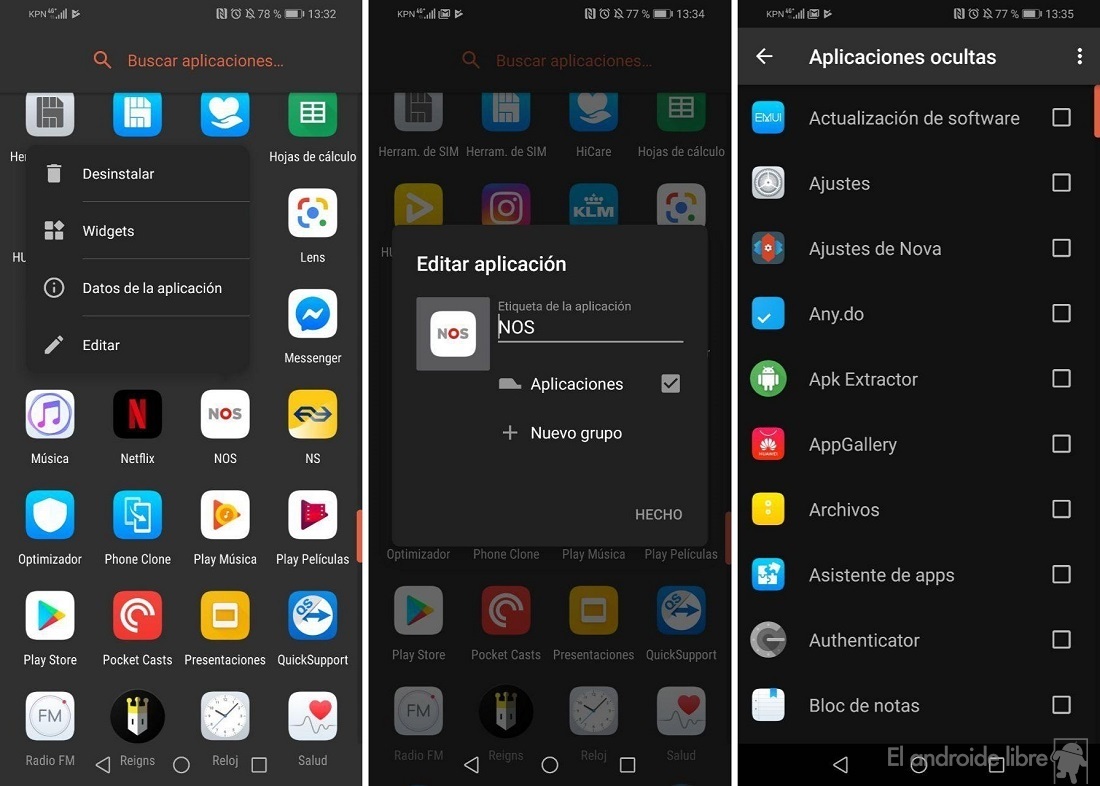 Nova Launcher is one of the best known on Android and of course has the option to hide applications . This function is very easy to use, it can be done directly in the app drawer on the phone, by following these steps. It should be mentioned that this function is available only in the paid version of this launcher.
Long press on the application you want to hide.

Click on the edit option.

Uncheck the apps tab.

Click on Done.
The application is hidden in this way, it is no longer visible in the application drawer on the phone. Although it is still installed and we can use it normally as before, only that at first glance it is as if it was not already on the device, which is exactly what we were looking for.
We can also access from the Nova Launcher settings, entering the Application drawer section and there we have the option to hide applications. We can see which ones are blocked, in addition to marking new ones so that they will be hidden on the phone. So it is another possible method to use.
Action Launcher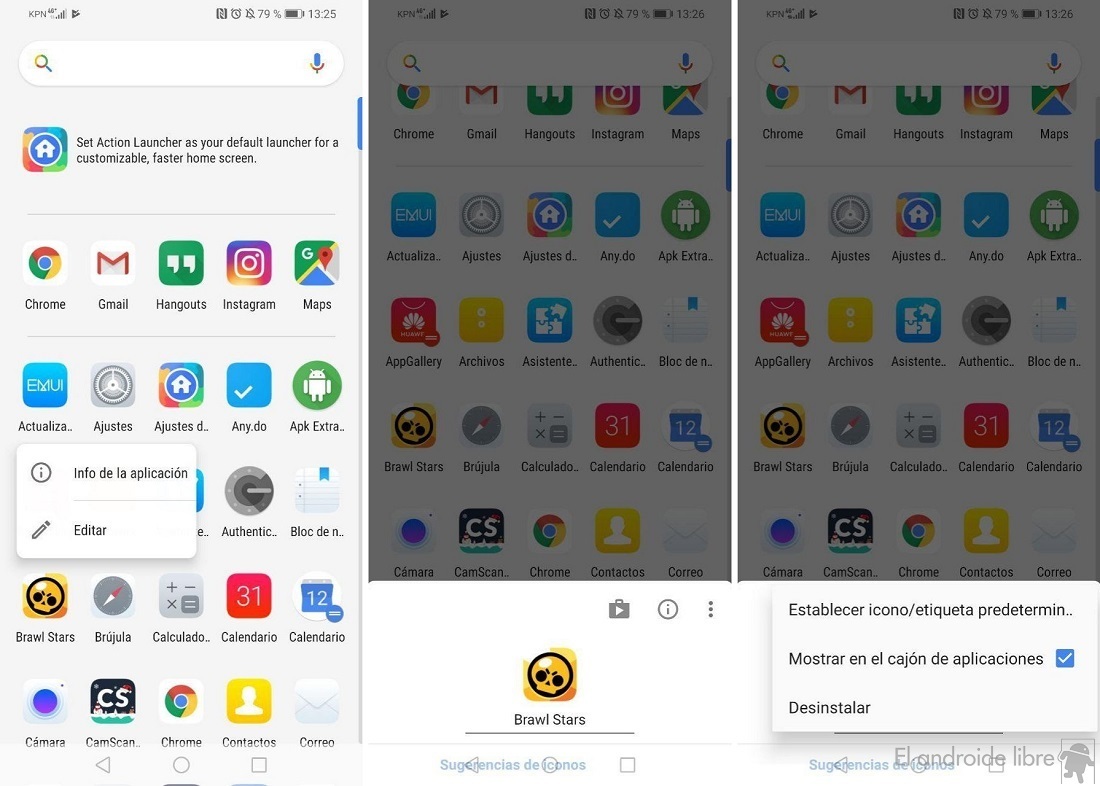 Another of the best known that we find in Android, which also provides the function of hiding applications on the phone. The operation in this case is also quite simple, it actually resembles what we had to do in the case of Nova Launcher. So it doesn't present too many complications:
Press and hold on the application to hide.

Click on the edit option.

Click on the three vertical dots (menu option).

Uncheck the Show in app drawer option.
Again, the application stops showing in the phone's application drawer , but it is still installed and working normally as before. Only with the naked eye we will not be able to see it, nor will other people who have access to the phone be able to see it either.
Evie Launcher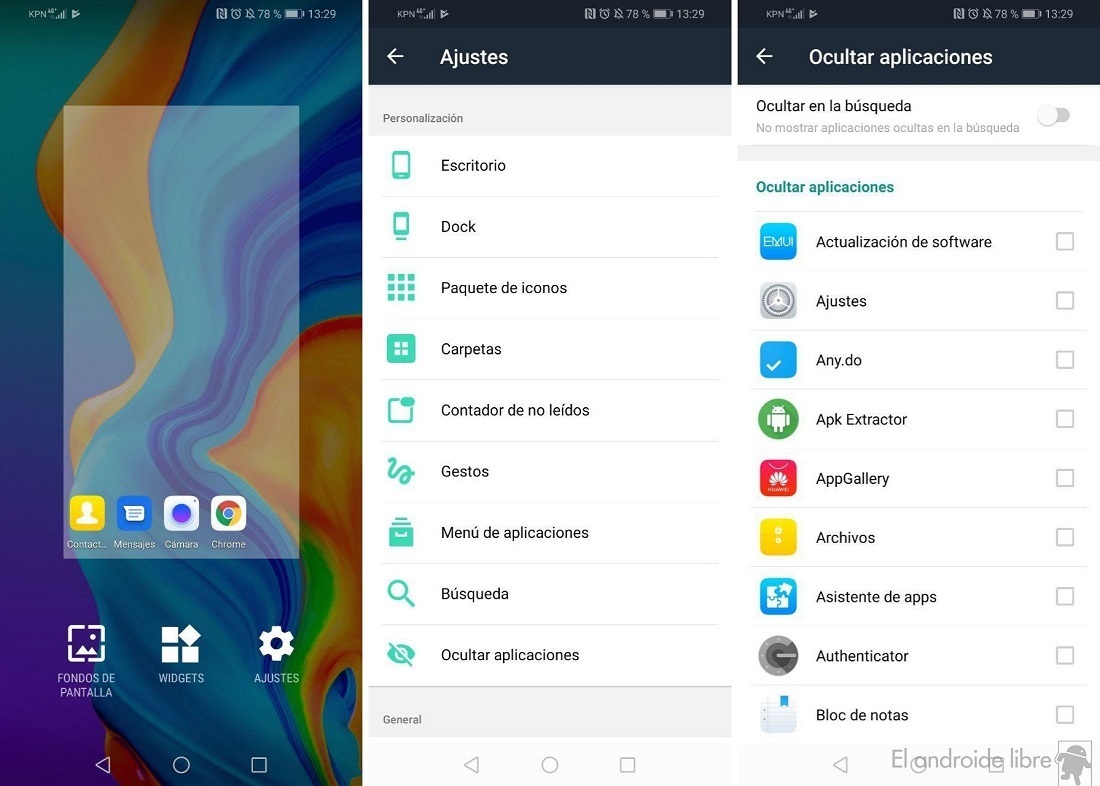 Evie Launcher has been making a gap between Android users, thanks to the fact that it is very light , but it gives us many functions. One of the functions that are present in it is to hide applications. It is not complicated to use this function, so if you use this launcher, you can use it whenever you see fit:
Long press somewhere empty on the home screen.

Enter the launcher settings.

Go to the Hide applications option.

Check the apps you want to hide.
When this is done, none of the apps will show up in the app drawer anymore. If at a certain point we change our mind, we can make them show up on the phone again, following the same steps as before.