The main objective of making the applications (their icons) invisible on Android is that only you, as the owner of the phone, know of their existence and can open them.
The idea is to make the shortcuts of your applications invisible on the desktop or main screen. Those shortcuts will actually be there, but they won't be visible (you'll need to remember their position on the screen to tap them and open the apps).
How to make invisible icons on Android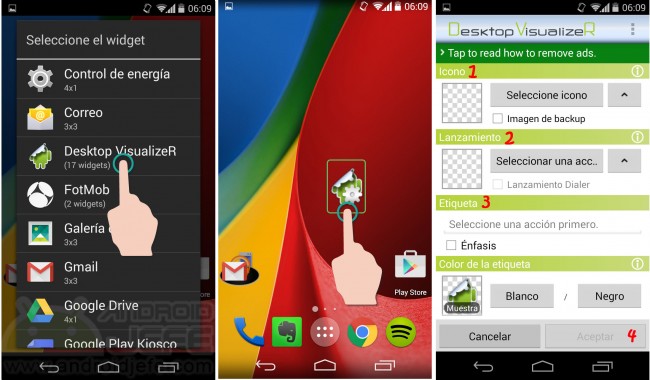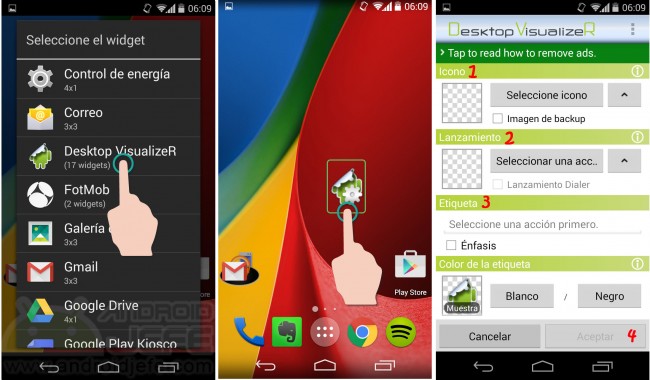 Put invisible icons on Android desktop
Install Desktop Visualizer.
Open the widget screen. Commonly you have to hold on an empty area on the main screen and tap on "Widgets".
Add the Desktop Visualizer widget (1 × 1) to the home screen. Press and hold on it and release it when the desktop appears. Remember your position on the screen to know where you are when you are invisible!
Tap on the widget created to configure it.
The following parameters are chosen on the widget configuration screen:
In Icon : Select icon > Others > None
In Launch : Select an action > Launch applications > "XXX" application
Under Label : A trash can will appear. Tap on it to delete the application name
Finally touch on the OK button
The widget will no longer be seen, but tapping on the position it was in will open the configured application.

Once the application is invisible on the desktop, you must also hide it in the applications menu so that it cannot be accessed from there. In this case you must go to the apps menu of your cell phone and look for a menu button that allows you to enter its settings and look for the option "Hide apps". In case you can't find it, install a launcher that does offer this option. The one shown above in the illustration is ADW Launcher 2. In our article on Hide Android apps you can find other launchers and the exact steps to hide.
They are not completely invisible
The only downside to the suggested solution is that the apps will continue to appear in the system app manager (Settings). So that they do not appear there, the alternative is to isolate them within another application. That is the job that Folder Safe does on the Samsung Galaxy. Parallel Space could also be used for the same purpose, although its purpose is different.
How to HIDE Android apps
The ultimate solution to an icon-filled home screen
How to HIDE contacts on Android
Receive updates: SUBSCRIBE by email and join 10,000+ readers. Follow this blog on Facebook and Twitter.