APK files have some technical information "hidden" in their source code that is usually difficult to know. But a small program for Windows easily obtains this data in one click.
This is the APK Info software . It is an excellent portable tool that allows you to extract the real information from an APK, whether you have downloaded it from the Internet or extracted it from Google Play . This way you won't be an easy victim of some malicious APK published out there, which may have a harmless or misleading file name. You can also find out on which devices that application works well.
APK info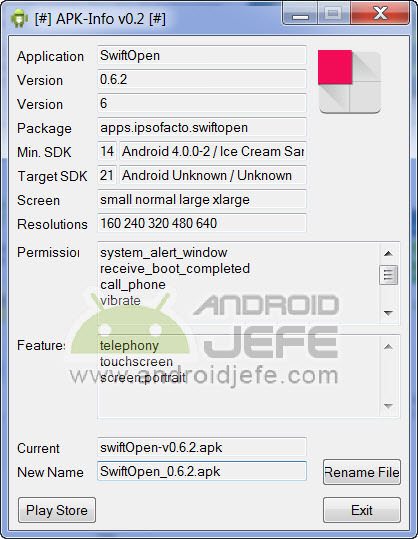 Among other things, APK info offers certain important details such as the permissions required by the application, the characteristics and the name of the package. This is the actual data from the application, apparently extracted from its source code, which gives a slightly clearer idea of ​​the purpose of the application. The file name can say one thing, but APK info can get the real name of the APK (package) to avoid falling victim to a hoax.
APK info allows you to see details such as the Min. SDK, which is the minimum version of Android that requires the APK to be installed. Also the Target SDK ( the ideal version of Android for all the features of the application to work), the version of the app and the screen sizes and resolutions in which it works well. Additionally, it offers a button to view the app on Google Play (if it exists in the store) and an option to change the name of the file (not the package).
You can download the APK info .exe file from the XDA Developers forums here. Its operation is simple. Just open the tool on your Windows PC with a double click, locate and choose the APK file on your PC and you're done.
It is always important to get APK files from sources that you think are safe. If you don't know the reputation of the website where you are going to download an APK, it is best not to do it because you may get a malicious file instead. APK info can help you determine what that APK file hides behind, but even that data it gets can be manipulated by an unscrupulous programmer.
How to disable Android security to install APKs
How to install an APK from or «on» the PC
How to install and use Archon Custom Runtime (run APK on Chrome PC)
Receive updates: SUBSCRIBE by email and join 10,000+ readers. Follow this blog on Facebook and Twitter.