It is extremely important for a DJ to have the music he is going to mix organized in advance. Generally, music is usually sorted by folders based on the criteria of the DJ (by genre is the most typical and recommended), but this form of organization is not recognized by the DJAY 2 Android mixing application (speaking of the music stored in the mobile memory only, not Spotify memory). If you are going to use this application, the solution is to create playlists from those music folders.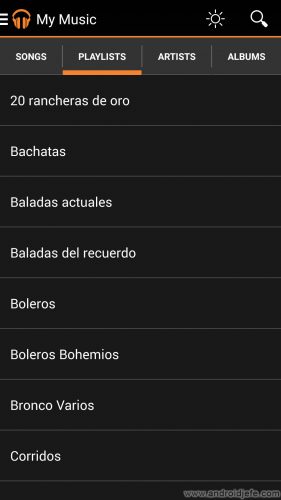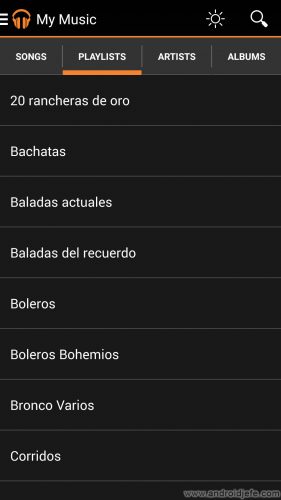 Playlists available in DJAY 2 for Android (local music)
The DJAY 2 music mixing app can recognize and display playlists or playlists, but sadly it doesn't have an option to create them. The alternative is to create the playlists with another application (a music player) so that DJAY 2 can later recognize them.
Any music player for Android with support for playlists can work, but one of the recommended ones is PlayerPro Music Player because this player offers the option of displaying songs by folders, which is how the DJ is probably going to have the music organized. In this application, each music folder can be easily converted into a playlist as follows: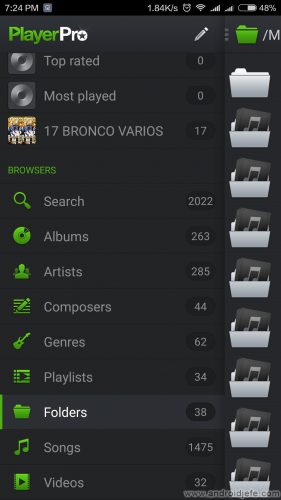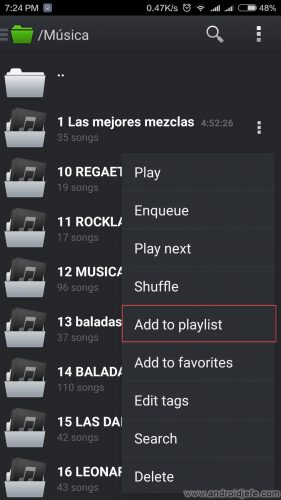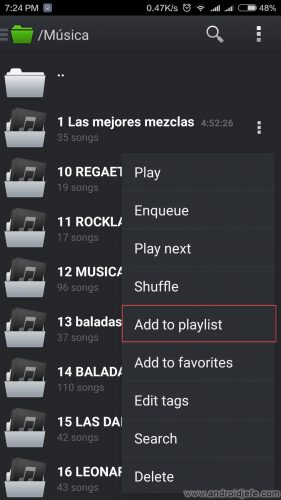 Slide the left side menu of PlayerPro and tap on "Folders" (if the music folders stored in the cell phone memory do not appear, you will have to locate the directory where they are stored).
To the right of the desired folder touch the three dot button and then touch "Add to Playlist".
On the next screen tap on "New Playlist".
Finally, give the playlist a name and tap "Save".
After creating the playlist (s) it will only be a matter of going to the DJAY 2 application and waiting for them to appear in the playlists tab (inside the «My Music» library). If they don't appear, close DJAY 2 and reopen.
In the event that the playlists still do not appear in DJAY 2, the solution will be to install and open the Google Play Music application, go to the Playlists tab and wait for them to appear there. This will activate and force the appearance of the playlists in DJAY 2 definitively (restart the DJAY 2 app if not).
Download PlayerPro Music Player Trial : Link (Google Play)
Download Google Play Music : Link (Google Play)
Download DJAY 2 : Link (Google Play)
With Sound Assistant you can mix music from YouTube or other apps (Samsung)
Use this APP to mix Spotify music like a DJ
3 players to MIX songs automatically (Crossfader)
Receive updates: SUBSCRIBE by email and join 10,000+ readers. Follow this blog on Facebook and Twitter.