Google Maps offers more than just maps, StreetView and navigation. Especially during the holiday season, the interactive map service with its large data collection can offer more help than you might expect. We show you a few tips that make Google Maps a great travel and everyday companion.
Google Maps while traveling is a great help. In addition to the increasingly accurate map material for navigation, real-time traffic data for traffic jam avoidance and street view photos for finding your AirBnB apartment, the map service offers even more functions. Many of them are not very obvious, but are sometimes extremely worthwhile.
So that you can use Google Maps with all its data, you should have a data connection. Google Maps can be used offline , but some of the following functions are then not available. While data roaming in the EU is now largely possible without additional costs , the purchase of a travel SIM may be worthwhile when traveling overseas . We had good experience with DrimSIM , but there are of course alternatives.
Less queues for attractions
Do you really want to go to the wax museum and then to the Anne Frank House? So that you don't have to queue twice for four hours and the plan doesn't work out, you can use Google Maps to find out when the queue is shortest. Google constantly counts how many people are in an area and accordingly has the data ready. So use them!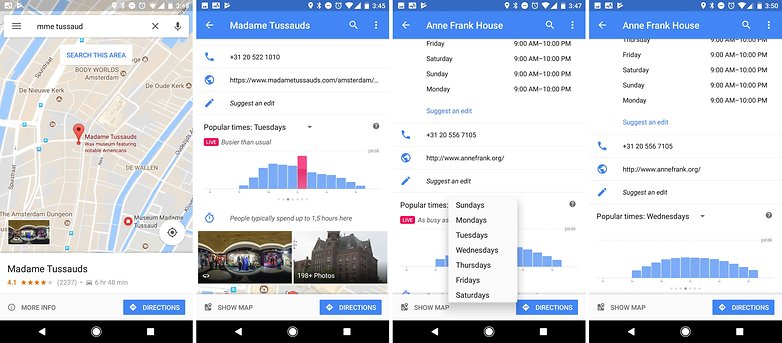 The graph shows a lot: You know immediately how long guests usually stay in the attraction. So you can estimate whether it might still be worth hiring at 6 p.m. You can also see the days of the week in comparison. If you are in Amsterdam for several days, you should visit the Anne Frank House on Wednesday morning if possible.
Let your friends know when you arrive by countdown
Are you traveling to a friend by car? Then let him know when you are about to arrive – the modern way. Instead of constantly calling or being called while driving, you can entrust this task to Google Maps.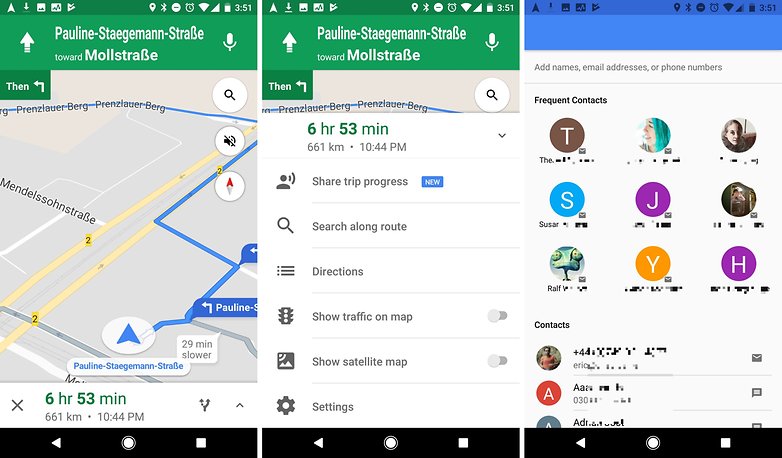 Tap on the remaining time at the bottom of the navigation image. Typed there on the newly selected entry as share track progress . Then selects a user from the address book or by phone number or email address. Your friend on the other hand can keep track of your position until you arrive.
Your acquaintance can regularly check whether something changes in your arrival time. Google uses traffic data and can also accurately predict when you will arrive in the event of a traffic jam. If traffic jams occur on the way, Google Maps will automatically guide you around them if possible .
Are you planning a trip with or for friends and want to discuss the route together? Then she plans; on your smartphone or computer with all intermediate destinations, send them from your PC to your smartphone or share the route with your friends.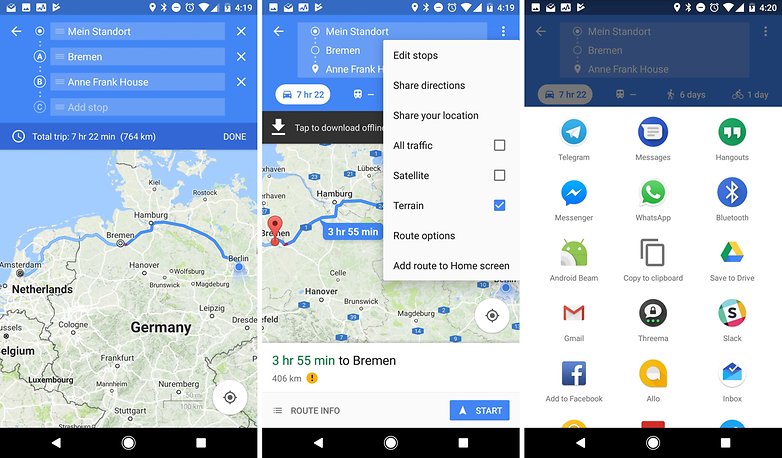 Typed it next to the destination entry, add a stopover , adds more cities or addresses to and exchanges the goals at will among themselves. Then you tap on share directions , select the app and send the link to your friends.
Find nearby attractions
With Google Maps you can not only explore your surroundings for restaurants or a place to sleep, but you can also see sights. The easiest way to do this is to enter the keyword sights in the search bar at the top . You can then filter whether they should currently be open, how well they are rated and sort by relevance and distance.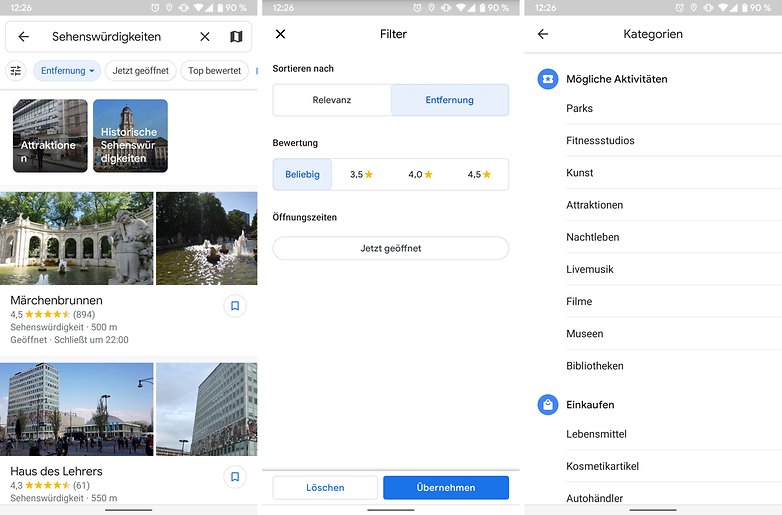 If you scroll down a bit in the list, you can also have special historical sights or, in a more general sense, simply display nearby attractions. Are you not looking nearby, but somewhere else, for example where you will travel later? Then tap on the map, move to the right place on it and tap on the button Search in this area .
Isn't it a route but are it individual places that you want to recommend to your friends? You can sort these in lists and share them with friends. They will thank you if you have already selected the best restaurants and bars for them.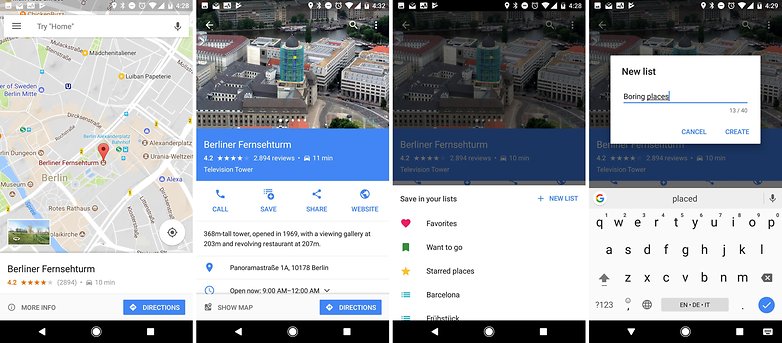 So first you have to find the places on Google Maps and save them in a list. You can then share this list with your friends to look at. You can even make it completely public so that it can also be found in Google search.

The way to the lists leads via the first entry in the main menu called My Places> Saved> Your List and there either on the share symbol or in the menu on sharing options . The former shares the link to the list via app, the latter releases the list so that it could theoretically also be found via Google search.
Repairs the compass
Sometimes Google Maps doesn't know where the front and back are. If the blue funnel at your location, i.e. the replacement for the compass needle, points out in the wrong direction again, only a roller coaster ride helps. That sounds strange and looks like it. Draw eighths in the air with your smartphone until the assistant is satisfied. Sometimes it takes a whole minute, but it works.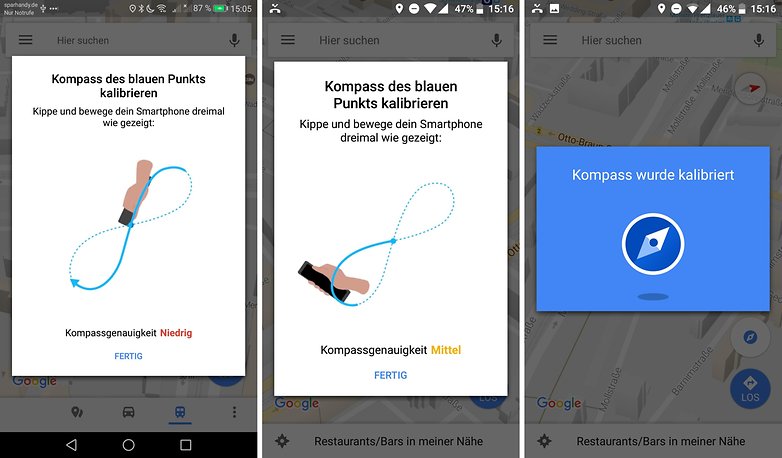 Always arrives on time
Do you have an appointment? Then use the synergy of Google Maps and Google Calendar. Also enter the address in the calendar appointment. This is synchronized via Google Assistant or Now cards between calendars and maps as well as via smartphones and smartwatches.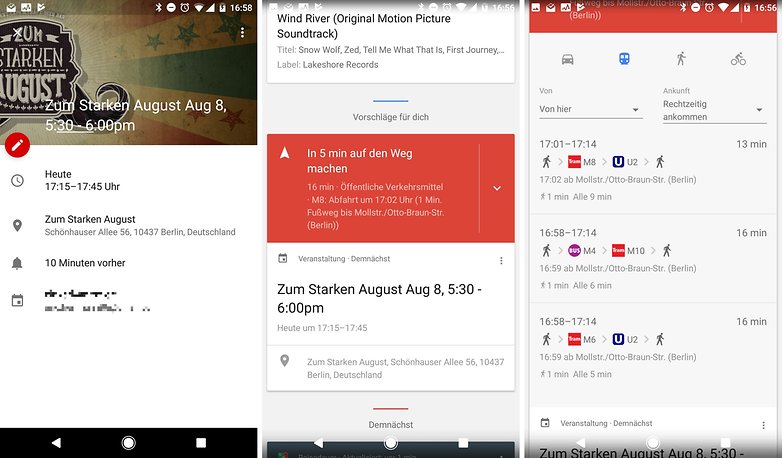 If you have an Android Wear watch on your wrist, it will remind you of the appointment by vibration. On the smartphone you can see a corresponding map in the Google app. This will show you how to get to the appointment. If there is a lot of traffic on the streets that day, the artificial intelligence advises you to start earlier. You will always be warned in time.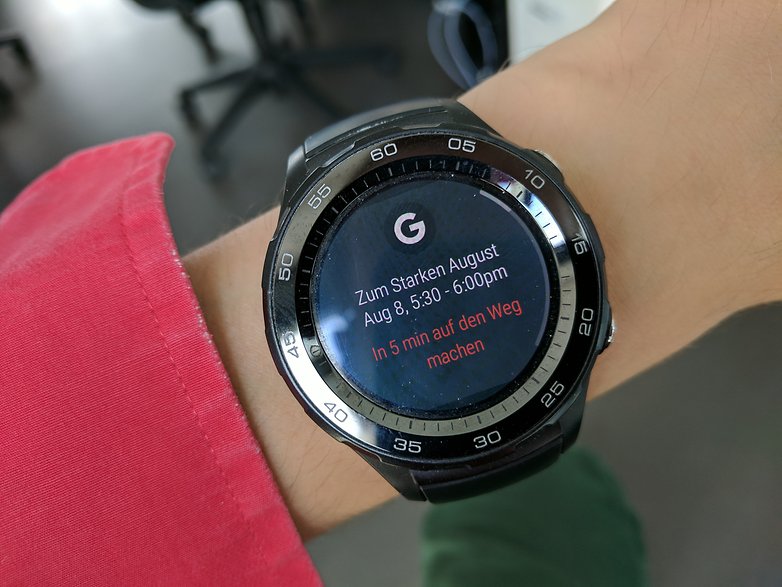 If you set up a daily appointment for your commute to work, Google will tell you the fastest route to work each day. So if a construction site opens or closes, a road is closed or there is an accident on your route, you won't be surprised. Google collects the necessary data on the route itself using the connected Android devices, so it is as fast as traffic services like the Traffic Message Channel .
Conclusion
Be it on a trip, in everyday life or for planning with friends: Google Maps offers many tools to get through the world faster or more comfortably. If you use the data services willingly, there are even synergies between the individual apps and devices. Maps become more than just a map , but a real servant, information provider and a small gain in quality of life.