Many are looking for "Antivirus for Android". Even if there are no "viruses" for Android, malware protection apps are sometimes useful. In which cases they are worthwhile and how they can help, we show you here. The German service provider AV-Test regularly checks several candidates for their effectiveness. A free anti-malware app always comes flawlessly through the test that we want to present to you here.
The question: "Are Android virus scanners useful?" is posed again and again because smartphones have become as attractive to attackers as Windows computers. But unlike Windows, Android does not actually allow malware in the form of "viruses". If you get a warning in the style, it is probably scareware or shock advertising, which you can safely ignore by pressing the back button.
If you occasionally get apps outside of the Play Store, you should still protect yourself from malware. An app like the AV-Test that Sophos Antivirus has found to be effective warns against malicious code in downloaded apps before it is executed and may become irretrievably embedded in your smartphone. Prevention is the only sensible form of anti-malware apps for Android.
Once your device is infected, a malware scanner for Android can only help you to identify the form of the malware: what data could it read out and send, what costs? To remove the malware, you can and must do it yourself. Because even anti-malware apps are not allowed to remove the harmful app themselves due to the regulations of the operating system.
Sophos Free Antivirus and Security: free and useful anti malware for Android
Sophos is one of the best security apps for Android. In addition to perfect protection, it offers most additional features. The highlight: the app is free. Malware protection is based on an online database that also checks the reputation of individual apps and recommends alternatives.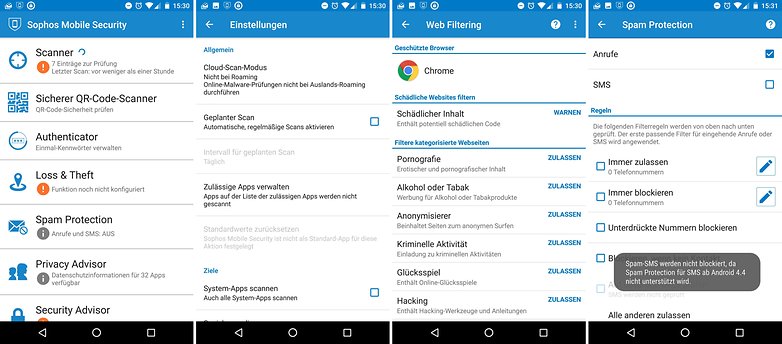 Android 6.0 Marshmallow and newer users can finally use web filtering again. This is used to prevent malware when surfing on mobile websites. Attempts to defraud by misleading advertising can thus be prevented.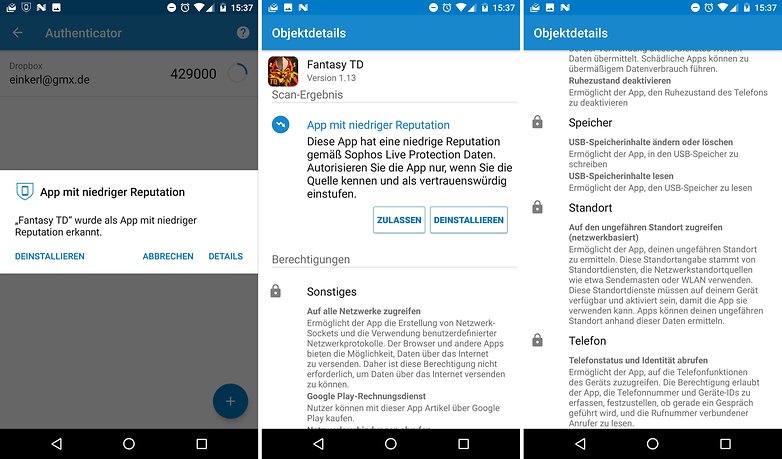 Theft protection is also well thought out. It allows you to remotely control your smartphone via SMS from other phone numbers that you specify. Parental controls, call blockers and device encryption complete the package.
The app specializes in security and dispenses with unnecessary boosting or optimization functions . This makes it more popular with many of its users than CM Security or 360 Security. Sophos is most likely to convince us too.