DuOS is a new software for PC, which allows you to install Android on Windows 7, 8 and 8.1. It is an .EXE file that is installed like any other program on the computer. When you open this program, you will have an Android tablet on the screen, where you can do almost everything you would do with a real Android tablet: install and use applications as well as explore the functions of the system.
Owned by renowned hardware / software brand American Megatrends Inc.  (AMI), DuOS works on tablets, laptops, and desktop PCs running Windows 7, 8, and 8.1. Although it is optimized to work on touch computers (it is perfect for Windows tablets), it can be easily operated with the mouse and keyboard of a laptop or desktop .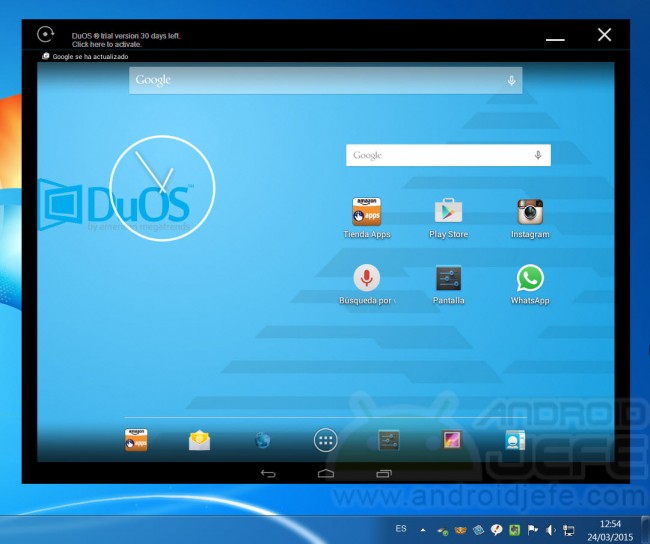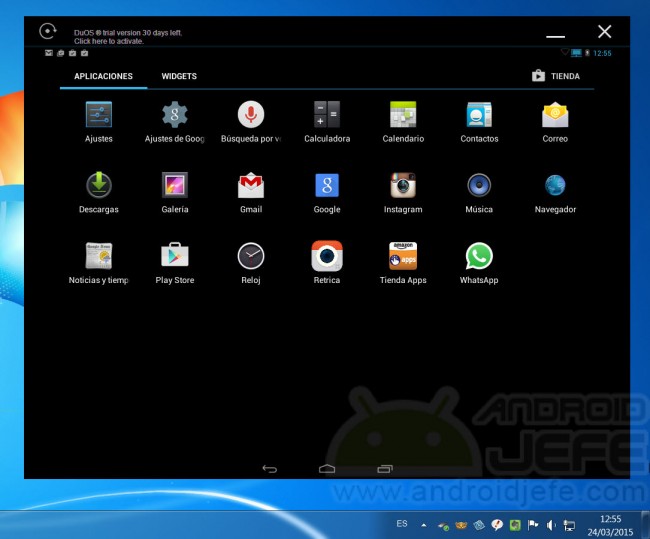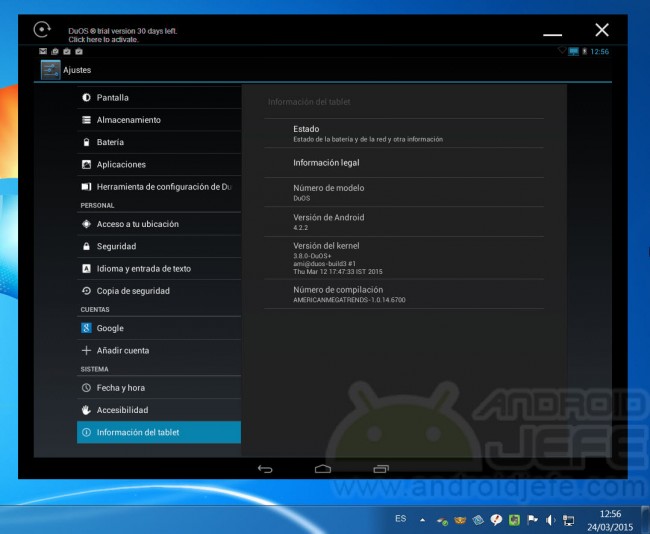 DuOS has a really remarkable fluidity as an Android emulator for PC, probably because it works using the PC's own architecture (x86). Although it does not come by default with the Play Store and Google Apps, they can be easily installed, it allows to activate the Root mode in one click, use shared folders between Android and Windows, it has microSD support among other interesting functions.
The best Android EMULATOR for Windows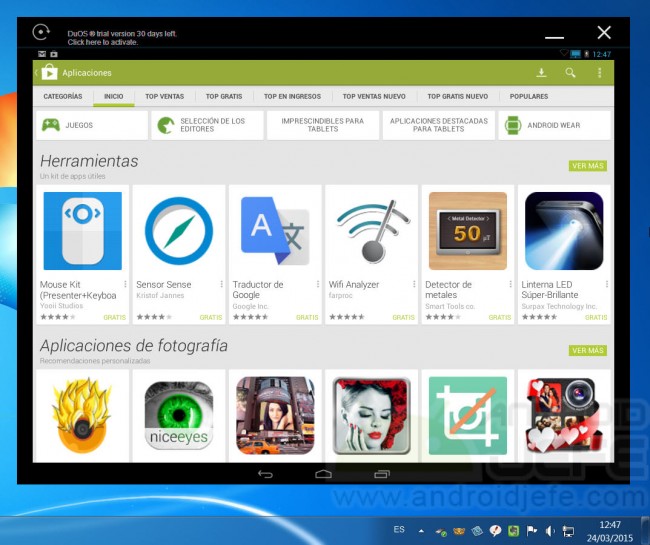 Download and Install DuOS
The .EXE installer is downloaded from www.amiduos.com and installed like any other program. But, so that there are no problems and the software works correctly, it is important to meet the following requirements:
Requirements
Windows 7/8 / 8.1 32 or 64 bit
2GB minimum RAM memory (recommended 3GB)
2GB free hard drive space
Intel X86 processor (Pentium II / III / IV / D, Core 2 Duo / Quad, Core i3 / i5 / i7)
Open GL 3.0 or higher version
Virtualization supported and activated in BIOS
All necessary information about installing the program, installation of APKs and Google Play Store, among other things, can be found on the support page of the developer: amiduos.com/support . Some information about it is added at the foot of this article.
This Android simulator can be used for free for 30 days. To continue using it later, you can buy the program with a single payment of $ 10. The version it uses is Android Jelly Bean 4.2.2, but the developers claim to be working on an update to Android 5 Lollipop.
Conclusion
As for performance and fluidity, DuOS is really good. In this sense, leaving aside the cost it has, it is a great alternative to the Andy emulator. It is very easy to install APKs and Google Apps (included here in the Play Store). It even allows you to configure shared folders with Windows very easily from the DuOS configuration tool (option that is within the Android Settings). It works very well with peripherals such as mouse and keyboard and even with the microphone, in case you want to search Google Now, for example. When the update to Lollipop arrives, the investment in this software is really recommended for those who want to install Android on their tablet or PC, without having to resort to a complex native installation.
«Andy», Android Emulator for Windows: Requirements and Tutorial
Annexes
About the requirements
The first four numerals can be easily seen from the Control Panel , System option , and from the My Computer option . For number five and six, the most practical thing is to install the OpenGL Extensions Viewer  or GPU Caps Viewer program (either one to see the OpenGL version) and Securable ,  Intel Processor Identification Utility  or CPU-Z (any of the three to verify if the CPU supports virtualization technology).
In case you have an old version of OpenGL, the solution is to update the graphics card driver.
If the processor supports virtualization, this feature must be enabled. For this you have to turn off the PC and turn it on in the BIOS "mode"  . This is commonly done by pressing the F2, F8, Delete, or Enter key (depending on the manufacturer) during startup, when the system logo appears. Within sought an option that says something like virtualization  and Intel Virtualization Technology and active (leave enable ). In the BIOS this option can be under the menu System settings , Advanced or Security .
Install Play Store, Google Apps and APK
The installation of Google Apps (where the Play Store is included) is detailed in  amiduos.com/support/knowledge-base/article/installing-google-apps . The gapps-jb-20130812-signed.zip file  offered there is downloaded . Right-click on it and use the Apply to DuOS option . To install APKs, the exact same thing is done: click on the APK downloaded in Windows and use the Apply to DuOS option .
Root mode, full screen and shared folders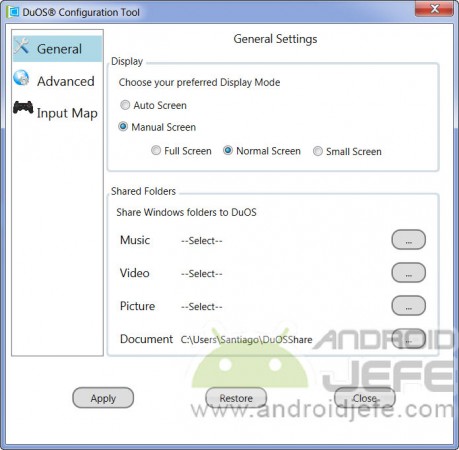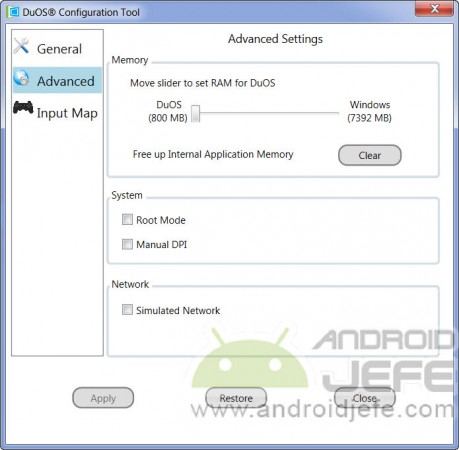 In duets, click on Android settings ( Settings ) and choose Configuration Tool Duos . There you can activate root mode, deactivate the full screen (choose Manual Screen >  Small Screen ) and choose the folders to be shared between Android and Windows.
Important : Apparently DuOS allows you to configure a control or joystick for games, through the Input Map option , but when activating this option the program may crash and not open again. Consider this before activating this feature.
DuOS Offline Installer
Downloadable from  amiduos.com/downloads . Unfortunately, the download has been removed from the official website.
Alternatives
The Android Android emulator is the first great alternative. BlueStacks, YouWave, and Genymotion are other similar options. Console OS and android-x86.org could be discarded here because they are options to install "natively" on the computer as another operating system (they are not software to install within Windows).
Phoenix OS, an Android system that offers the experience of a PC
Windows shortcuts on Android 5: Ctrl Z, Ctrl Y, Find and Replace
Air Drive: To mount Android as another PC hard drive, without cables [Windows]
Receive updates: SUBSCRIBE by email and join 10,000+ readers. Follow this blog on Facebook and Twitter.