It is not strange that sometimes we find that we need to highlight something that we are seeing on the screen of our Android. Let's quote here a web page where you need to manually highlight a paragraph or phrase, or an image where you need to touch up or edit any detail. An application that allows freehand drawing on the screen can be useful in this case.
The Floating Draw app is designed so that the user can draw freehand on the screen of the Android device. With it you can make lines, geometric figures, and even write freehand text. Anything we can think of to do with the finger of our hand is possible with this application.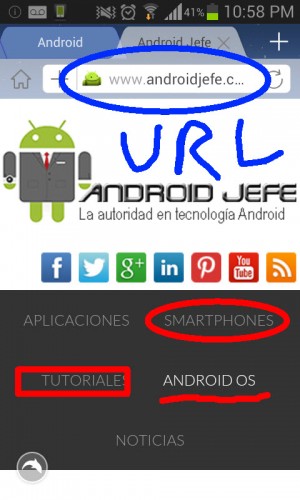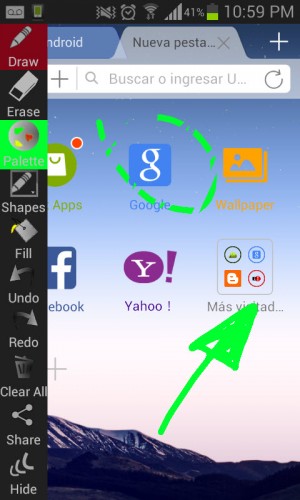 From the left side menu you can choose any of the tools to draw with a pencil, erase, make circles, squares, triangles and lines, fill the entire screen with a single color and also change the color of the scribbles that are drawn.
Once installed, in order for the drawing toolbar to appear on the left side, you must necessarily click on the application shortcut. From then on, only the application's drawing tools will take effect when you touch the screen. If you want to use the device normally again, just press on the Hide option in the side menu at the bottom. If you want to draw on any other application, you must open it and then, from the Android notification bar, open Floating Draw so that the drawing toolbar appears.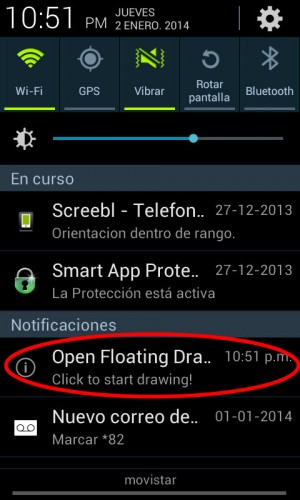 This drawing app offers the same basic tools as Windows Paint, but to draw anything on the Android screen, regardless of the application in which you are working. Once everything necessary is drawn, you can make a screenshot of the screen to save the result.
Floating Draw is an excellent application to highlight things on the mobile screen, ideal for when you want to remember something, or to teach someone else something on the device. The free version allows you to do everything indicated here. The paid version allows you to undo and redo the last changes made to the image.
How to put notes on the cell phone screen
The 3 best APPS to erase imperfections in your photos, body or face
How to capture an entire web page on Android
Receive updates: SUBSCRIBE by email and join 10,000+ readers. Follow this blog on Facebook and Twitter.