The official FIFA 15 "Ultimate Team" game from EA Sports is available for download from the Play Store , totally free for Android. You can get it here. Also the aftermath of the game. That is, FIFA 16, 17 and 18 . We also teach you how to download FIFA without internet on your Android .
EA Sports has done a great job since FIFA 15. Not only because the game has good graphics quality and great gameplay. Also because it works very well on mid-range and even low-end phones. On my Samsung Galaxy S3 mini it runs smoothly and without jamming despite its limited 1GHz processor and 1GB of RAM.
FIFA Soccer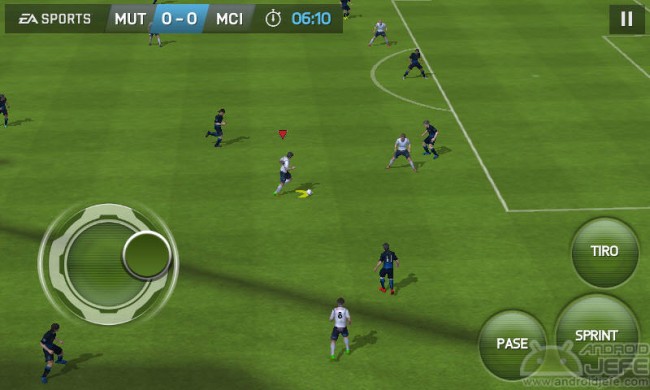 The developer boasts good graphics quality and the truth is that they are quite good, but it is an aspect that is already discussed in Google Play and the images affirm it. What I'd like to highlight is the gameplay and controls. Thanks to that virtual analog stick and the right buttons on the screen, the distraction is totally focused on the game.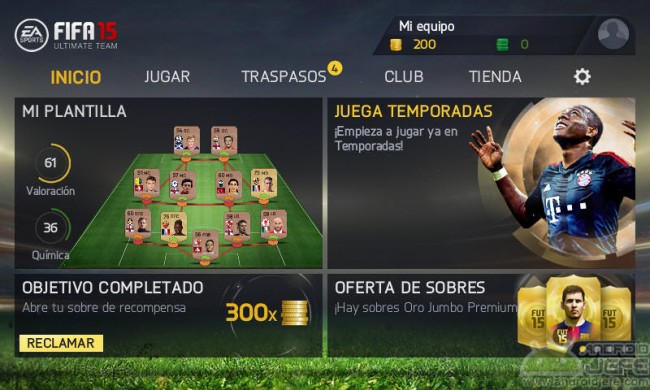 It is worth mentioning that the game is completely in Spanish, so it only remains to download it and start exploring everything it offers.
Download FIFA Soccer from Play Store
In the case of FIFA 15, remember that you must make sure you have at least 1.35 GB of internal memory to install it and Android 2.3.3 as a minimum. The other versions of the game are similar in size. In the Play Store they can only show a few MB in size, but remember that after opening the game you will have to download the "resources", which are actually the largest. Therefore, you must make sure you have an Internet connection after installing it. However, below I explain how to download FIFA WITHOUT the Internet .
Download FIFA 15, FIFA 16 and FIFA 17/18 from the Play Store
ERROR when downloading FIFA: There is not enough space
If you were able to download the game from Google Play and you are already playing it, you can stop reading here. In case you still can't download it due to low memory problem, please pay attention to the following.
Although in Google Play it is mentioned in the details of the game that it requires 1.2 GB of free space in the internal memory (EA recommends 1.35 GB), in my case I have not been able to download and install FIFA 15 from Google Play, despite having up to 1.6 GB of free internal memory.
This is the error message I get after patiently waiting for the 1.2GB game to finish downloading (!):
Error downloading FIFA 15 Ultimate Team. There is not enough space on the device.
I repeat, this error was generated even having 1.6 GB of free space in internal memory.
Solution
The solution I found was to download the FIFA 15 APK from Google Play (using an online tool like downloader-apk.com ) and then manually install this APK on the phone (for this you must previously activate the "Installation of unknown sources" within the option "Security" in Android Settings).
Finally, it was just a matter of opening the game and waiting for it to finish downloading the additional "resources" ("Downloading resources"), which were actually the largest (approximately 1.1 GB). The game's APK was barely 20 MB. This done I was finally able to play FIFA 15 and evade the insufficient space error on the Google Play device . As always, you can make any doubts about it in the comments …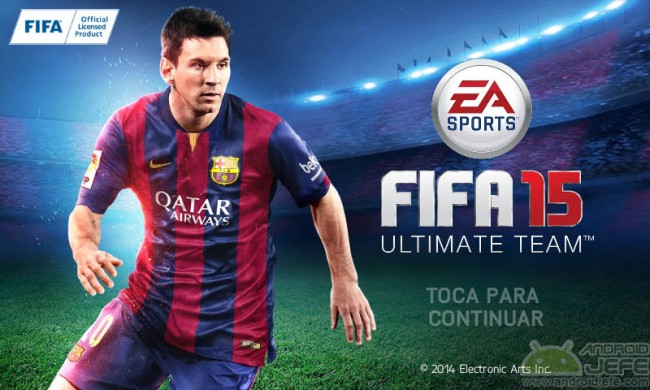 Download FIFA WITHOUT Internet
As I already indicated, after downloading FIFA from the Play Store and opening the game, the resources will be downloaded. But if that causes you problems or you don't have internet connection on your Android, you can download the complete game on the PC. It is an XAPK file (APK + Resource). Then you install it from the PC on the phone using the APK Pure Install program. Here we explain step by step how to do this. The download links for that XAPK (except FIFA 17, 18 as there is no XAPK for this version):
FIFA 15 WITHOUT internet : Link
FIFA 16 WITHOUT internet : Link
The 5 best FOOTBALL applications to know results
How to download games WITHOUT Play Store, WITHOUT internet
Plants vs Zombies 2: Download from Google Play free (+ APK Full)
Receive updates: SUBSCRIBE by email and join 10,000+ readers. Follow this blog on Facebook and Twitter.