Giphy is a website from where you can download free GIFs . It has a huge collection of animated GIFS. The images can be downloaded to share on WhatsApp and other social networks easily.
As this is a web page, Giphy GIFs can be searched and downloaded directly from the Android browser. To download a GIF from Giphy.com, open the image, press and hold it and use the "Download image" option in the same browser .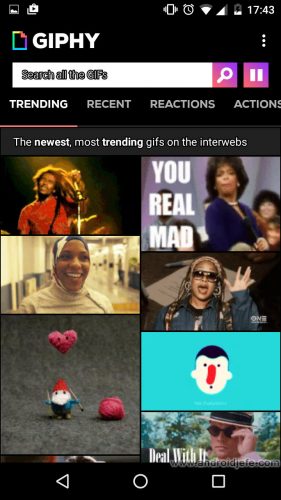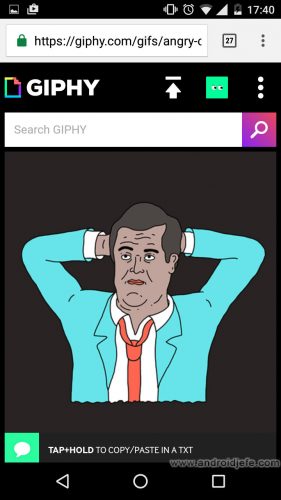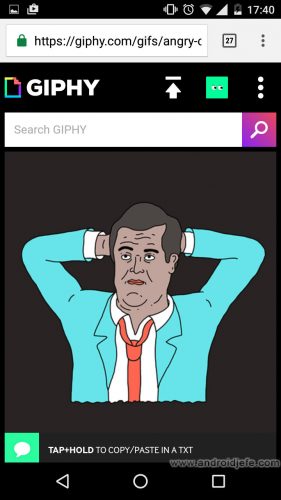 Once downloaded, the GIF can be shared by WhatsApp. This can be done in two ways. The first is from the WhatsApp application. You have to use the "Gallery" option (on the "clip" button) and find the GIF in the memory of the cell phone. The second is to search the GIF directly from the cell phone storage and use the "Share" option of the Android system.
Unfortunately, you cannot share a Giphy GIF by WhatsApp directly from the Android browser. If the Share image option is used (which appears when you press and hold on one) it is not sent as an animated GIF, but only as any static image.
How to download a GIF with Giphy for Android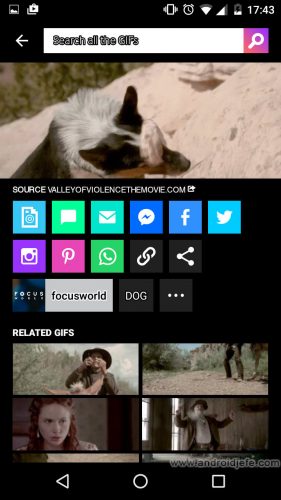 There is also the official Giphy app for Android. In this case, the option to download GIFs is more intuitive. There is a button to download each GIF (a down arrow). GIFs are downloaded to the Giphy folder , which is in internal storage, under the Pictures directory.
Additionally, the app allows you to share a GIF image directly on WhatsApp. Here the button to send by WhatsApp is available. Thanks to this feature you no longer have to download the GIF to share it on WhatsApp. You do it in one step.
The developers seem to have fixed the bugs that this Giphy application for Android had. It no longer has the glitches we found when we first tried it.
Download GIFs for WhatsApp is no longer necessary
Remember that you no longer need to know how to download GIFs for WhatsApp or install something additional. The latest version of this messaging application already includes an option that allows you to send a GIF directly from there. At the bottom of the emoticon screen, tap on the GIF button.
Website : Giphy.com
Download Giphy for Android : play.google.com
Download GIFs for Messenger FREE: The best APPS
How to convert a video to GIF on Android
How to send big or HEAVY files by WhatsApp
Receive updates: SUBSCRIBE by email and join 10,000+ readers. Follow this blog on Facebook and Twitter.