If you want to delete your Instagram account, you can either do it with the app or on your PC or Mac. In this practical tip, we explain step by step how to temporarily deactivate or completely delete your account.
Temporarily disable Instagram account
If you only want to temporarily deactivate your account, you can follow these instructions. The advantage of this variant is that your pictures can no longer be accessed online by other users, but your photos are not permanently deleted. Your profile is therefore inactive, but can be reactivated if you change your mind.
Visit the Instagram website and log in to your account.
Click on your profile in the top right corner and select the category "Edit profile" .
At the bottom right you will now find the "Temporarily deactivate my account" option .
Choose any reason and enter your password.
You will be logged out of Instagram using the "Deactivate account temporarily" button.
Your Instagram profile is now completely invisible. If necessary, you can reactivate it at any time by logging in.
To permanently delete your Instagram account, use the following link and follow the instructions in the next paragraph.
---
Instructions: Permanently delete Instagram profile
If you want to permanently delete your Instagram profile, you have to go another route that is hidden at first glance. Warning: If you permanently switch off your account, all pictures, likes and followers will also be deleted.
Follow this link and you will immediately be taken to the page where you can permanently delete your account.
Log in with your user name and select any reason from the list.
After you have explained the background for your exit, you will need to enter your password to continue.
Press the red button "Permanently delete my account" to deactivate your account. Your account was then permanently closed.
Tip: After following these instructions, all your photos will be permanently deleted. With the Instagram Downloader you can create a backup of your photos beforehand.
The cumbersome way to use the app
An Instagram account cannot be deleted directly in the app. Read here how to delete your account with a mobile device. However, it is much easier to follow the steps from the last paragraph.
Open the Instagram app and go to your profile page. Tap the gear next to "Edit Profile".
Scroll down in the options and click on "Help" in the "Help" section. The app automatically redirects mobile users to the Instagram website.
Click "Manage Account".
Then select the "Delete your account" option .
Under "How do I delete my account?" in step one you will find the bold link "delete your account". Click on it.
Follow steps two to five from the section "Instructions: Permanently delete Instagram profile". Registration is no longer necessary because you have reached the page via the app. If you use more than one account in the app, you should make sure that the correct account is selected.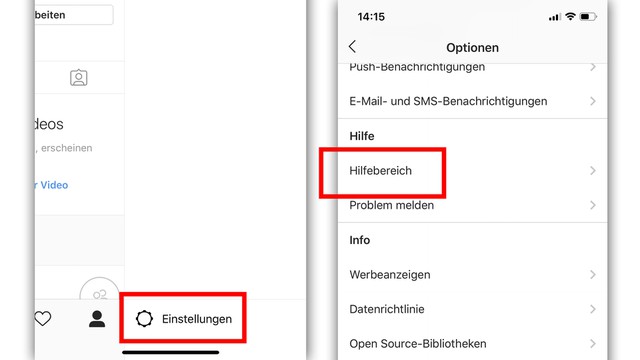 Editor's tip: These smartphones take perfect photos
Even if you've turned your back on Instagram, you can still take professional and pretty photos with your smartphone. Provided that your cell phone camera does not spoil your calculations.
In our test laboratory, we examine the photo quality of all current top smartphones. The surprising result: Expensive is not equally good.
Our CHIP leaderboard shows which phones really take great pictures and which ones you should keep your hands off .