Generally, Android devices have a key piece of software (bootloader) locked, so that the Android system cannot be modified or replaced by another. It is necessary to unlock that bootloader first to make major changes, but someone has managed to replace the original software of your Xiaomi Redmi Note 3 Pro , without having to do that prior unlock .
Android 7.1.1 ROM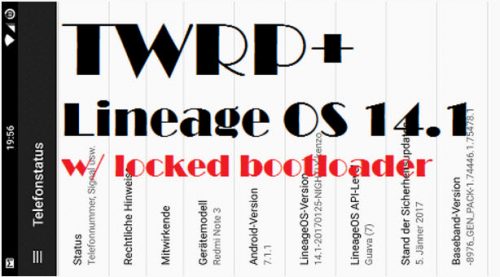 Specifically, the Lineage OS 14.1 system (based on Android 7.1.1 ) has been installed on the Xiaomi Redmi Note 3 Pro . In this brand of devices, it is usually necessary to go to the manufacturer to be able to unlock the bootloader. Xiaomi usually responds within two weeks (if the unlock request is sent successfully).
The process works only for the Xiaomi Redmi Note 3 Pro, both the standard version and the special edition. To ensure that your device is compatible, you should verify that the codename of the device is " Kate " or " Kenzo ". If you can't find it in the device information, you can use an app like Aida64 .
Replace stock recovery with TWRP recovery
Everything consists of installing the MIUI 8 Developer Global ROM corresponding to the device, using the Mi Flash software . But first you have to make a slight change in the files of that ROM. The trick of this whole process is to replace the original recovery.img file with the TWRP (custom recovery) recovery.img file for the device.
After the installation process (flashing) is complete, the computer restarts in the recovery mode (TWRP). In this way, the new ROM can be installed from the Install option .
Root
Instead of installing a new Android system (ROM), you can only choose to root the device, keeping the original Xiaomi software . In this case, instead of installing the .ZIP file from the ROM, you should use the .ZIP from SuperSU .
Having the TWRP recovery installed on the device will not only allow you to root or change ROMs, but also make a full backup of the original system  (nandroid backup). This is an advantage that the original recovery of the device does not offer.
On the XDA-Developers website, the author of the tutorial provides all the files and instructions necessary to perform this procedure. Remember that you must do so at your own risk.
Changing the ROM unlocks a mobile device or not?
Bootloader blocked, a nightmare on Xiaomi devices
Opinion: Is buying a Xiaomi cell phone worth it?
Receive updates: SUBSCRIBE by email and join 10,000+ readers. Follow this blog on Facebook and Twitter.