Conventional text messages cannot be deleted from another cell phone. The SMS system does not offer this possibility. What you should do is use WhatsApp. This platform does offer this feature.
After sending a text through the "Messages" application on your phone, you cannot undo it. That is, you cannot delete it from the other mobile. You also cannot know if it was seen by the other person. These are advanced functions that the SMS platform does not handle.
How to delete text messages from the other cell phone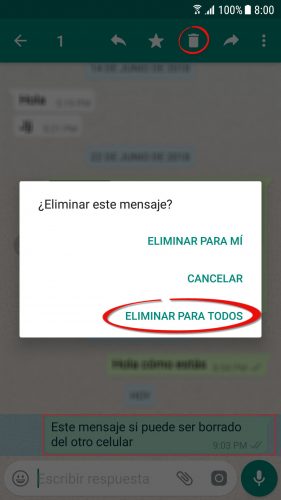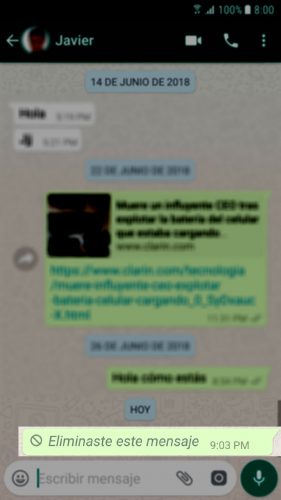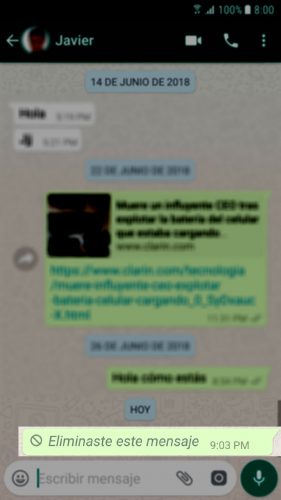 If you are afraid of making a mistake in a delicate or sensitive conversation, it is better to use WhatsApp. This APP does allow you to delete the text messages of the other cell phone. You can even delete photos, videos or audio recordings that you send through this application.
To delete a message sent by WhatsApp do the following:
Press and hold for two seconds on the message you want to delete.
Click on the garbage can at the top.
Finally tap on the "Delete for all" option.
If the other person is connected to the internet, the message will be immediately deleted from your cell phone and a notice will appear notifying you of this.
Just be careful to do it quickly. You have up to 68 minutes to delete a sent message. After that time you can no longer do it in the indicated way. In that case you will have to resort to the trick that we discovered, about how to delete messages from several days ago.
Another advantage of WhatsApp is that it allows you to know when the other person has read your messages. And you can make calls and video calls. It is one of the best communication apps and is so popular that most people in the world know and use it, both on Android and iPhone. Telegram is another APP that offers all this. However, its user base is smaller. You may need to ask the other person to install it to communicate through it.
To use WhatsApp you just have to register your phone number. In a few taps you can start using it and you will have the possibility to undo or delete any text message that you have sent impulsively or by mistake, from the other person's cell phone.
Download WhatsApp
How to delete WhatsApp messages "FOR ALL" after hours, days
How to see WhatsApp messages DELETED by the other person
How to know if SMS text messages have been BLOCKED
Receive updates: SUBSCRIBE by email and join 10,000+ readers. Follow this blog on Facebook and Twitter.