Android is full of applications allowing you to precisely measure the WiFi signal strength of your (or your) access points. The opportunity to give you information to better locate your routers and repeaters, and to analyze your home in search of white areas. In this tutorial, we will show you how to measure this with a free application: WiFi Analyzer.
It is not always that easy to improve the coverage of your WiFi network at home– and for good reason: radio waves are by definition invisible and can have counter-intuitive behavior depending on the materials of which your walls are made, obstacles between the access point and your device, and / or possible reflections from the signal. Thanks to an application, WiFi Analyzer, you can accurately measure the strength of the WiFi signal in every nook and cranny of your home, and determine a better location for your router, even, no doubt, if repeaters or other access points. are necessary in order to have internet access everywhere. We'll see how to do it with WiFi Analyzer from developer Keuwlsoft, but there are also many alternative apps if this one doesn't suit you – the method stays the same. Arm yourself with a plan of your home,
How to precisely measure the WiFi signal strength in Android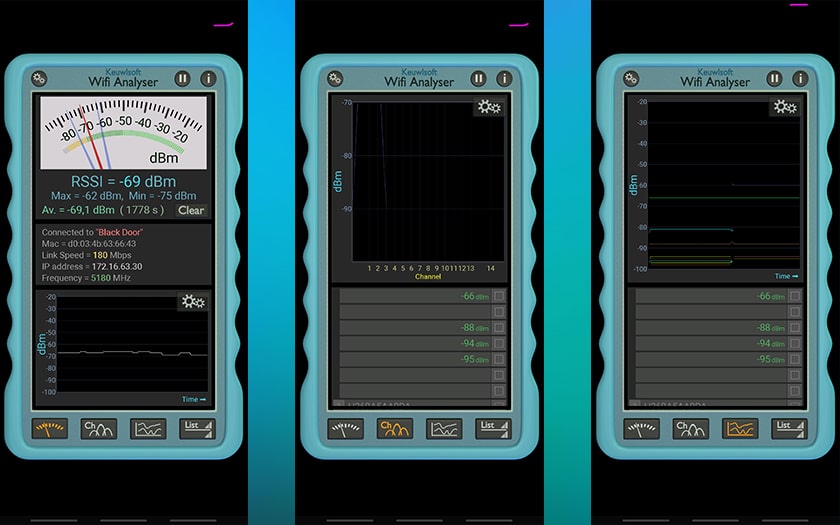 For that :
Draw or print a plan of your home
In WiFi Analyzer first go to the channels tab (the second button at the bottom from the left) and check that the channel of your router is not used by other surrounding boxes – if this is the case, it is advisable to change it to a less used channel before continuing, for this follow this tutorial to change the WiFi channel from the settings of your internet box
The steps that follow differ slightly depending on whether you have one or more access points. In the first case :
Just connect your smartphone to your router, open WiFi analyzer, and browse the room to see the areas where the gauge goes down to -90 dBm (in this case the signal is weaker) or on the contrary when it goes up to -20 dBm (when the signal is stronger)
You can consider that in areas of your home where the signal is below -70 dBm will only benefit from poor connectivity, with reduced throughput and more errors. Beyond -80 dBm, some of your equipment will simply not connect.
Note this information on the map of your home: no need to be very precise, you can for example make large areas of different colors every 10 dBm. The important thing is that you find yourself there.
If you have several access points, go to the 3rd icon from the left:
You can then deselect all the access points that you do not want to see
As with the other method, browse your home to see what the reception levels of your equipment are
Record this information on your plan (the difference is that you have the signal from n access points at the same time)
Read also: WiFi – how to secure the home network
You can then test by moving your box, or your access points, to cover the maximum possible space. It is possible that this highlights a need to buy repeaters, or – even better – additional access points connected by PLC or by an ethernet cable. Wireless repeaters tend to increase signal strength, without always improving the quality of the connection (its stability and speed). The advantage is that after putting all this information on a map of your home, you will know exactly what your needs are in terms of access points or repeaters.