Regularly, Airbnb tenants discover the presence of spy cameras in their vacation accommodation. A practice normally prohibited by Airbnb's general conditions except when expressly communicated to the tenant. Fortunately, there are tricks to detect the presence of such cameras, with your Android smartphone.
Worried that your Airbnb vacation home is full of video cameras? Fortunately, there are solutions to detect them in certain cases with the naked eye, or with your best Swiss army knife: your smartphone.SUMMARY
Video surveillance cameras in Airbnb homes: what the platform says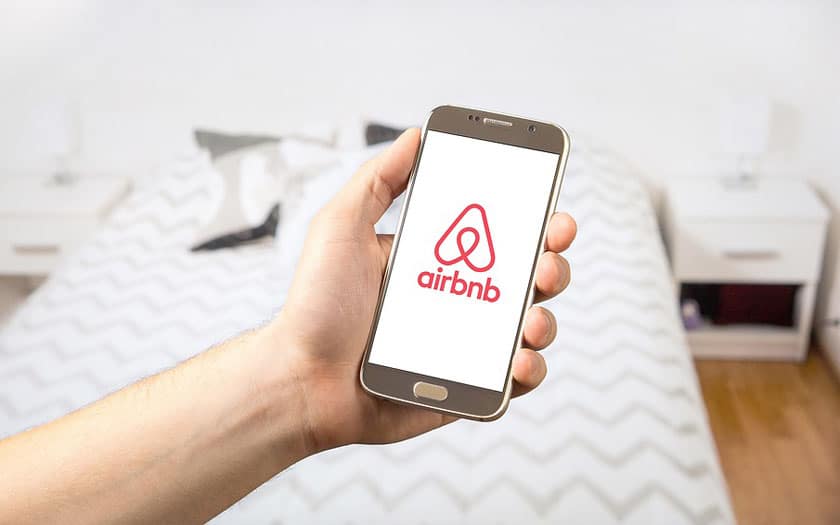 The Airbnb platform is crystal clear on this subject: "Our values ​​and expectations require that all members of the Airbnb community respect everyone's privacy. More specifically, we require guests to report the presence of surveillance devices in their accommodation or placed so that they can observe the interior, and we prohibit any surveillance system in certain private spaces (such as bedrooms or rooms bath), whether their presence is reported or not " , can we read in the conditions of Airbnb.
Consequently, the hosts must obligatorily indicate the presence of cameras of video surveillance in their internal regulations, and declare to the hirers if a recording is in progress. In the event of a breach, "Airbnb will authorize the traveler to cancel the reservation and receive a refund. Cancellation penalties by the host may apply ". It often happens when a spy camera is discovered that the host is banned from the Airbnb community.
The hosts also expose themselves to legal proceedings, at the discretion of the victims and depending on the case. In short, as much to underline: the fact of putting surveillance cameras in an Airbnb housing without notifying it to the tenants is a very bad idea. The fact remains, alas, that these devices too often go unnoticed.
Read also: He spies on 150 young women via their webcam and gets 18 months in prison
What does a spy camera look like?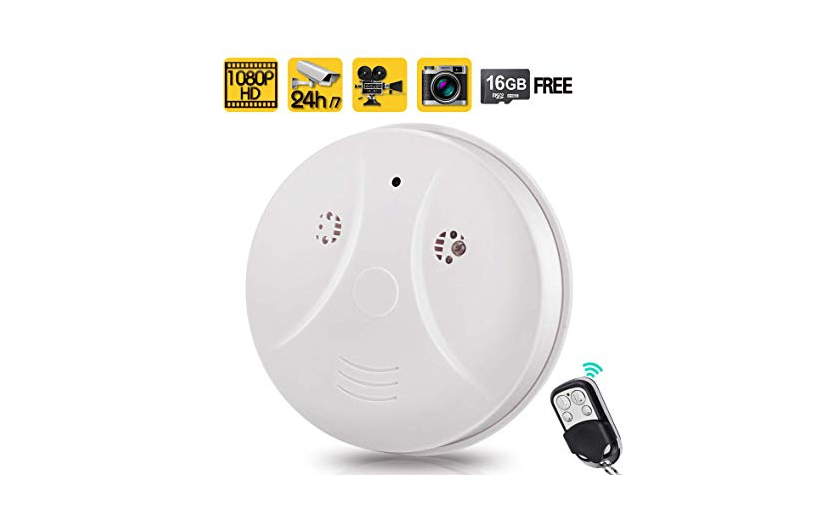 From a visual point of view, a spy camera can, by definition, look like anything and everything. There are, however, some suspects to examine upon your arrival: in particular smoke detectors, motion detectors for alarm systems, radio alarm clocks, stuffed animals, clocks, USB hubs or even wireless chargers…
In order for any spy camera to be able to record their video, a lens must be more or less discreet. But in some cases it may also be hidden behind one-way glass, or dark plastic. When connected to the local network, a spy camera can be betrayed by its brand (Nest, Arlo, Wyze …), its Mac address (which allows certain applications to detect them as such), or the services it uses, in particular RTSP or RTMP, which betrays video streaming.
Unfortunately, not all spy cameras are connected to the local network – some can, for example, store the recordings via a memory card. But, even so, they often have infrared diodes, to both detect movement, and allow the camera to see in the dark. In this case, the light from these diodes, invisible to the naked eye, can be detected using the photo sensor on your smartphone.
How to locate a CCTV camera on the local network with your smartphone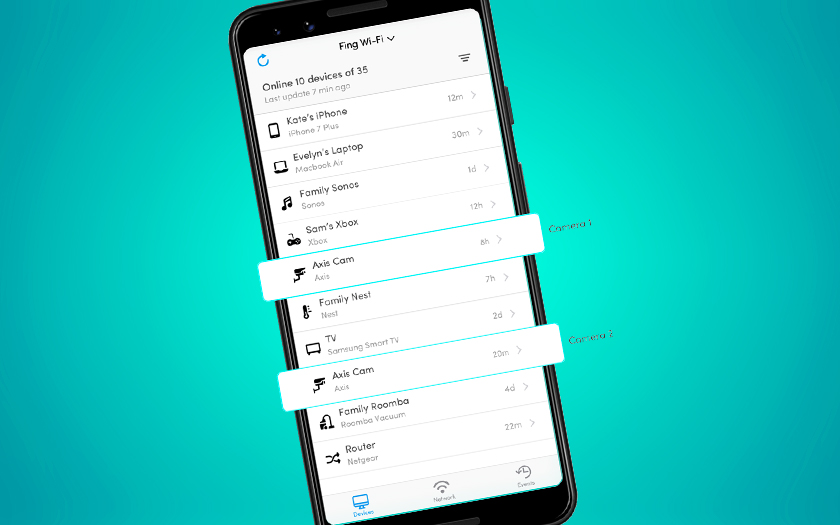 For that :
Turn off and / or disconnect from the network all equipment that belongs to you, except your smartphone
Download the Fing app available on the Play Store and the App Store
Run a scan of your local network – wait for it to finish before continuing
In the list, make an inventory of the equipment in the accommodation that connects to the internet (TV, speakers, etc.), and try to match them with the entries in the list.
In the remaining IP addresses, look for anything that may be questionable – sometimes Fing will label IP cameras, or something like that, but not always
Once you have reduced the number of questionable IPs, click on each of them and then choose Find open ports on the next screen
Go to your favorite internet browser, and try entering [IP address]: [port] where the port is one of the open ports detected by the application (ex: 192.168.1.11:8080)
If it is indeed an IP camera, you will either be greeted by a prompt asking for a password (do not hesitate to test the default passwords which are not always changed). Or a page showing you what the camera sees. What you can easily spot it.
How to spot a CCTV camera with the smartphone camera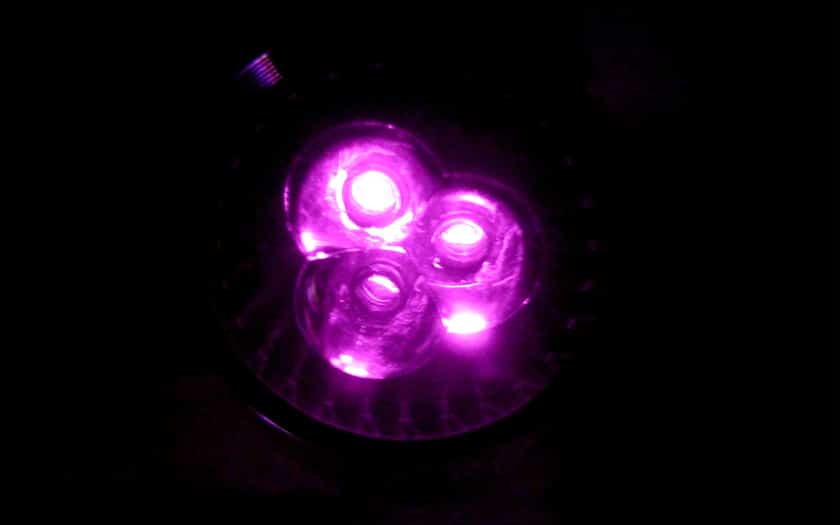 We told you, the infrared diodes used by many video surveillance devices can help you easily find these devices:
Turn off the light in the housing, close the shutters and turn off the light
Open your smartphone camera
Point it in all directions in search of a bright spot (usually bright purple)
As soon as you find such a bright spot, go to the source of this light and examine its origin
What to do if you have discovered a spy camera?
As a first step, it is recommended to leave the accommodation, and to get in touch immediately with Airbnb customer service. Here are some of their phone numbers:
+33 184884000 (France)
+ 1-415-800-5959 / + 1-855-424-7262 (United States)
+34 91 123 45 67 (Spain)
+45 89 88 20 00 (Denmark)
+ 1-855-424-7262 (Cuba)
For other numbers, you can go to the following address: https://www.airbnb.fr/help/contact_us . Depending on the case and local laws on the matter, it may also be advisable to contact the nearest police station.
Read also: Leboncoin, AirBnB and BlaBlaCar now declare your income to the tax authorities
Have you ever discovered a spy camera in an Airbnb home? Do you know other tricks to detect this kind of spy camera? Share your feedback in the comments.