If you have accidentally lost your data stored on your SD or micro SD card, USB key or other storage medium, it is possible via Wondershare Recoverit to recover them. It is a very effective software that allows you to easily recover deleted or lost items. Offering an intuitive and easy to use interface, this program represents one of the best solutions of the moment.
Common cases of data loss on SD card: accidental deletion, formatting of the Micro SD card, virus attack, etc.
It is easy to lose your personal data. An update, an accidental deletion, a formatting, a virus attack and these are years of memories that go into oblivion. If the SD card is physically damaged, there is unfortunately nothing more to do. People who have previously made a backup in the cloud or on an external storage medium such as a hard disk or a USB key can easily find them. For others, it is a disaster. Fortunately there is Wondershare Recoverit software that will allow you to recover them.
Normal method to recover your deleted data from SD card
In this part, we explain how to recover your accidentally deleted data from your SD card. The method is very simple and it takes place in 4 steps. To start, install the software below then follow the guide!
CLICK HERE TO DOWNLOAD WONDERSHARE RECOVERIT FOR WINDOWS
CLICK HERE TO DOWNLOAD WONDERSHARE RECOVERIT FOR MAC
1. To get started, just choose a data recovery mode. In order to recover the deleted photos from the Micro SD card, you can choose the "Recover external devices" mode.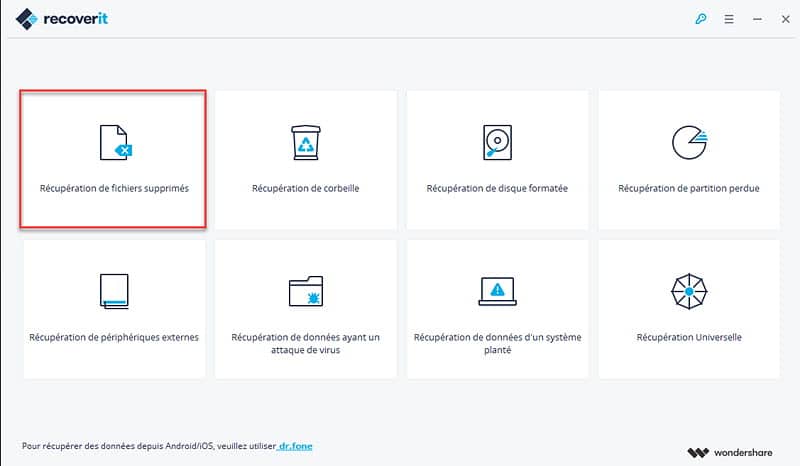 2. Then choose your Micro SD card to start searching for files. Make sure your Micro SD card is detected by the computer, select it and click on the "Start" button to start analyzing the data.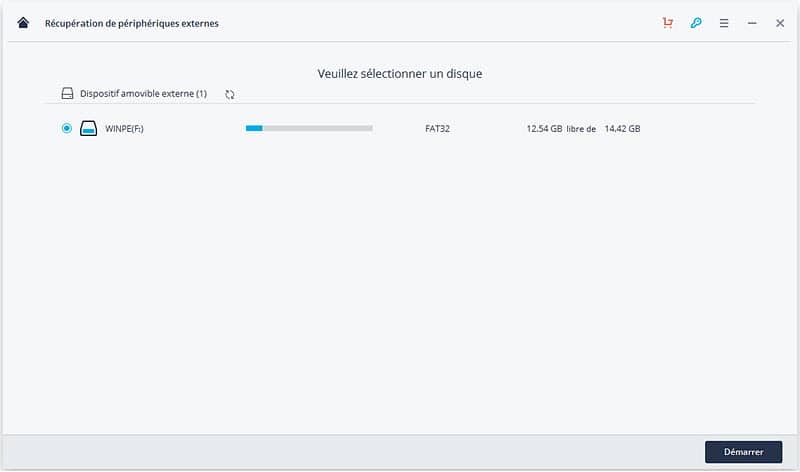 3. The Scan of lost photos on Micro SD card will start once you have selected the hard drive of your deleted files. If your data does not appear after the scan, you have the option of relaunching with the "Universal Recovery" mode which will do a thorough search and find more files but will also take more time.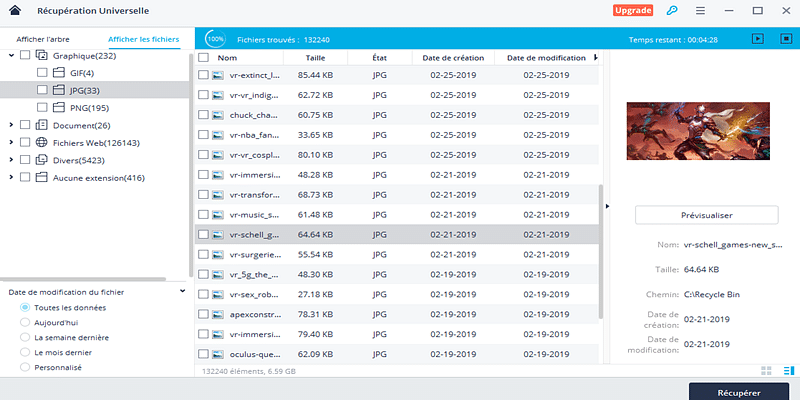 4. The last and 4th step is to preview and recover your photos from the Micro SD card. When scanning is complete, you will see the photos found in the window. You can preview them, then select the ones that interest you. Finally click on "Recover" to save them on your computer.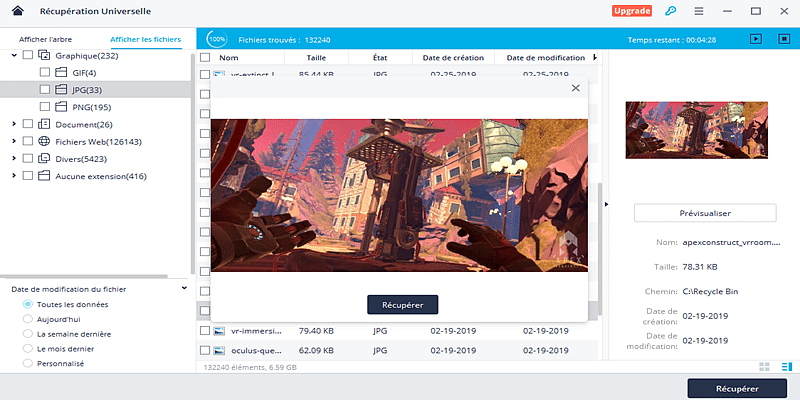 If your micro SD card is corrupted, you can still recover your deleted data using Wondershare Recoverit software . It is one of the best program to date to recover your lost photos or files from corrupt SD card. It offers many features to easily recover your files, including videos, photos, audio files, document files, etc. You can for example:
Recover files in more than 550 formats from any storage device quickly, safely and completely.
Support for data recovery from trash, hard drive, memory card, flash drive, digital camera and camcorders.
Supported operating systems: Windows 10/8/7 / XP / Vista, Mac OS X (Mac OS X 10.6, 10.7 and 10.8, 10.9, 10.10 Yosemite, El Capitan, Sierra) on iMac, MacBook, Mac Pro etc .
To recover data from the corrupted SD card, this takes place in very distinct steps. First of all, make sure that your SD card, even if it is corrupted, is recognized as a removable drive by your computer. Then download the Windows or Mac version of Wondershare Recoverit to begin the recovery process.
CLICK HERE TO DOWNLOAD WONDERSHARE RECOVERIT FOR WINDOWS
CLICK HERE TO DOWNLOAD WONDERSHARE RECOVERIT FOR MAC
Step 1: Choose file type to start recovery from corrupt SD card
To get started, launch the Recoverit recovery software on your computer, then choose the option "Recover external devices". Click it to Recover lost files from corrupt SD card.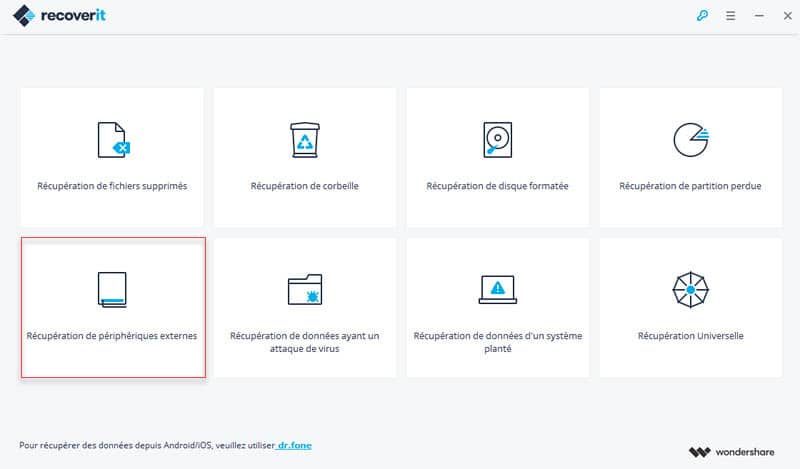 Step 2: scan for corrupted SD card
The second step is to analyze the corrupted SD card. Select the corrupted SD card on the software interface. Then click "next" to start the process of detecting lost files. If your files have been lost due to format issues, switch to "Universal Recovery" mode that we previously saw.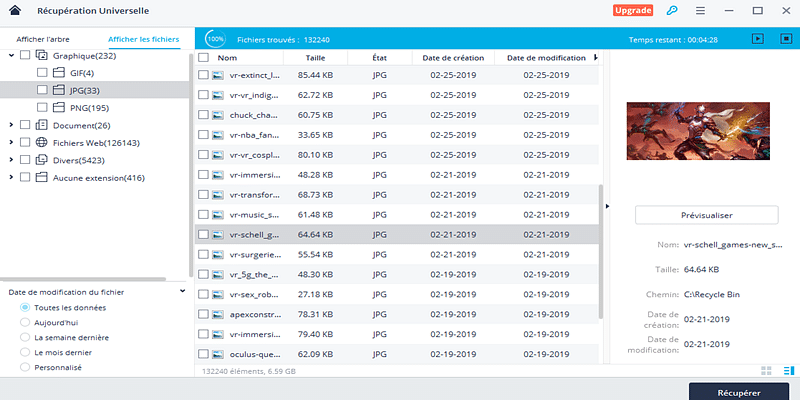 Step 3: Recover data from corrupt SD card
The software then offers you an overview of the files found. select / mark the files you want to recover, then click "Recover" to start the recovery process for your damaged SD card.