We teach you 7 things about Gmail , probably the best email application for your Android phone.
Gmail is an email service that is available as an app for Android and other platforms, as well as a web version. As for the mobile application, there are some tricks and things you should know to make the most of it, which we show you in this tutorial article. For example, automatically reply to emails, configure Hotmail and other services right there, etc.
1. Automatic reply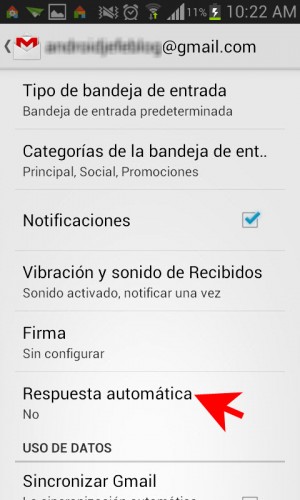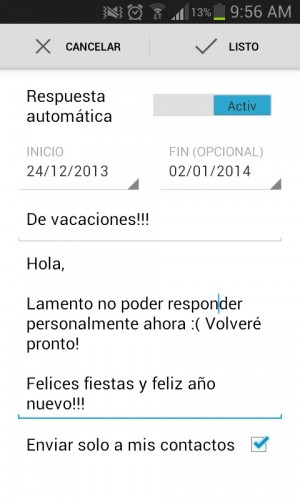 By default, the automatic response functionality is disabled. To activate it, within the application you just have to open the Menu and then select the Settings option. Once there, it is necessary to choose the Gmail account in which you want to activate the automatic response, if we have several accounts configured in the application.
Within all that list of configurations that will appear, you will have to tap on the Automatic answer option. It is activated by pressing on the switch that appears on the right.
2. Set up Hotmail (and other emails) in Gmail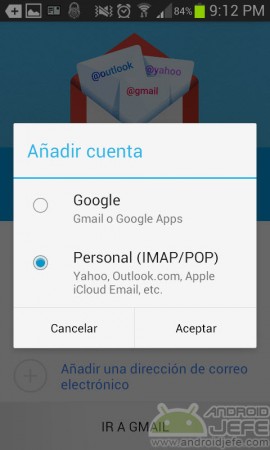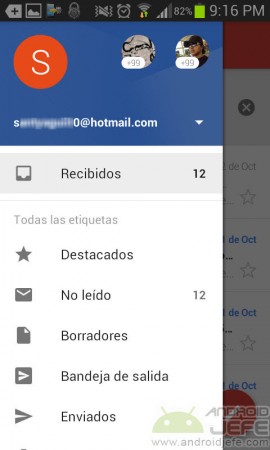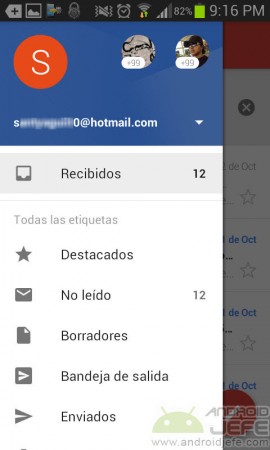 The Android app offers multi-mail support, that is, we can now integrate accounts from Hotmail, Outlook, Yahoo, Apple or other services, and manage all of them from the same application.
The process to register an account other than Gmail in the application is very easy. You just have to indicate the account ([email protected]) and the password. The application will automatically configure the server parameters and give us immediate access to the account to see the inbox, send new emails and do anything that is done with the service's original email client.
You can also configure an IMAP or POP email account from a separate server. For example, I would like to register my email account [email protected]. In that case, what you should do is use the "Manual Settings" option and enter the technical data offered by the server administrator.
Gmail also organizes emails from these services in the same way as your Gmail account. That is, you will see folders for Main, Social and Promotions, by default. Google calls this function "Gmailify".
3. A single inbox for all accounts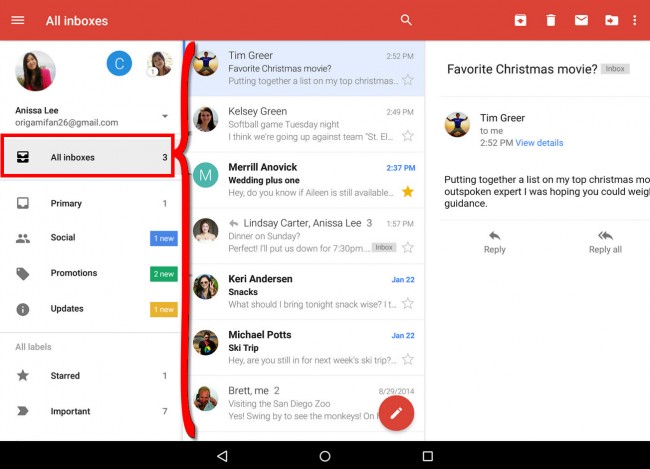 Gmail unifies all configured email accounts into a single inbox. So you can see and reply to all emails from all your configured accounts from one place.
This feature allows you to link or merge all the accounts of the application: @gmail , @hotmail , @yahoo , etc., or IMAP / POP accounts of a specific domain.
4. Block contact (and delete subscriptions)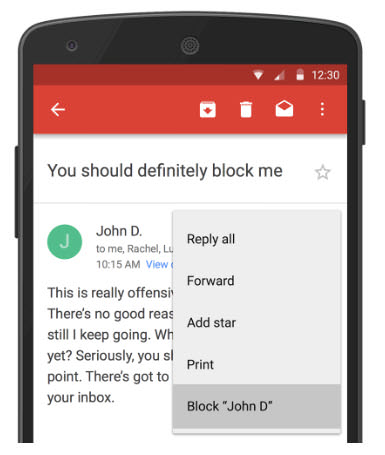 By blocking a contact in Gmail, it means that the emails you receive from that sender or email address will be sent to the Spam folder (they will no longer appear in the inbox or inbox ). You can unlock that contact whenever you want, too.
Not that it is a completely new feature: something similar could be done with Gmail filters, but this Block option is definitely much more friendly and clear for users. It is also easier to access, as it will be available from the menu button of the received mail (the button with the three dots in the upper right).
In a similar way you can delete a subscription, if it is an email of this type. That is, it will be useful if you have registered on a website with your email to receive content updates.
5. What does the question mark appear in a Gmail email?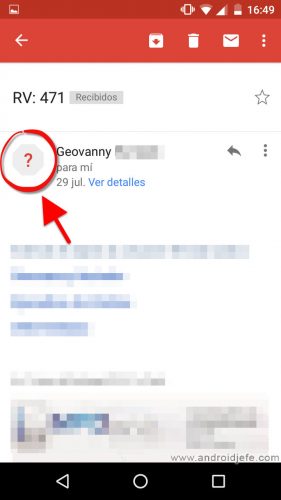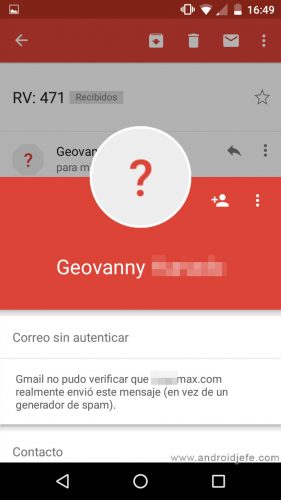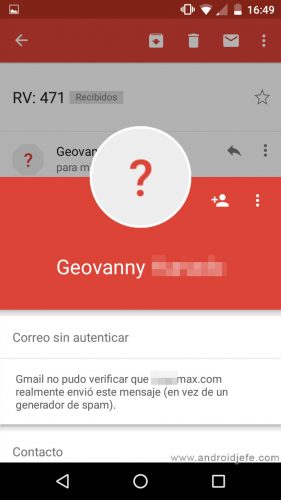 The question mark that may appear in certain Gmail emails is a security warning. Basically, it is an alert to indicate that the identity of an issuer MAY be false. It could be a spoofing or phishing tactic of the sender, to steal your data.
It means that the Gmail service cannot verify if the person or company that sends the email is actually who it claims to be. This is a sender authentication problem.
It does not necessarily mean that it is an attempt to deceive the issuer. It may also be because there is a configuration problem on the sender's mail server. Possibly one of the causes of this is a problem or the absence of an SSL security certificate on the server.
If you are not sure who is actually sending the email, it is best to take precautions and avoid opening possible web links within the email and responding.
6. Set up Gmail to only notify you of important emails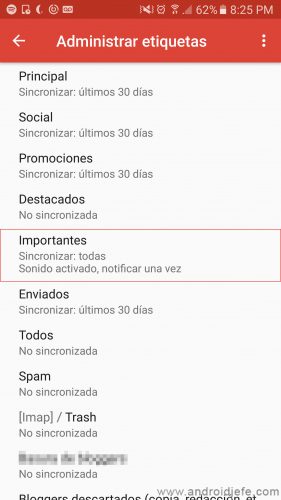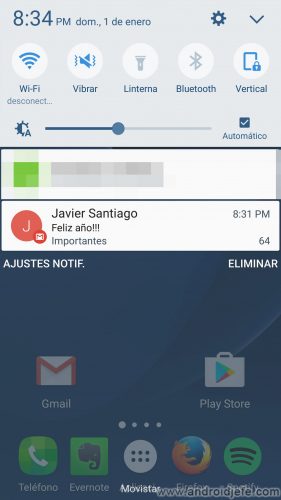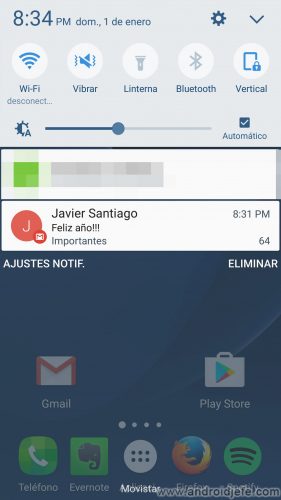 Configuration is easy. Gmail organizes emails under "tags" (predefined or user-created), according to their nature. And each group of these emails has its own notification settings. Everything consists of activating the notifications of the "Important" tag, and deactivating the rest. This is done as follows:
Open the Gmail app.
Display the left side menu (tap on the button with three horizontal lines, at the top left).
Select «Configuration».
Tap on the desired Gmail account.
Choose «Manage labels».
Select "Important".
Tap on "Synchronize messages".
Leave the "Synchronize: all" option selected.
On the previous screen, leave the "Label notifications" option checked. On that same screen you can configure the sound and vibration of the notifications.
7. Fraudulent email alerts and links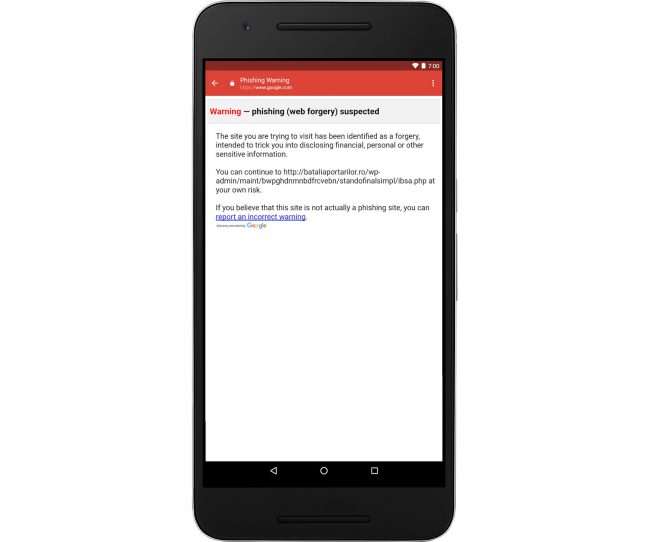 Currently, a fairly common method of stealing a user's credit card data is through tricky email. The email may seem legitimate from a bank or serious entity, but in reality it is a fraud. If the user falls for the trap, they will likely click on a link in the email. That link will take you to enter sensitive information on a page that also seems legal, but is not. Technically it is what is known as Pishing or identity theft.
If you open a fake email in Gmail for Android, by tapping on any very likely dangerous link, the application will warn you that you can risk being cheated. You will see something similar to the image above.
Sometimes this notice may be a false positive . That is, it is likely that certain links are not dangerous. Anyway, this warning is going to put you on alert. You will have to review all the details of the email before making the decision to go to the link or, worse yet, provide important information. For example, you should carefully look at the sender's address and also the URL of the landing page to verify that it is not a scam. Often, that address and URL seem legitimate to the naked eye, but one character can make a difference.
Download Gmail for Android
You can download the Gmail application for your Android phone in Google Play. The other option is to download the Gmail APK from apkmirror.com.
Avoid leaving your Google account on another device when you track your phone
Remove UNLINK Android devices from Google account
How to view your Netflix, APPS and website password
Receive updates: SUBSCRIBE by email and join 10,000+ readers. Follow this blog on Facebook and Twitter.