To use the fast 5G mobile radio standard, you need a suitable 5G mobile phone. Here you will find all the smartphones that already exist and will soon be on the market.
EnlargeThese 5G smartphones exist and will come© peshkov / fotolia.de / PC WORLD
With a 5G smartphone you can already use the currently fastest 5G mobile network here in Germany. In mid-July 2019, Vodafone put its first 5G transmission masts into operation. Since then you can experience 5G speed in selected cities such as Cologne, Munich and Berlin. The German Telekom already offers suitable 5G rates on.

Mobile phone tariffs with 5G
Both Vodafone and Telekom already include 5G in the Red / Young and Magenta tariffs. If you have one of these tariffs, you can surf the 5G network with a 5G-capable cell phone. In fact, 5G doesn't even have to be expensive – at least that's what Vodafone thinks. Because here there are tariffs from around 10 euros per month including 5G! This increases Vodafone's pressure on Telekom, whose 5G tariffs start at around EUR 20. (Applies to tariffs under 28 years)
Vodafone: Red tariffs with 5G from EUR 19.99 a month
Vodafone: Young tariffs (under 28 years) with 5G from 14.99 euros per month
Telekom: Magenta tariffs with 5G from 39.95 euros per month
Telekom: Magenta Young tariffs (under 28 years) from EUR 19.99 per month

These 5G smartphones are (and will be)
Samsung phones with 5G
After there was already a 5G version of the S10 and the Note 10+, Samsung brings with its new S20 series (in hands-on) the first generation on the market in which all models master the new 5G mobile radio standard. While the S20 Ultra is only available with 5G, you can choose between a 4G and 5G version for the S20 and S20 +. The respective 5G version costs 100 euros more. The cheapest entry: Galaxy S20 5G for 999 euros RRP. The new Galaxy Z Flip folding phone (in hands-on) , on the other hand, can only be used with 4G.
Samsung not only equips its high-end smartphones with 5G, but also its middle class. The Galaxy A90 5G is available from around 610 euros in the price comparison . These Samsung phones are available with 5G:
Silencing Windows 10: How to restrict data collection | Tutorial / how-to
Huawei phones with 5G
Also, Huawei has already 5G first smartphones in its portfolio. The Mate 20X 5G has been on the market for a while. The Mate 30 Pro with 5G has recently been launched, but unfortunately it does not come with Google services. While Huawei's first 5G folding phone, the Mate X, didn't make it to Germany, the latest model will also be available here. As with the Mate 30 Pro, you cannot use Google services with the Mate Xs. These Huawei phones are available with 5G:
Xiaomi phones with 5G
Xiaomi's first 5G smartphone is called Mi Mix 3 5G, which is also comparatively cheap at a price of 369 euros (as of March 4, 2020 )! Last year's flagship Mi 9 Pro also launched Xiaomi in a 5G version. In mid-February, the Chinese smartphone manufacturer presented the new high-end generation in the form of the Mi 10 and Mi 10 Pro that support both LTE and 5G.

More 5G phones from Sony, LG and Co. Also from Apple?
With the V50 ThinQ 5G, LG also offers a 5G-capable cell phone, but this is not available in Germany. At the end of February, LG announced the successor V60 ThinQ with 5G, which will be launched in March – also in Europe. With its Xperia 1 II, Sony recently launched its first 5G phone , which also boasts a 4K display. And Oppo shows its new flagship models on March 6, which will probably also spark in the 5G network. There are actually more 5G phones, for example from ZTE or Realme, but you cannot buy many of the models in Germany at all.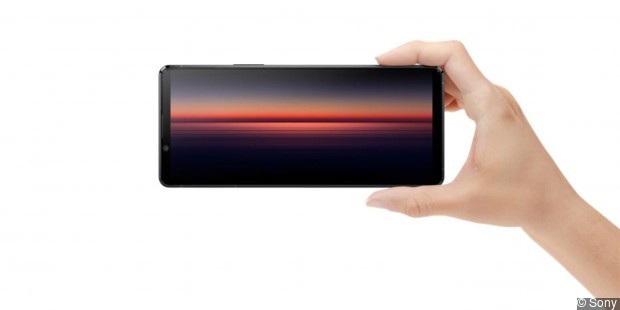 ZoomSony Xperia 1 II with 5G and large 21: 9 display© Sony
Apple has so far waived the 5G standard. It doesn't matter. Since the 5G network is not yet sufficiently developed in this country, you cannot exploit the full potential of the speed anyway. According to rumors, the iPhone 12 coming in autumn will probably be launched with a 5G module. The iPhone is also equipped for 5G if the network is to be expanded across the board in 2021.