Buying apps on the Play Store is really easy and safe. They can also return your money if you are not satisfied. This is better than exposing yourself to cracked APKs on the Internet with potential malware. If you like a paid app or game, go ahead, but first take a look at the information that I put below.
Before buying the app, I advise you to try its free version. It may be available. If not, check all the features of the app on its Google Play Store page. This way you will have a clearer idea of ​​what you will get after your purchase.
1. If I buy and delete a game or APP, do I have to buy again?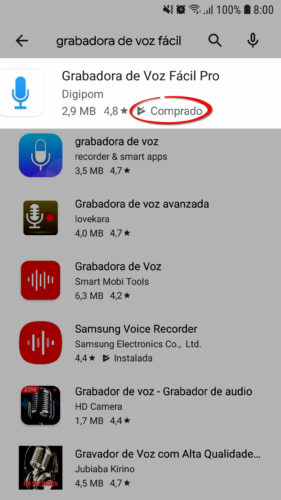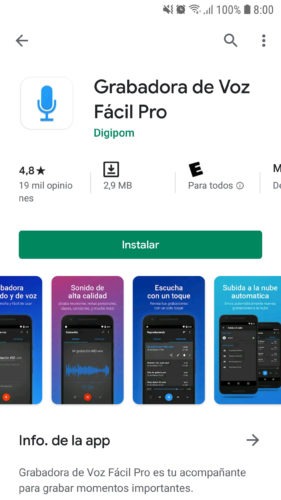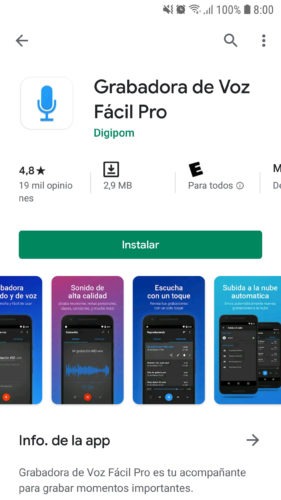 No. Once you buy an app or game, the purchase is registered in the Google account that you used for the purchase. In this way, if you delete it, uninstall it, you can reinstall it without having to buy again, as long as you use said Google account and have not requested a refund. If you look for the app in the store, you will see the "Purchased" label and you will have access to the "Install" button.
The number of times you can download a purchased game or app is unlimited and indefinitely. In the image above you can see that I can still download "Easy Voice Recorder PRO", even though I bought it back in 2013.
In case you still have doubts, buy calmly because Google confirms what I have said on its support page.
What if I change my cell phone?
As I said, purchases are recorded in your Google account, not in the mobile itself. Simply enter the same Google account that you used to buy from your old device on your new device. Verify that the account is selected in the Play Store (left side menu) and when searching for the app you will see the label "Purchased" and you can download it without having to pay again.
This is how you "pass" a payment app to another mobile or other mobiles. Yes, you can install your purchased app on all the devices you want in this way.
Except when you ask for a refund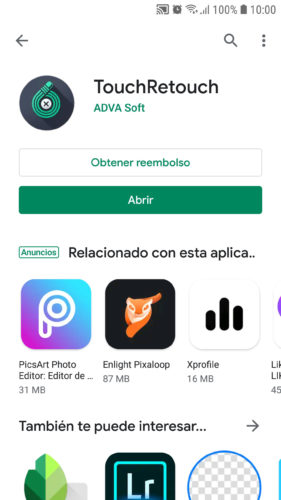 Obviously you have to buy again if you request or generate a refund for an app. I say "generate" because if you uninstall a purchased app shortly after the transaction, you will have an automatic refund. Alternatively you can use the "Refund" button on the app page in the Play Store. Google doesn't exactly specify the time, but previously it was up to two hours after uninstallation.
Please note that you can only request a refund once per app. If you buy a second time, you will no longer be able to get your money back again. You could try it from this page (in "Report a problem") ideally up to 48 hours after purchase, but I do not guarantee that you will be accepted.
2. Is it safe to buy in Google Play Store?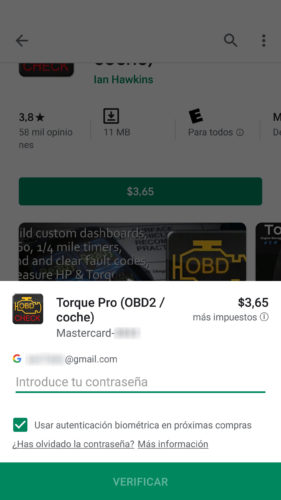 Definitely. However, there are some tips that I recommend you follow:
Never make purchases connected to public networks, unless you use a good VPN app. Remember that WiFi is not secure.
You do not want your credit card data to be captured by malware on your device. If you have been cautious visiting pages or downloading things from the internet, you may not have to worry about that. In the opposite case, you may have to use an antivirus to scan your device or buy from the home computer that you trust the most (I prefer my desktop PC).
The credit card information is stored in your Google Pay account, remains secure and is not visible to you or any third party that may have access. Incidentally, in that account you can see in detail the purchase history of games, apps and content (credits, subscriptions, etc.). Data such as amount, date, time and payment method of each transaction are included.
In the Play Store settings, activate the option "Request authentication to make purchases". In this way, each purchase attempt will require the password of your Google account. Optionally, you can enable "Biometric Authentication" to easily authorize each purchase using your mobile's fingerprint reader.
3. Subscriptions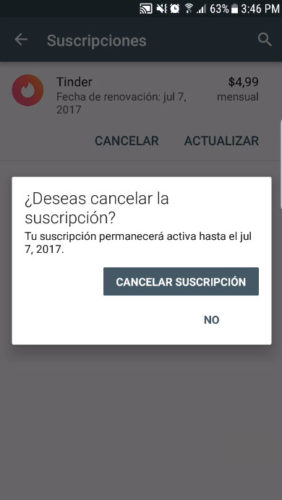 When you buy an app or game you generally make a single payment and you can use it indefinitely. A subscription is recurring in nature. That is, after subscribing, Google Play will automatically charge you every week, month or year, depending on the period you have contracted.
Due to the automatic charge for a subscription, your card can be charged the following period without your having planned it. The common mistake of some people is to buy the subscription and wait for the end of the period to cancel it. If you only intend to buy, say a month, you have to cancel immediately after subscribing. In this way you cancel the subscription or subsequent charges (you do not cancel the service you just bought; you can continue using it until the end of the period).
You can cancel an active subscription from the left side menu of the Play Store, "Subscriptions" option. You can also go to the Google payment center, where you even have the option to delete your credit card, in case of unauthorized payments. If you didn't pay through the Google Play Store, you probably did through the app's website (possible with Tinder). In that case you will have to manage payments from that website.
Others
If you have any problem with purchased apps based on licenses, possibly it is because you have activated on your phone a different account than the one used to buy. In the Play Store, left side menu, leave the correct account selected and the problem should be fixed.
Some time ago the «Error. License not found. Please check your internet connection or buy the full version of the application »and I assume it was due to this situation. I speculate that, on a recurring basis, these types of apps connect to the internet, to the respective Google account, to verify the license.
How to pay with another account in Google Play Store
How to delete a credit card registered in the Play Store
The 7 most expensive apps and games on the Play Store
Receive updates: SUBSCRIBE by email and join 10,000+ readers. Follow this blog on Facebook and Twitter.