The objective of updating the Play Store is to obtain the new features that a new version of the app brings, or to correct any problem that the current version has. Normally, the Play Store updates itself. However, automatically receiving the latest version may take several weeks from when it was originally published. The solution is to force the update in one of the two ways indicated below.
Before updating the Play Store to a higher version, the logical first step is to know what version you have installed right now on your Android. For this, open the Play Store. Tap on the menu button at the top left. Select "Settings". At the bottom of the screen you will see the version number you have installed.
Force update
The easiest way is to force the search for an update, from the same settings of the Play Store application.
Instructions
Touch the button at the top left to open the menu.
Select «Configuration».
At the bottom of the screen, tap two or three times where it says "Play Store Version."
Doing so will force the app to search for an update. If it is already updated, it will simply report it.
It is important to note that this functionality is only available from version 4.6.16 of the Play Store app.
Manually install the latest version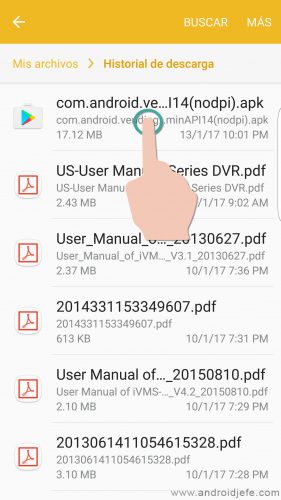 This method consists of manually downloading and installing the APK file of the latest version from the Play Store.
Before doing this, the phone must be configured to allow the installation of APK files. Basically, you have to go to the Android System Settings, "Security" option and activate the option that says "Unknown sources".
Instructions
Download the APK of the latest version from the Play Store.
Go to the "Downloads" folder of the device. You may need to install a file manager to find the downloads folder, like this one or this one.
Tap on the downloaded APK file.
On the screen that appears, tap on "Install".
Notes
It is not necessary to previously uninstall the installed version of the Play Store (in fact this cannot be done without root access). When you install the APK, it will automatically replace the version already installed.
Make sure the APK you are downloading is actually a larger version than the one installed on your phone. Otherwise, the APK will not be installed. The APK version is indicated on the page from where you download it. The version of Play Store that you have installed you find out by going to its settings. You will see the version at the bottom of the screen.
How to install the Play Store on your Android device
Google Play Store APK: Download latest version or update
How to update APK apps without Google Play Store
Receive updates: SUBSCRIBE by email and join 10,000+ readers. Follow this blog on Facebook and Twitter.