MIUI is a great custom ROM from Xiaomi with a chic look and many useful functions. Of course, there are also disadvantages and things where you have to ask yourself why Xiaomi did it and doesn't change anything. Until recently, one of these points was the topic of screen scaling. Since Android 7 (Nougat), Android has officially offered an option with which you can scale the display content. The user can therefore decide whether he would like to have larger controls or more space on the display.
With Xiaomi smartphones, this was not possible under MIUI, despite Android Nougat and later with Android Oreo, or only via detours. In order to be able to call up the Android option, you had to go through an additional app. Officially, Xiaomi always only offered the option to change the text size, but not the scaling. Apparently, nothing has changed to this day when looking at MIUI's display settings. But a closer look at the depths of the settings reveals: Xiaomi has improved and has now officially offered the setting to change the scaling for a while.
To find the setting, you have to open the "Settings" app. Now you scroll down a bit to the point "Additional Settings". Here you will find the "Accessibility" item and the "Display size" item. If you touch this option, you will see a slider with which you can control the scaling of the surface.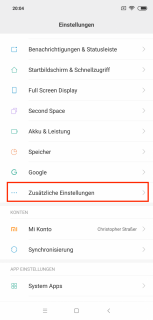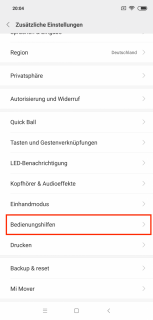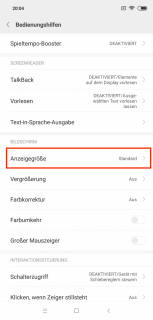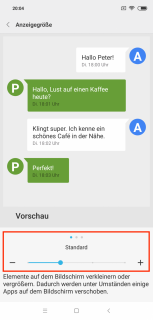 The available scaling levels look like this using the example of a Xiaomi Mi 8: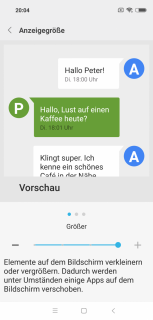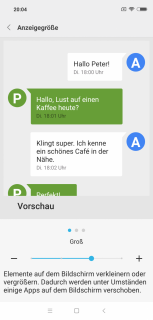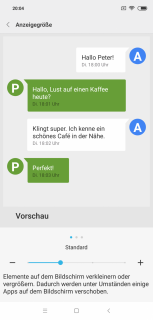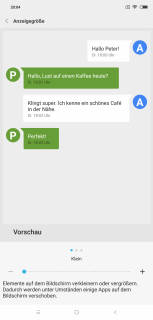 The tool is particularly useful for users who have problems with small controls or who simply have poor eyesight. In addition, the option for the larger Xiaomi devices such as the Mi Max 3 is a good way to make better use of the large display.Note: If you don't already have the option, then your MIUI version is too old. Check your smartphone for an update. If none is available, you can also call up the option via a workaround.
To do this, install the "Activity Launcher" app from the Play Store. In the app, touch "Recent Activities" at the top of the title bar and switch to "All Activities". In the list you scroll down until you find two entries "Settings". One of the entries comes from MIUI, the other is for the Android settings – you need this. Fold out the correct entry and search for "Vision Settings" (in the Global ROM the entry is called "Display"). You touch the entry again and then find the entry "​