To play YouTube in the background or with the screen off you have two options. The paid alternative is YouTube Premium and the free one are the tricks that we mention here or choose to install an unofficial APK.
In case you don't know, running in the background means videos keep playing by minimizing, quitting, or switching to another app. Similarly if you turn off the screen.
When you buy Premium (like $ 10 a month, depending on the country), you get a version of YouTube with the option to play in the background, among other notable advantages. It is ideal, except for the cost. The free thing is to use other applications that offer this feature, including the ones you can download below.
YouTube Vanced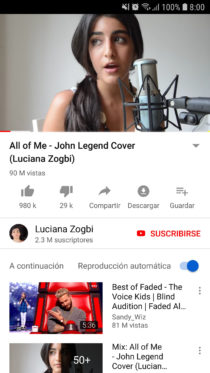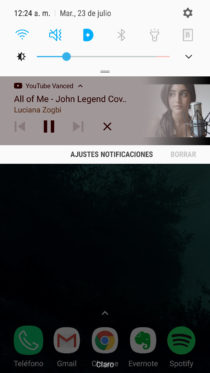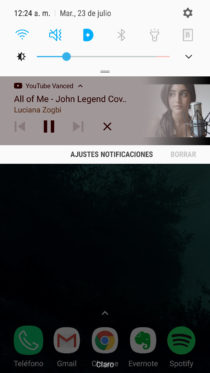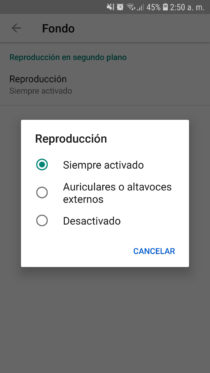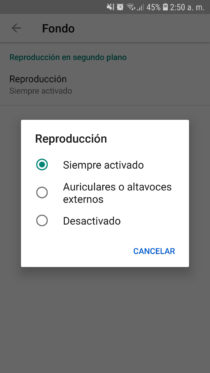 Probably the best alternative because it offers the option of playing in the background , with a locked screen or off , without having to lose the experience of the YouTube mobile app. 
Additionally it blocks all the announcements in the videos and offers the floating screen reproduction, «Screen on screen», «Picture in Picture PiP» or whatever you want to call it. 
The option to listen in the background is available in the YouTube Vanced settings, "Background" menu. There you can even activate this feature only when you connect headphones or external speakers.
Disadvantages
Mainly the fact that it is a YouTube Premium based APK that is modified by third parties. Apparently it is clean right now and there is nothing wrong with it, but I cannot guarantee that it will continue.
Secondly, to log in to your YouTube account you will have to install an additional "MicroG" APK, which I do not recommend installing because it is currently unstable and can cause Vanced to close and you cannot open it.
For more information, visit their forum at XDA-Developers.
Black Screen of Life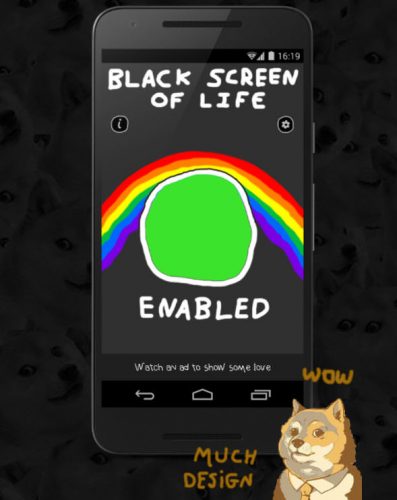 It is an exclusive application to be able to play YouTube with the screen off. This is a plugin that works in conjunction with the original YouTube app. What it does is turn off the screen when the phone is turned upside down. That is, with the screen against the table or some surface.
This app is supposed to help you save battery by keeping the screen off while listening to YouTube. However, personally I have not experienced such savings, probably due to its high battery consumption. If you use it, I suggest monitoring this aspect.
Blackr was an alternative with a similar purpose, but only for AMOLED displays. Unfortunately, like BSoL, it also disappeared from Google Play.
Others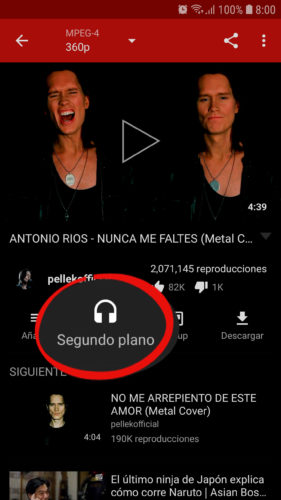 NewPipe is a fairly popular APK for being open source and reputable. Is very complete. In addition to background or screen-off playback, it also offers YouTube content download.
Webtube and SkyTube are two lesser-known, although also open-source, APKs for watching YouTube with the screen off or with the screen locked. They are not used to play YouTube in the background.
Chrome and Firefox : In these browsers you only have to activate the desktop version of YouTube to keep it playing in the background or with the screen off.
How to Minimize YouTube: Get Out and Keep Listening
4 apps similar to the official YouTube (alternatives)
How to play your videos with screen OFF, locked or in the background
Receive updates: SUBSCRIBE by email and join 10,000+ readers. Follow this blog on Facebook and Twitter.