Wireless Display or WiDi was a development of Intel based on Miracast technology, which allowed to wirelessly project a PC screen on the TV and omit the typical HDMI cable. To function, an Intel processor up to the sixth generation, Windows 7, 8, 10 system, a graphics card and a compatible wireless adapter were required.
Unfortunately this technology was discontinued, although if you have Windows 7 and meet the above requirements you could still make it work by previously downloading the respective software. In Windows 8 and 10 it is not necessary because these systems already incorporate Miracast technology. If your PC has a wireless network card, you can do it in a couple of steps.
Windows Miracast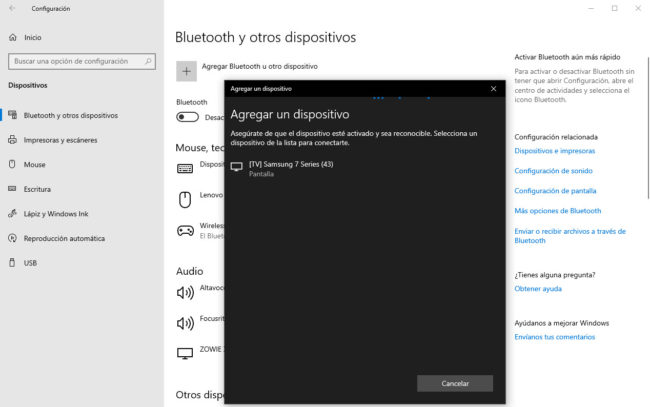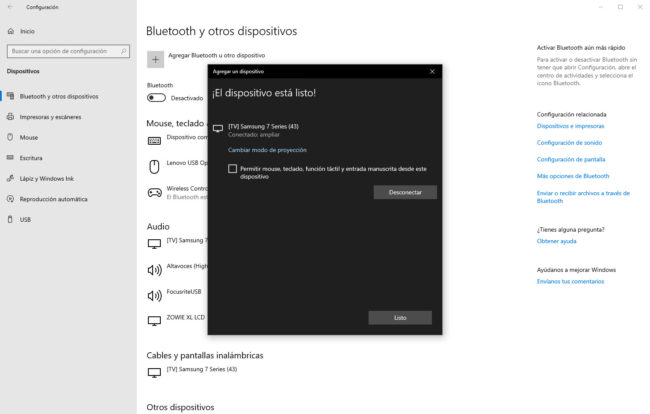 Before you start, the PC and TV must be connected to the same WiFi network. That said, in Windows settings tap on Devices, Add Bluetooth or another device and finally Wireless or Base Projection. Just click when your TV appears to establish the link. It is possible that an authorization request appears on the TV that you must accept.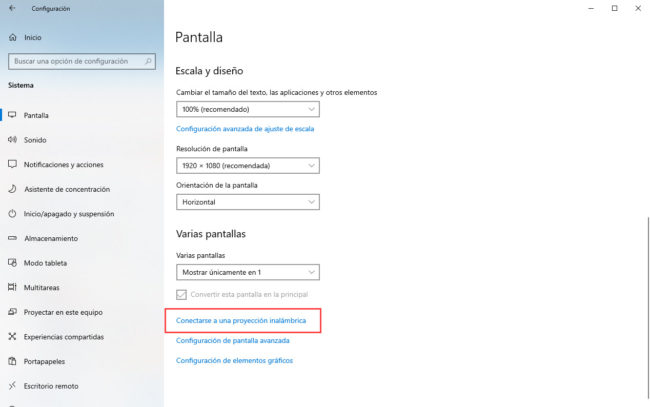 Another way to access these settings is by right-clicking on the desktop, Display settings, Connect to a wireless projection.
From what I have seen this function is not as efficient as I would like. I had to insist several times on the connection until I saw the PC screen on the TV. The first attempts only the connection notice appeared on my Samsung Smart TV and then nothing.
Google Chrome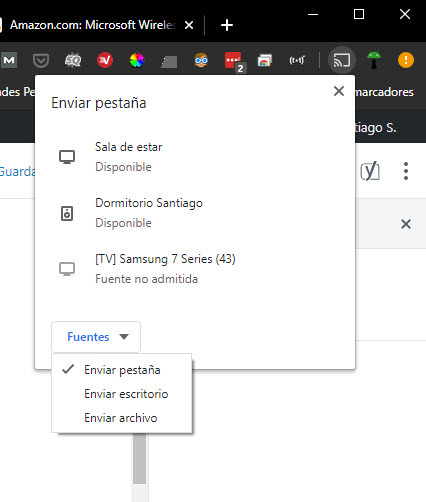 On certain TVs that support Google Cast, such as Android TVs, or if you have a Chromecast or Fire Stick, you can also stream the PC screen using Chrome. Click the menu button at the top right and tap on "Submit." There you can previously choose the source, such as the desktop, the current tab or even a file (video, for example). In my Samsung it seems that it is not possible because although it is available, I have the warning "Source not supported".
Microsoft Wireless Display adapter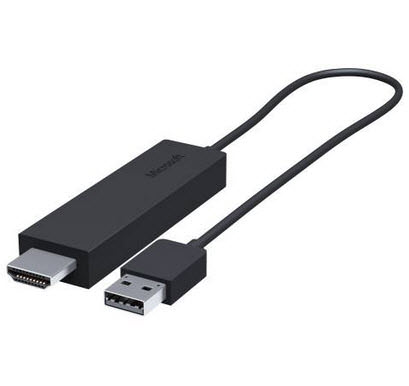 Another alternative is the Microsoft Wireless Display adapter, which costs around $ 60 on Amazon and can be used when the above options do not work for you. You connect one end to the HDMI port on the TV and the other end to a USB port to power it. The PC will recognize the adapter wirelessly and you can link it to the TV. Something similar to what is done with a Chromecast or the Amazon Fire Stick.
You can also hook your phone to the TV using WiFi Direct, forming an "ad-hoc" network, that is, without a router or WiFi network as an intermediary. Devices with Android 4.2 or higher support this possibility.
HDMI cable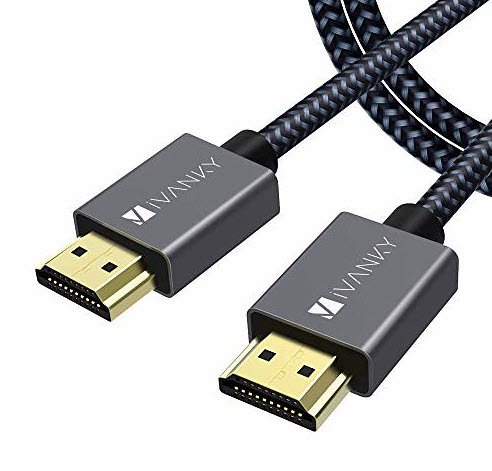 If possible, better use an HDMI cable. In this way you ensure a reliable connection, something I cannot say about the wireless method because there is latency and this can give you a bad experience, especially with games or even movies.
Related articles :
How to watch movies online on Chromecast (Stream to TV)
How to PROJECT or see your cell phone on the PC
How to convert your normal speakers to Bluetooth easily
Receive updates: SUBSCRIBE by email and join 10,000+ readers. Follow this blog on Facebook and Twitter.