Windows 10 lets you turn your PC into an Amazon Echo and enjoy Alexa as if the voice assistant was used from a compatible connected speaker. In this tutorial, we will see how to bypass Microsoft Store restrictions and configure Alexa on a Windows 10 PC in France.
Microsoft has always pushed Windows 10 users to use its own applications. But against all expectations, the Redmond company decided to leave more room for Cortana's competitors. Alexa has been available on Windows 10 since last year and continues to improve for a better experience. A few weeks ago, the application was updated to allow users to launch the voice assistant by voice rather than manually. Microsoft has also just announced that better integration of Alexa and Google Assistant will be offered in the next version of Windows 10.
Transform your PC into Amazon Echo: how to install Alexa on Windows 10 in France?
Microsoft does not yet offer Alexa on the Windows 10 store in France. However, for the curious who are least familiar with the language of Shakespeare, it is quite possible to enjoy the experience Alexa Windows 10. With the tip that we give you, you're going to the install in France and transform your PC an Amazon Echo speaker .
To start, you will make Microsoft Store believe that you are located in the United States. Otherwise, you will not find Alexa on the store.
Go to Windows 10 Settings (Windows key + I) then select Time and language .
In the left menu, click Region and language . Under the Country and Region section , choose United States from the drop-down list.
Now you can install Alexa from Microsoft Store. Open the store on your PC, enter "Alexa" in the search bar and confirm. Select Alexa from the search results and click Download . Once the application is installed, launch it and start the configuration. If you already have an Amazon account, all you have to do is enter the user name and password and then log in. Otherwise, click on "Create New Amazon Account" and follow the steps to the end.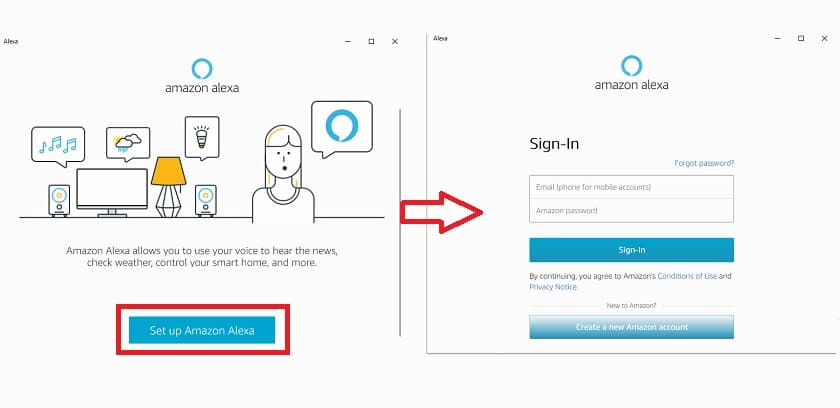 After logging in, the Alexa app will ask for your permission to access your microphone. Click Yes to allow it. This permission is essential to allow the assistant to listen to your voice instructions. Then click on the Turn on Hands Fee button to activate the hands-free functionality which allows you to call on the voice assistant by simply saying "Alexa", followed by your instruction. For this to work, the application must be constantly open.
What can you do with Alexa on Windows 10?
You can ask anything to the voice assistant, just like you would with an Amazon Echo connected speaker . It is possible to request practical information such as the weather or restaurants near you, access your personal information, such as your appointments and your to-do list. If skills were already configured on your Amazon account, you will be able to use them in Windows 10. To go further, do not hesitate to consult our file on the best voice commands to try with Alexa or an Amazon Echo speaker .