You want to follow someone and… You can't! Why won't Instagram let me follow an account? We tell you!
One thing is to get hooked on this application, and another is to be blocked… So if you are wondering "why won't Instagram let me follow an account?" , the answer may be that you are overdoing it. What does this mean? Well, the average amount of time users spend on this app is half an hour a day, but there are those who spend much more time and who can commit actions that are considered suspicious by the application. And how does it act? Blocking… Keep reading and we are going to explain the possible reasons.
WHY WON'T INSTAGRAM LET ME FOLLOW AN ACCOUNT?
As we were saying, there may be several answers to the question "why won't Instagram let me follow an account". And the most common, if you use the application normally, are also the simplest:
Have you checked that you have internet access?

Do you have the latest version of the app?

Are you sure that Instagram hasn't crashed or has general problems?
If you've already verified all of the above and still can't follow the account in question, there are other reasons. And surely you have been blocked by the application itself. Which are?
Have you followed many hit accounts? 

If so, it may be that Instagram has identified it as suspicious behavior, and thinks that you are a bot and that there is not a person behind you…

Have you given massive likes? 

For the same reason, the app may consider the behavior suspicious and not let you interact.

Do you have many, many accounts on the same phone? 

This is another of the practices that Instagram can consider as a misuse of the application.

Have you connected from a place that is not the usual one? 

Sometimes, if the app logs a suspicious login, it locks the account, to prevent it from being phishing or from you trying to get in.

Have you behaved inappropriately? 

If you have used profanity, false information, or upset someone, your account may have been reported. To avoid this type of situation, Instagram blocks it. The application can also do it without a complaint, because you have published inappropriate content or that is owned by another person.
If none of this makes sense to you, it may just be a bug. But it has a solution and we are going to tell you about it a little further down!
WHY WON'T INSTAGRAM LET ME FOLLOW PRIVATE ACCOUNTS?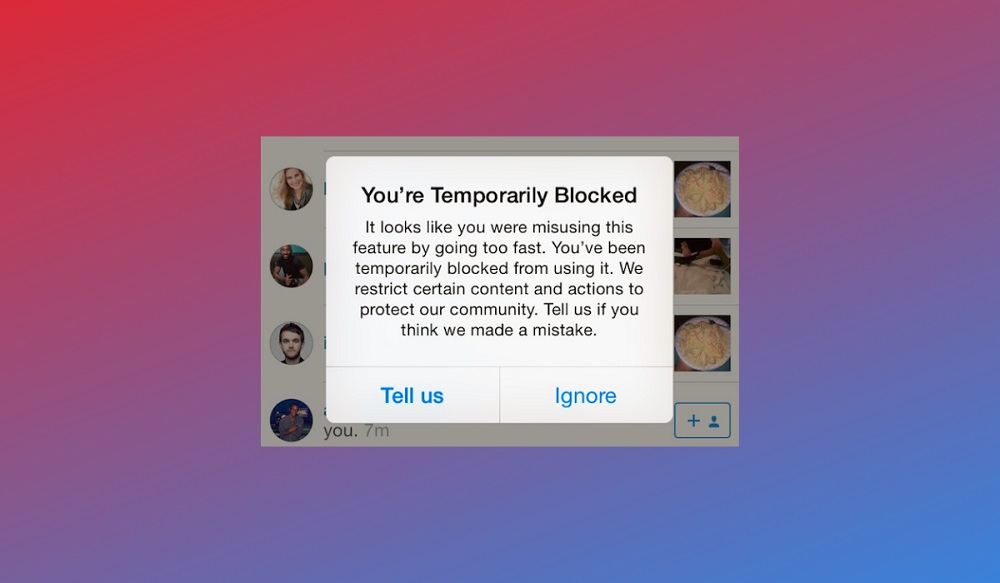 Another question we want to answer is "why won't Instagram let me follow private accounts? The first thing you have to do is verify if it is a specific account, or if it does not let you follow other profiles in general. Possibly, this question has the same answers that we have told you above.
But if you haven't been using the app for long, maybe it's just that you don't know how it works: when you want to follow a private account, a request is sent to that account, which the person behind it must approve . Therefore, you will have to wait for that person to accept it, or they may never accept it.
In this case, you can't do much: Instagram won't let you follow that private account, because its owner doesn't want to… ( Sorry! ).
HOW LONG CAN I NOT FOLLOW PEOPLE ON INSTAGRAM
At this point, you may be wondering: How long can I not follow people on Instagram? Well, it's not an exact science. Since the application penalizes according to the type of infraction you have committed. If you have simply exceeded the number of accounts followed in a very short time, you may be able to follow other users a few hours later. If, on the other hand, you have broken a more serious rule, the blocking may last considerably longer or even your account may be closed…
HOW CAN I GET INSTAGRAM TO LET ME FOLLOW PEOPLE?
There are two main things to do to get Instagram to let you follow people. The first, wait. Especially if you have started following many accounts without control. As we said, surely, after a few hours, you can start again (but do it in moderation!).
The second, get in touch with the social network. That is to say, if you have not committed any of the previous infractions, and you still do not know why some actions of your account, or the entire account, have been blocked, you can resort to the "Help" service of the application, to report the problem. issue. Follow the steps below to do it!
Enter the Instagram menu (the three lines that appear in the upper right).

Click on "Settings", and on the next screen on "Help".

And, finally, in "Report a problem".
This is where you can send a message explaining what happened, and fix it if you haven't made a mistake, and it's a bug in the app.
HOW LONG DO INSTAGRAM BLOCKS LAST?
As we said, knowing how long the blocks last on Instagram is not a science: it can be two hours or forever. The normal thing, if you have not committed a serious fault, is that in a few hours you will be able to use your account normally again. However, this can be extended to 7 days in the case of more suspicious activity; although there are ways to recover your Instagram account.
It will also depend on whether your "suspicious" activity is recurring. That is, if it is not the first time you have done something like this, and your account has already been blocked before, the blocking can last for several weeks or months.
In the most extreme cases, the account can be deleted… So our recommendation is that you use the app, but be careful!