Do you also have problems listening to voice messages that are sent and received via WhatsApp because the app crashes or cannot download it? You are not the only one, the phenomenon is widespread.
The problem with WhatsApp voice memos
If you are used to sending and receiving voice messages on WhatsApp, you will already have noticed the messenger's current problems. You can currently send voice messages, but the recipient cannot hear them – the loading bar simply does not go forward. Recently a problem in the WhatsApp beta had caused similar problems with voice messages. As soon as the voice message was started, the app crashed. However, the difficulties are now a little different, it seems.
How to listen to WhatsApp voice messages received?
The current problem is apparently on the server side of WhatsApp and is difficult for the end user to solve. However, the problems with WhatsApp messages can also have a different cause, especially if you are using the beta version of WhatsApp and not the official version. Then you should try the following steps, which will only work if the message has at least been downloaded. Otherwise you only have to wait for the WhatsApp developers or use another messenger .
A possible solution to the problems with voice messages on WhatsApp:
Download the Google Files app on your device and open it.
Click Browse Down and then Internal Memory.
Now select the WhatsApp folder, click on Media and then on WhatsApp Voice .
Scroll down the screen, open the last folder and click on the last file in it – this is your current voice message.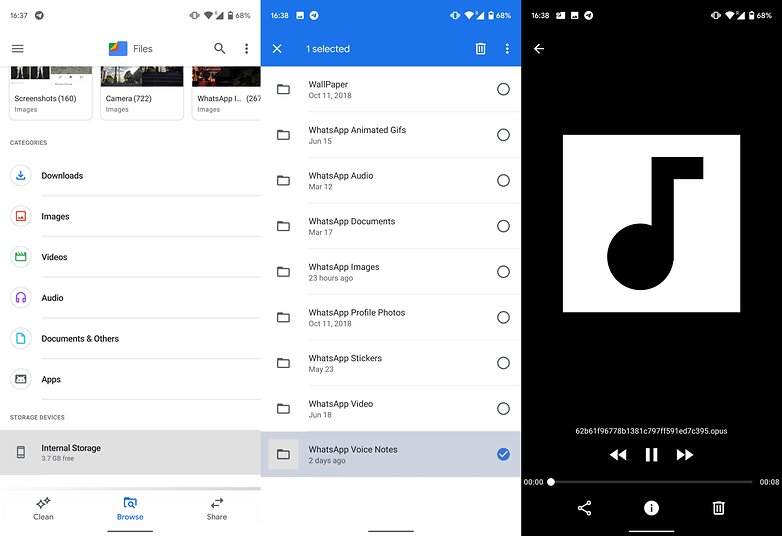 Could you solve the problem with voice messages on WhatsApp?