If you frequently use other WiFi networks, you should be particularly careful when surfing. Maybe someone is reading along. So uses a virtual private network (VPN). We show you free variants and the safest approach.
There are many reasons for using VPN clients in Android, but first we want to explain what they are and why you should use them.
Why do I need VPN in Android?
VPN connections send your data encrypted from your smartphone via a VPN server to the websites and services that you want to use. This is particularly important in public WLANs, as this is the only way to ensure data transmission is secure. Without VPN access, everyone could read your chats and passwords there.
So you should set up a VPN in Android if you exchange sensitive data. Unfortunately, you have to blindly trust the VPN server to keep your data secret.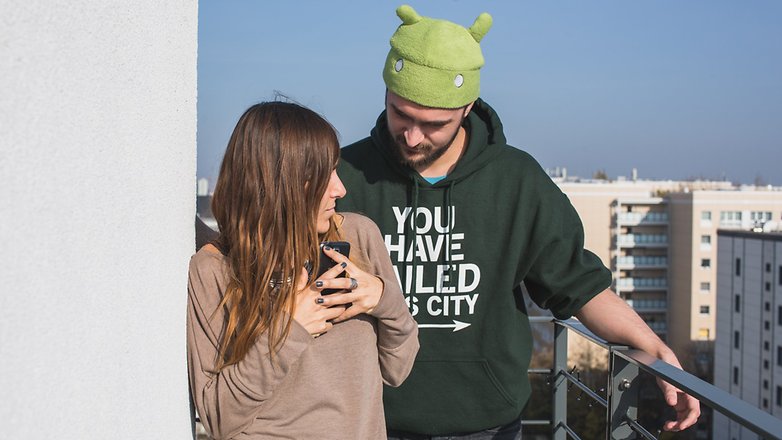 In addition to the security aspect, the VPN server also gives you a new identity vis-à-vis websites and services. So you can fake YouTube, you are in the United States. Or you get an IP address that gives you access to certain servers.
VPN without app: configure router
The free alternative to the service providers presented below is that you create a VPN server yourself. If you want to use your German IP address abroad or want to access your home NAS server from anywhere in the world, you need VPN access in your router. You can get this free of charge as part of the router firmware. The software you need to use this VPN access without an additional app is already on your Android smartphone.
1. Configure router
Since there are almost as many different routers as Android smartphones, I can only show you one example. The Fritzbox 7490 can be set up as a VPN server to which you can set up password-protected, encrypted connections on the go.
For remote access to the router, you first need MyFritz access. It is a system that gives your router a static web address at which it can be reached at all times. Set up MyFritz access here .
Then go to the router menu and set up a user for VPN access. Assign him certain permissions, such as access to the Fritz NAS. Then a window opens with the configuration data that you should type in Android.
AVM maintains an official manual and keeps it up-to-date for upcoming firmware updates. You can find it at this address:
2. Configure Android
Now you open the Android settings and tap on More in the section Wireless & networks . One of the entries there is called VPN . Open it and press Plus on the top right.
You can type in FritzBox or anything else as a name . The rest of the data can be found in the information provided by the Fritzbox assistant. The terms IPSec identifier and IPSec ID as well as preinstalled IPSec key and IPSec pre-shared key are each synonymous.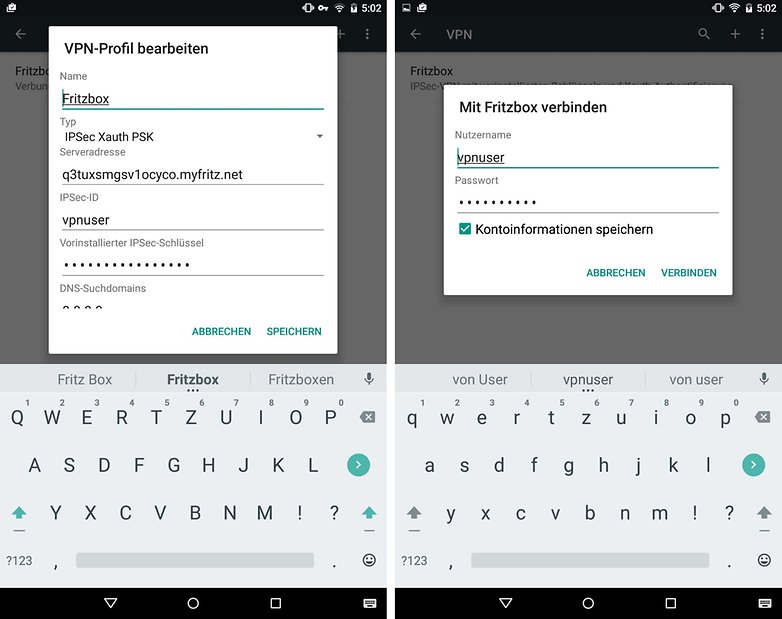 To connect, you must always type in the IPSec identifier and the user password. You can save the latter for faster connections. If you are in the WLAN of your Fritzbox, you have to pay special attention to the first step of the official instructions .
SurfEasy VPN for Android: cheap and fast
SurfEasy is set up very quickly and works quickly. All you need is a valid email address and a password, and you're there with 500 free MBytes. It is sufficient for a quick email exchange. The server's pace was also sufficient to stream YouTube videos in 720p via a Canadian VPN server. For just over 35 euros per year, you can use your account on five different devices in parallel and without data limitation. The Android-only license costs just under 28 euros a year. Using the VPN app is child's play. Only the numerous app permissions are a little strange; other apps manage with considerably less access to your private data.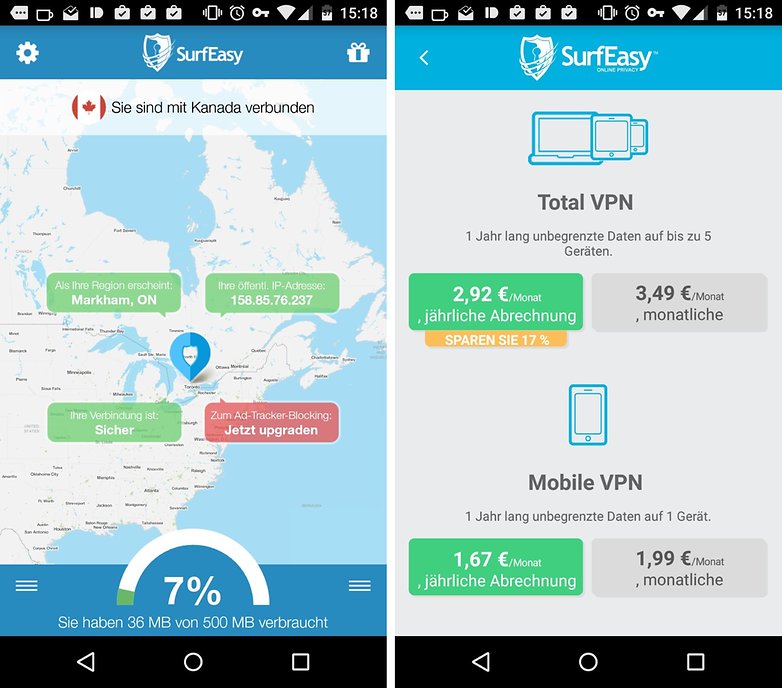 TunnelBear: playful interface and lots of free traffic
TunnelBear also relies on a playful, graphic representation of the existing VPN servers in the world. If you want to use TunnelBear on five devices, it costs considerably more than SurfEasy at 53 euros. If the Android app is enough, you can take the 32 euro annual plan. The first 500 MB are free and if you do certain promotional activities, you get additional free megabytes.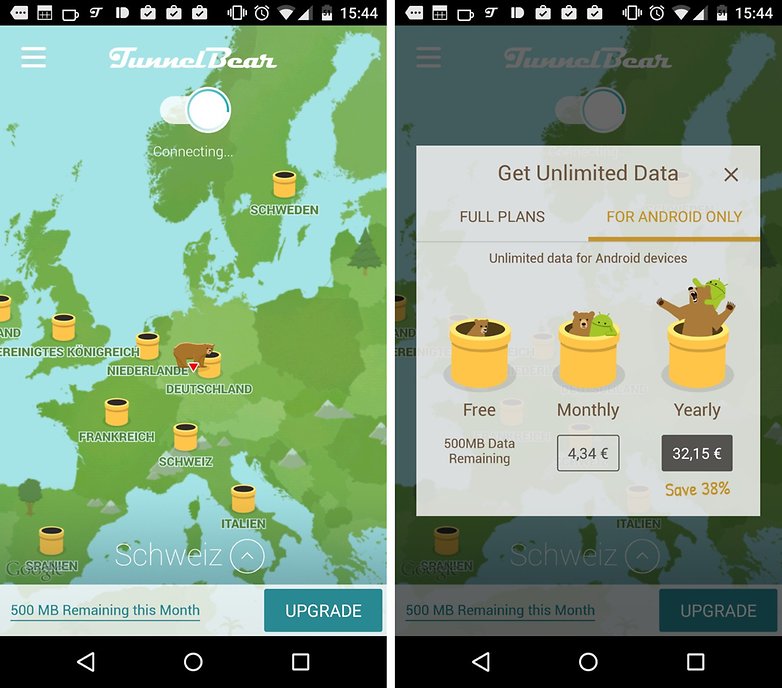 Hotspot Shield VPN & Proxy: No limits, but only for cash
AnchorFree is set up very quickly because it doesn't ask for an email address or password. It simply gets the data from your Google identity. It has a VPN autopilot on board, which automatically protects you when you connect to an unknown WiFi network. That way you have the least amount of administrative stress. The free version works a little differently than with SurfEasy or TunnelBear. With AnchorFree you cannot choose which country your tunnel should go through. The VPN app is therefore not suitable for watching GEMA-blocked YouTube videos. The Elite account costs a fair 30 euros per year and is practically mandatory. Because the free version is so slow that you cannot watch YouTube videos with it. A free trial offers the elite features free of charge for seven days.
Hotspot Shield Free VPN Proxy WiFi Security
Freedome VPN: serious and fast
Freedome VPN comes from the security experts at F-Secure. The app has had a good reputation for years and is not only considered to be fast, but also particularly safe. F-Secure also costs a bit, because if you want to use Freedome VPN, you have to pay. Three devices cost € 49.90 a year, five devices € 59.90 and seven devices cost € 79.90. For heavy users who travel a lot, however, these costs can pay off. Trial for five days is free.
Turbo VPN: Free and chic
Turbo VPN has already been downloaded over 50 million times and has a rating of almost 2.8 million with 4.6 stars – quite impressive for a free VPN app, which is often rightly rated poorly due to a slow connection or dubious business practices. Turbo VPN is an exception here, because the app is not only free to use, but also looks modern and is pleasant to use. Among other things, the provider earns his money with in-app purchases, which cost between 0.99 euros and 36.99 euros per item.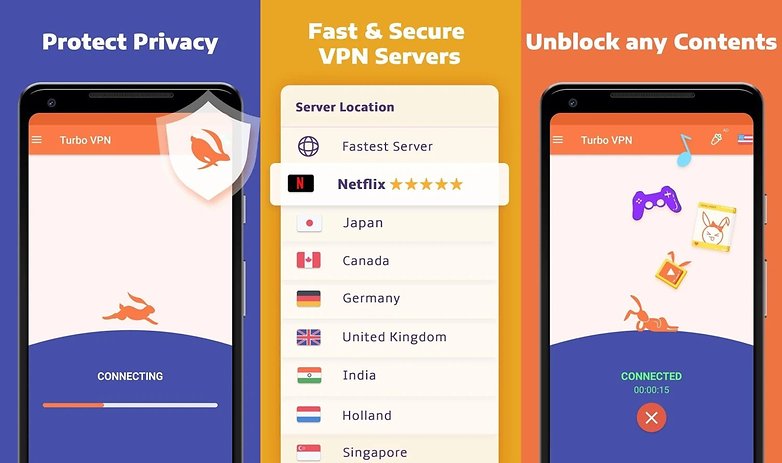 Turbo VPN – Unlimited Free VPN
VPN apps for Android: conclusion
These VPN apps are similar to most other one-tap solutions for encrypted internet surfing. Unfortunately, you never know exactly who is hiding at the other end of the VPN tunnel, so you are in the dark with the security of your data. We therefore generally recommend a do-it-yourself solution with the home router if it allows it.