As high-end cell phone as expensive as an Android, writing text on it can never be the same as on a PC. You can never even compare the entire keyboard of a computer with the virtual keyboard of a mobile device. To use the PC keyboard on Android there are several solutions in the form of applications, however, if we have already used some of them, perhaps we have found most of them difficult to use or configure.
Let me introduce a great application for that purpose, which is very easy to use and configure: Kunai Keyboard . To write with the keyboard of the PC in Android it is only a matter of installing this application on the mobile and that's all. There are no clients to install on the computer (as with DeskDock) or difficult configurations. Nothing of that.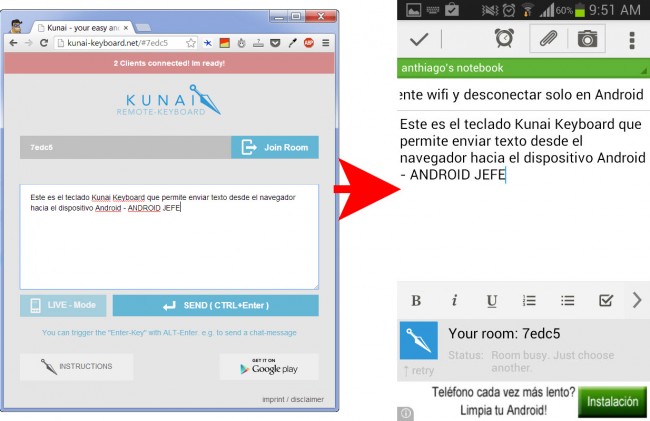 Once this application is installed on the Android device, this keyboard is run and activated within the list of Android keyboards (using the Open Keyboard settings button ), it is selected as the Android default keyboard (Choose default keyboard) and finally the Save Room button is pressed.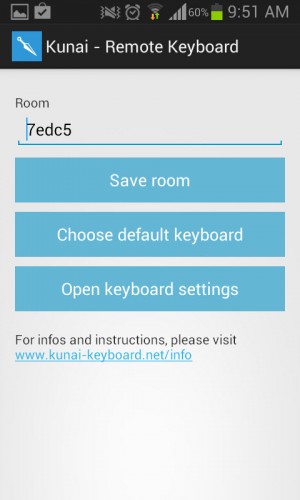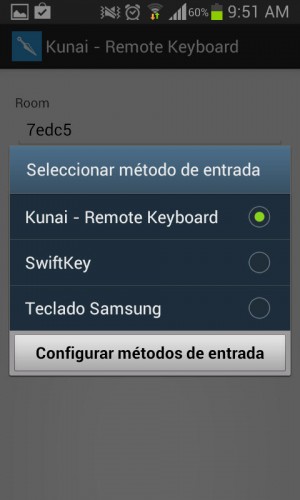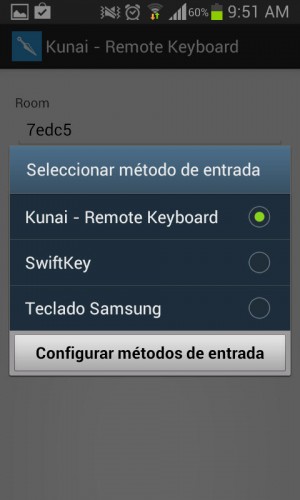 Now it's just a matter of opening the website kunai-keyboard.net kunai.drailing.net on our computer and enter the room number provided in the application. Once this is done, we can send any text that is written on the PC through the indicated page, to our Android device, to the application in which we are. It can be seen how I have sent text from the browser to the Android Evernote application, in which I usually write articles for Android Boss.
Obviously, to be able to work with Kunai Keyboard it is necessary to have an Internet connection on the PC and on the Android device (it is not necessary that both are connected to the same Wifi network). It is one of the simplest, easiest and fastest alternatives to use to use the computer keyboard to write on an Android.
The application is free, although, it is supported by advertising.
Download Kunai Keyboard : Play Store (APK available at APKPure.com)
5 APPS to control Android from PC
5 APPS to see and control the PC from the cell phone
The best Android EMULATOR for Windows
Receive updates: SUBSCRIBE by email and join 10,000+ readers. Follow this blog on Facebook and Twitter.