In this practical tip, we will show you how to update WhatsApp on your mobile phone. You can also check whether you are currently chatting with the current version.
Update WhatsApp on Android
At the latest when you get a message that the WhatsApp version being used is not supported, you should update the Messenger service. You can easily update WhatsApp in the App Store on your smartphone.
WhatsApp can be updated on Android via the Google Play Store . If you have activated the function in the settings, you will receive a notification when there is a new update.
Open the Google Play Store on your Android device and tap Menu > My Apps and Games .
To the right of the WhatsApp Messenger on Refresh .
Alternatively, you can open the Google Play Store and search for WhatsApp. Then type in the WhatsApp Messenger on Refresh .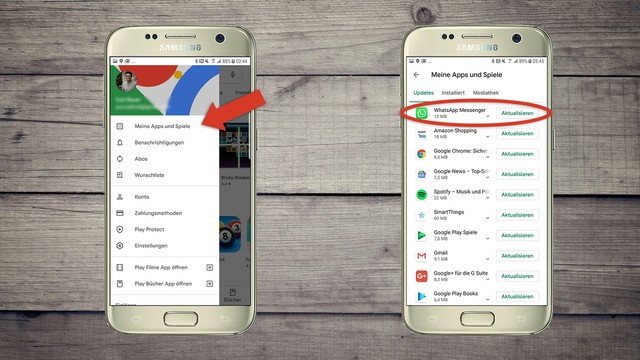 ---
---
Update Messenger on iOS
To update WhatsApp on your iPhone, open the Apple App Store.
There, tap your profile picture in the top right and scroll down in the new window. Planned updates are displayed here. If an update is available for WhatsApp, simply go to the Update button .
Alternatively, in the App Store search for WhatsApp and right of the WhatsApp Messenger on updating tap .
Tip: Always use the latest version of WhatsApp on both Android and iOS. So you have all the new functions available and benefit from possible bug fixes.