You have to face mistakes, but sometimes the imagination is blocked. Get inspired by the best phrases and images to apologize for WhatsApp
Have you forgotten your partner's birthday for the third year in a row? Did that harmless joke in the WhatsApp group at work end up having catastrophic consequences? If it is time to try to make amends for our bad acts, it is important to have at hand the best phrases and images to apologize for WhatsApp . Actually, the best apologies are the ones offered from the heart and in person, but apps can help you feel a little less guilty in certain cases.
HOW TO APOLOGIZE TO A FRIEND IN AN ORIGINAL WAY ON WHATSAPP
It is clear that apologies are a bad thing that you have to try to face in the most elegant and fast way possible, and if you are wondering how to apologize to a friend in an original way on WhatsApp, there are several tools at our disposal: you can try memes, voice notes, videos, stickers … The limit is your imagination, but if the day is heavy, here are some memes to beg for forgiveness.
The first is as famous as it is infallible . The kitten with teary eyes has replaced the Shrek Puss in Boots memes in the collective imagination (it's about time), so if your sin is relatively bearable, it is possible that with this meme everything will be fixed at the speed of light.
Another widely used meme is that of the girl from Monsters SA , and there is nothing like making eyes to earn forgiveness .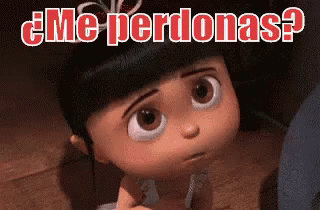 Okay, maybe with a friend you have to look more for the ironic side . We can recognize that we did something wrong with the "I shouldn't have done that" meme, one of the most concise and impressive on social media right now .
If you want to apologize but are pretty sure you really shouldn't , you have the ever-efficient Yao Ming at your disposal. With this one, he will surely return the good vibes with your friend.
PHRASES TO APOLOGIZE TO YOUR PARTNER ON WHATSAPP
Things get serious when it's your better half who is angry. In these cases, you have to try to play a slightly more serious trick and look for phrases to apologize to your partner on WhatsApp that show the sincere intentions of correcting the mistake , here are some ideas.
Este desastre de persona te ama
I'm not going to waste time arguing with you, I prefer to use it to be happy by your side
You give me the opportunity, I'll make sure it's worth it
Could you forgive me one last time?
I have a void and guilt in my heart, can you fill it with your forgiveness?
I'm not good at apologizing, but I apologize
Forgiveness does not change the past, but it enriches the future
Not admitting a mistake is an even bigger mistake, sorry
I just want to tell you directly that I am deeply sorry for the selfish and irresponsible behavior that I have maintained
Apologizing is never easy, but in doing so I just hope it's not too late.
HOW TO APOLOGIZE IN WRITING TO A FRIEND ON WHATSAPP
Memes and videos aside, making the effort to write denotes an effort to earn forgiveness, so it is advisable to know how to apologize in writing to a friend on WhatsApp . Choosing a meme or some phrase may not be enough, since there will always be the suspicion that a quick Google search has been carried out and little else, so a text message may be more sincere.
As my best friend, I know you have the right to demand an apology from me. As your best friend, I hope you know that I have the right to ask for your forgiveness. I am sorry.
I'm just going to say I'm sorry, I'll let the rest be transmitted by silence
I'm ashamed that I broke your trust. I promise I'll never let our friendship rust
Best friends tolerate the worst in oneself. Thanks for being one of them, sorry.
I'm sorry I lied to you. You can be very angry, but finish quickly, I have something very interesting to tell you.
I won't let anything in the world get in the way of our friendship, not even my own mistakes. I am sorry.
Sometimes I take the liberty of thinking that you will always be there because deep down I know that my best friend will always understand. I am sorry.
My mistake was unintentional but our friendship was not. My apology is full of regret but our friendship is not.