The best micro SD that can be purchased for the Samsung Galaxy S7 or S7 Edge is one that combines good features and price. Considering this, if it is from a recognized brand such as Kingston, Sandisk or Samsung it will be enough.
The Galaxy S7 and S7 Edge cell phones support a card with a maximum capacity of 256 GB. Any micro SD card of this value or less will be fine. Obviously, the more capacity the greater the cost. So you have to know the majority use that will be given to the phone. Samsung recommends a card of up to 2 or 32 GB if the priority is photos. If we talk about video, a 64 GB card onwards will be necessary.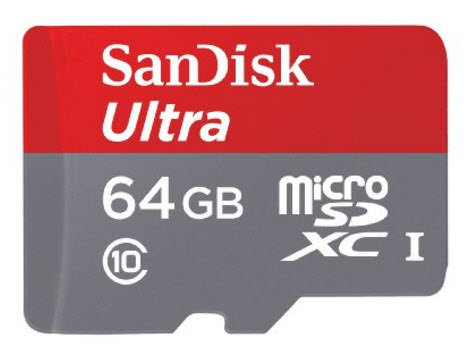 Once the required capacity has been determined, it will be necessary to verify that the card has at least class 10 speed . Like the capacity, this specification is also indicated on the card, within a small circle. For example, speed determines how fast files can be opened or saved on the card. This is a critical point that, if not taken into account, can reduce the performance of the cell phone in these aspects. There are cards with UHS speeds that are higher than class 10, but in addition to being more expensive, they are not worth it for the Galaxy S7 and S7 Edge. Below you can read a more detailed explanation about this.
The best and cheapest card for the Samsung Galaxy S7 and S7 Edge 
Considering the above, you just have to choose a guaranteed brand that offers the lowest possible cost. This 64 GB card (SDSQUNC-064G-GN6MA) is available from Amazon for $ 16. It has been purchased thousands of times and has a user rating of 4.5 / 5. It is Sandisk brand, class 10, as suggested before. It is the cheapest in its range. On the same page you can buy the 128 GB and 200 GB version for $ 40 and $ 70 respectively.
Speed ​​Class 10 vs. UHS
As stated before, you don't need to spend more money buying a faster micro SD card than a class 10 for the Samsung Galaxy S7 and S7 Edge. In fact, I think it's not even worth it for any other smartphone these days.
In practice there is no difference between a class 10 and a UHS class, which offers higher speeds. At least it is what I have been able to verify during the tests done on a Galaxy S7 Edge. I have used a Kingston exclusively Class 10 (NON UHS) card and a Samsung PRO Select UHS 3 (UHS Bus I) on the same device. The differences on paper are certainly evident (and we detailed it ourselves in a previous theoretical article):
The theory
Samsung Select PRO UHS 3 (UHS Bus I)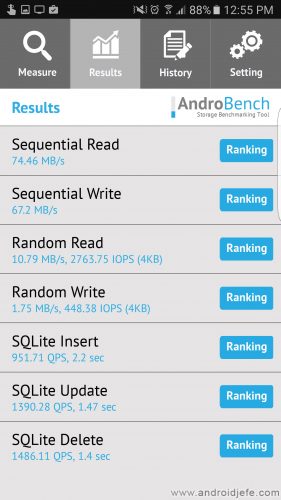 Sequential Read : 74.46 MB / s
Sequential Write : 67.2 MB / s
Kingston Class 10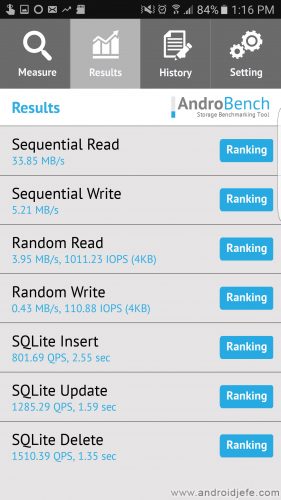 Sequential Read : 33.85 MB / s
Sequential Write : 5.21 MB / s
In practice
Despite the overwhelming numbers of the Samsung card on the Kingston, during use there is no palpable difference between the two. I have tried a few things to determine this. Opening photos, files in general and playing videos, music, etc. Applications moved to the SD and run from there. Even 4K video recording. I have not found a difference between one and the other. Both open files at the same speed. The applications open just as quickly and work normally. 4K video is smoothly recorded on both and playback is equally smooth.
You would have to be tremendously observant and demanding to see a difference in performance between one card and another. There may be a slight delay when opening the Android or Google Play application manager. Also a minor delay in starting the computer with memory class 10. But nothing beyond that.
No UHS required on Samsung Galaxy S7
Not that high-speed UHS cards aren't any better than a class 10 core. They definitely are and the previous numbers confirm it. The point is that, for the tasks of a smartphone such as file storage, running apps or recording high-resolution video, the speed offered by a Class 10 is sufficient.
The Galaxy S7 and S7 Edge are apparently compatible with the UHS I bus, which allows a maximum transfer speed of 104 MB / s to be achieved. On the S7 Edge, the maximum average speed it achieves is 75MB / s for sequential read and 65MB / s for sequential write based on the data shown above and confirmed here and here. A UHS I card would exploit that specification of the S7, but from what was said before, nothing would be gained in practice. Thinking of buying a UHS II card would be even more absurd. This standard reaches speeds of up to 312 MB / s and the Galaxy S7 and S7 Edge cannot even fully exploit the UHS I standard.
The Similar Case for Multicore Processors
This is a similar issue to that for processors on smartphones. There are currently eight and up to ten cores, but in practice few applications will be optimized to exploit this hardware. There is no palpable difference for the user, as with higher speed UHS cards.
conclusion
I bought the Samsung PRO Select 64GB card at Amazon for $ 43, which on paper indicates 95MB / s and 90MB / s in read and write speed. When comparing it to a Kingston Class 10 on my Galaxy S7 Edge in everyday tasks, I was disappointed, because I have not noticed any difference. At that cost, you could have bought a 128GB Class 10 card like the Sandisk suggested at the beginning, getting the same real performance.
Receive updates: SUBSCRIBE by email and join 10,000+ readers. Follow this blog on Facebook and Twitter.