The error Google Play Services stopped  is common on Android phones. We explain what is the cause of this problem and how to fix it in a few simple steps.
Google Play Services is an application that comes factory installed on most Android devices. Because of it, sometimes the warning is generated that "Google Play Services stopped" within one or other applications. Such a software bug is generally simple to fix.
Why does Google Play Services stop?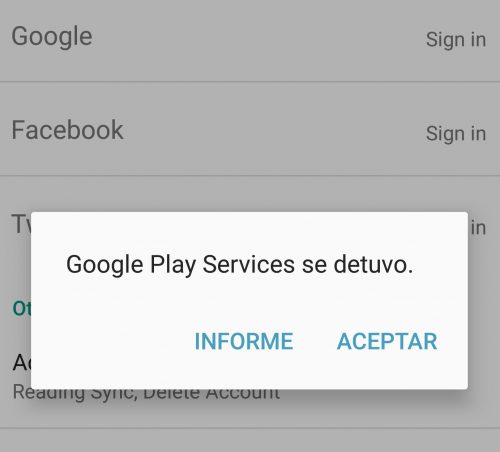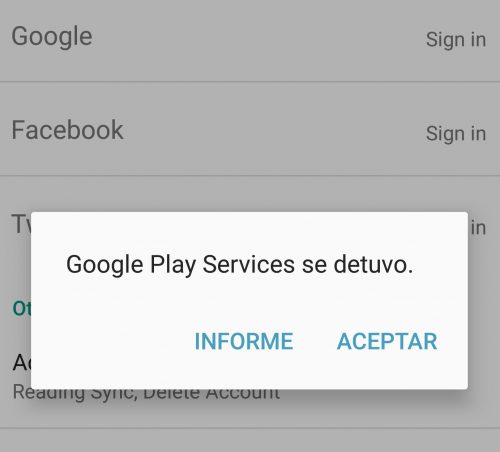 Unfortunately the Google Play Services application stopped , a very frequent error in Android.
The notice "Google Play Services stopped" frequently appears when logging in with a Google account in an application. Basically, you cannot log in or log into that app because of this error. This problem usually persists even if the cell phone is restarted or even the Play Services application is reset.
The most likely cause is an incompatibility between Google Play Services and the other application. Play Services is constantly being updated and changes to its code may not work correctly with older applications that offer login with a @ gmail.com account .
 Fix Google Play Services flaw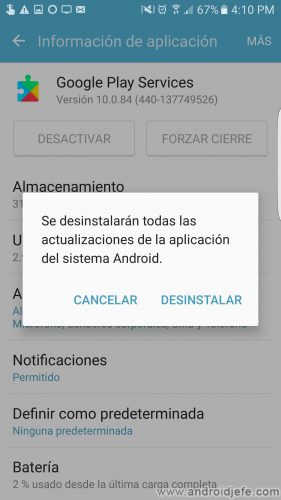 The fix for this error is to uninstall updates from Google Play Services. This makes an older version of Play Services more likely to support outdated apps. After the problem is fixed, Play Services can be left as it was.
This can be easily done from the Play Services settings. For example, on a Samsung Galaxy S7 Edge it is done as follows:
Open the General Settings of the Android system.
Select "Applications".
Tap on "Application Manager".
At the top right, tap on "More". Select the option "Show system applications".
Tap on "Google Play Services".
Next, to uninstall Google Play Services updates:
At the top right, tap on "More".
Select "Uninstall updates".
In the window that appears, confirm the uninstallation and accept the replacement with the factory version.
Once the login problem has been solved and you have successfully logged in to the application where the error was generated, Play Services can be updated again. The easiest way is to open the Gmail application. By doing this, hopefully the device will automatically request to update Play Services and by tapping on that notice, it can be done from the Play Store. If not, a manual update will necessarily be required.
Note : Before uninstalling updates, it may be necessary to disable Google Play Services as device manager. The mobile will automatically tell you where to do this. After solving the fault you must reactivate this. This is done from System Settings> Lock Screen and Security> Other Security Settings> Device Management .
Optionally verify that the device remote control is activated. This can be seen in System Settings> Google> Security> Locate this device remotely / Lock and erase data from the device remotely .
Google Play Services continues to fail
If the said does not solve the error Google Play Services stopped, we suggest checking other solutions provided in this article, regarding the sudden stop of any application on Android.
Google Play Services: What it is and how to download, install, update
Solution to Play Store problem "An error occurred while retrieving information from the server"
Remove UNLINK Android devices from Google account
Receive updates: SUBSCRIBE by email and join 10,000+ readers. Follow this blog on Facebook and Twitter.