If you want to use WhatsApp on a PC, you have several options. We show you how to start on your smartphone and continue chatting on your PC with WhatsApp.
WhatsApp Web: Chat in all popular desktop browsers
The first official variant with which you can use WhatsApp on the computer is WhatsApp Web. With a supported web browser, you surf web.whatsapp.com and can chat in the browser after activation. While this method is functional, it has some disadvantages.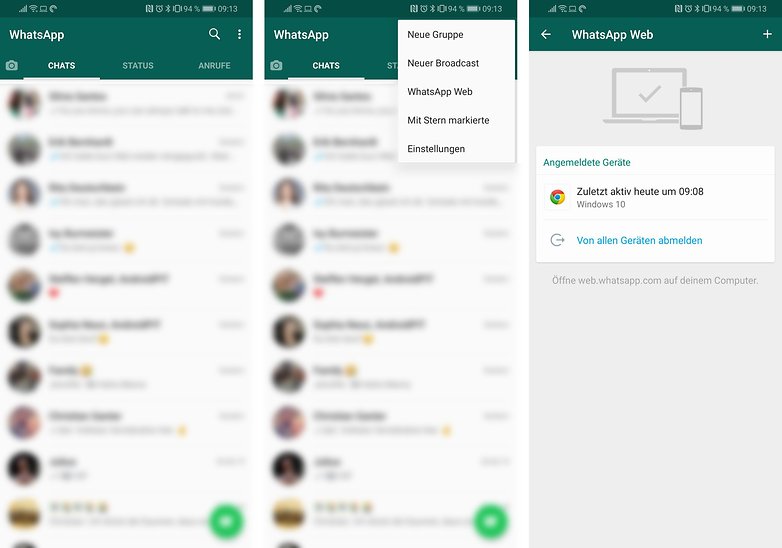 Unfortunately WhatsApp Web has some weaknesses and cannot be 100% convincing. It is not an independent client, because the actual sending and receiving of the messages still runs on your smartphone. For WhatsApp Web, this must have an active internet connection. WhatsApp Web is therefore not a real multi-device option.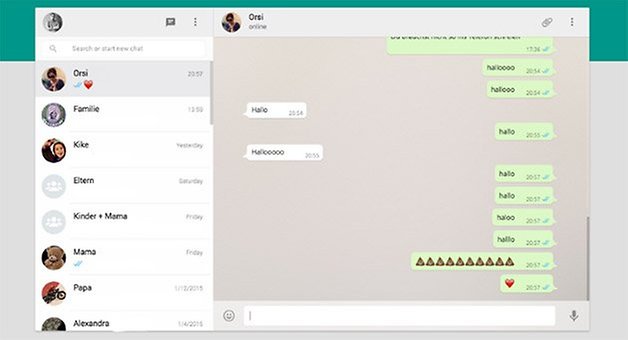 What do I need for WhatsApp Web?
First of all you need a compatible browser

Currently officially supported: Chrome, Firefox, Opera, Safari and Edge

WhatsApp must be installed and set up on your smartphone
Both devices must be connected to the internet
No other WhatsApp web connection may be active. You can disconnect an existing connection before establishing a new one.
How do I start WhatsApp Web?
In order to use WhatsApp Web, you need to synchronize your smartphone and your computer as follows:
Go to the web.whatsapp.com website with your browser
Open WhatsApp on your smartphone and select WhatsApp Web from the menu in the top right corner
Use your smartphone to scan the QR code that is displayed on the website
Chat
To log out again, go to the menu on the smartphone and remove the PC from the list, or open the three-point menu in WhatsApp Web and click on Log out .WhatsApp Messenger
WhatsApp: Use a special client for Windows and Mac
WhatsApp Web works, but has some drawbacks. Above all, the feature is not integrated with the operating system. If you use Windows or a Mac, you can therefore access stand-alone programs that WhatsApp has in the download area . These programs are wrappers for WhatsApp Web. Download the correct file for your platform and install it.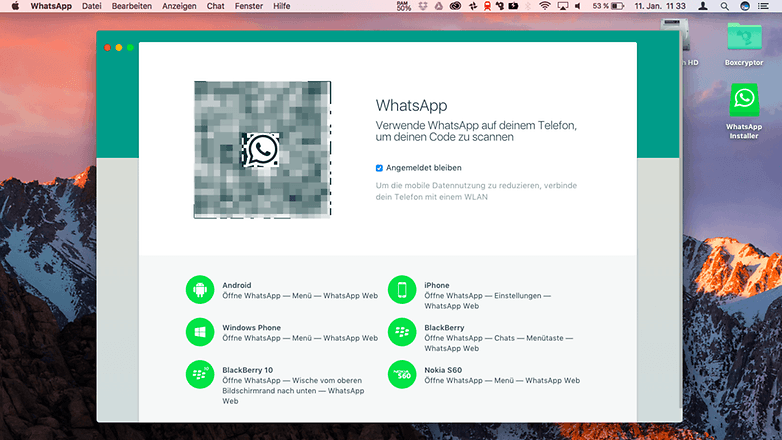 Now you can set up WhatsApp Web within the software as described above . You will not escape some of the disadvantages of WhatsApp Web: The smartphone must also have an active Internet connection for these desktop programs.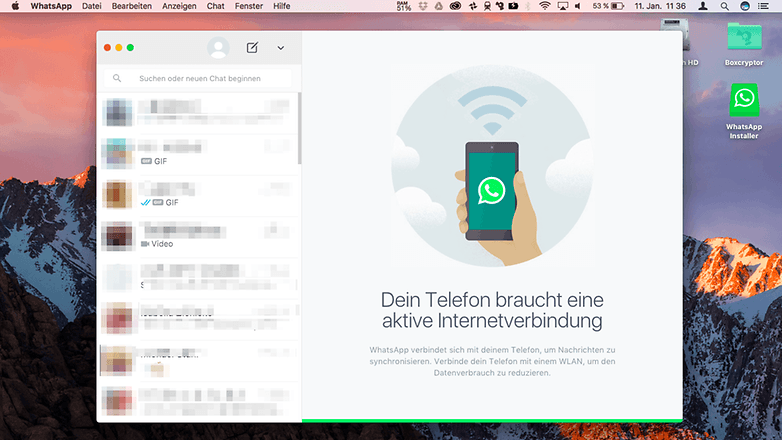 We tried the Mac app. You receive notifications via the system and the synchronization between smartphone and Mac takes place almost in real time. Features such as stickers, voice messages or the emoji search in the text field also work here. A computer with Windows 8 or newer or Mac OS X 10.9 or newer is required.
Alternative: Franz
Franz is an alternative to the official WhatsApp clients. This program integrates many different services such as Gmail, Skype or even WhatsApp Web in a tab-based interface.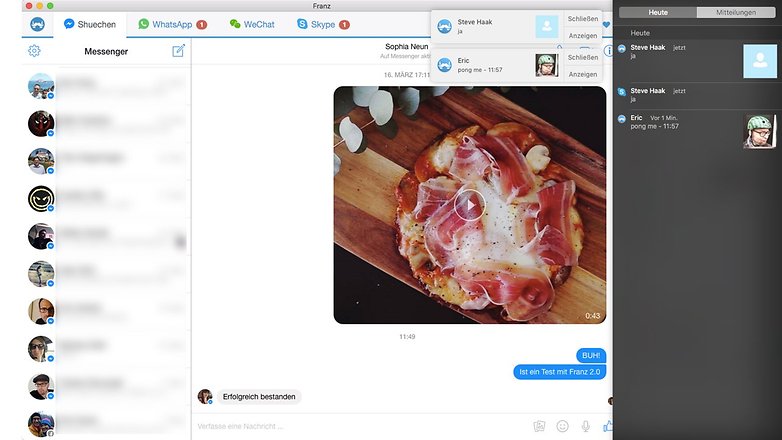 And the best? Franz is available for Windows, macOS and Linux. You can find more information about the helpful app on the website of the program .
Use WhatsApp on the PC: Pushbullet also has restrictions
Pushbullet is available both as an Android app and as a browser extension and program for Windows. The app is used to display all notifications on the PC and to send messages from the PC to the smartphone, other devices or your pushbullet contacts. With Pushbullet you can reply to messages from WhatsApp, Hangouts and other messengers on your PC and you can write SMS.
Unfortunately, this method of using WhatsApp on the PC has a major weakness. Pushbullet is more flexible than WhatsApp Web, because it can also be used to write SMS on the PC, send links and files from device to device, but it cannot send a WhatsApp message from the PC on its own initiative. So you can only reply to messages here.
To be able to use Pushbullet, you have to download the app for your smartphone and PC. You can find the necessary clients on the Pushbullet website . The operating systems Android, iOS and Windows as well as the browsers Chrome, Firefox, Safari and Opera are officially supported here. Then do the following:
Installs the Pushbullet app on the smartphone and for the PC / browser
Log in anywhere with the same account
Allows the app to access your notifications
If you now get a WhatsApp message, you can pop in on answers press (you must allow push Bullet popups in your browser if your browser version used). If you miss the popup, you can simply click on the pushbullet icon and dig it out again under Notifications .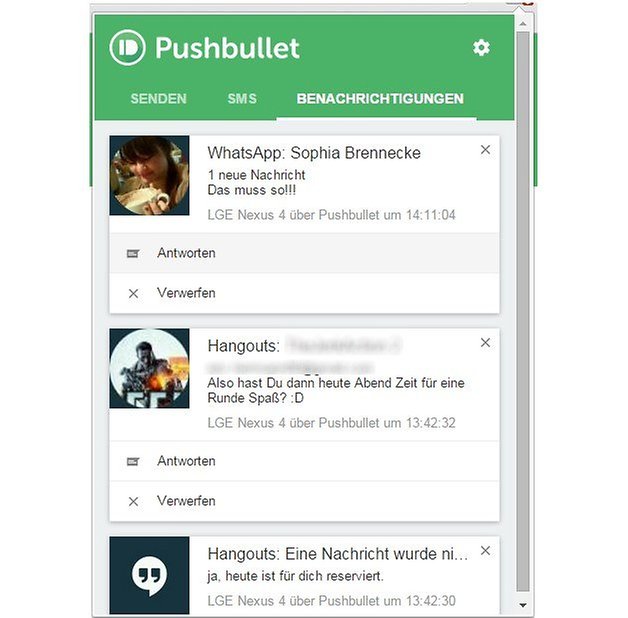 If you want to use WhatsApp on the tablet, we recommend you take a look at our separate instructions:
Does your WhatsApp use web or another way to use the messenger on the PC? Or do you still prefer to use your smartphone?