Do you want to enjoy all the anime completely free? Learn how to get Crunchyroll Premium.
Do you want to be a Premium user without paying? Then use this cheat from Crunchyroll.
Do you use Netflix, Amazon Prime, HBO Plus, Disney +? Well, in case you did not know, there is also an app for all anime lovers: it is Crunchyroll, the channel full of a lot of otaku content.
Through it you can not only see Naruto, Dragon Ball, Sailor Moon, Saint Seiya, among other classics in their original language or with subtitles, but you can access a whole catalog of drawings to have fun during your holidays at home.
However, if you are a user who enjoys Crunchyroll content for free , you will have to endure the annoying advertising. This leaves every 8 minutes and is presented in batches of up to 4.
While this can be quite flexible for some, for others it is annoying that their favorite series have some kind of interruption. Can I watch Crunchyroll Premium for free and legally? Of course, and here we tell you.
HOW TO SEE FREE AND LEGAL PREMIUM CRUNCHYROLL
If you want to have Crunchyroll Premium for free, you only need to have a debit or credit card to be able to enjoy the content without advertising:
The first thing you should do is enter Crunchyroll .
Once this is done, you must choose the plan you want.
When you do, you can enjoy Crunchyroll Premium totally free for 14 days.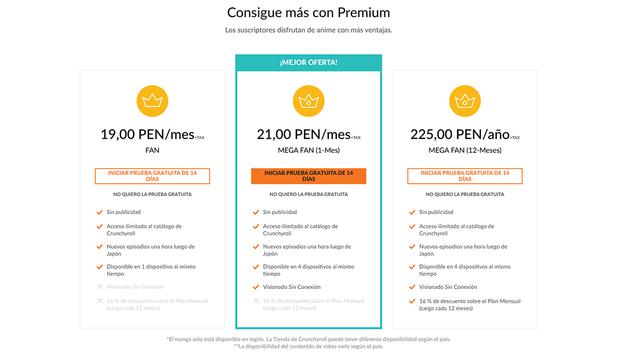 It should be noted that you must cancel your subscription as soon as you register so that the payment does not take effect.
In case you want to continue seeing everything for free, use another account and another payment card.
Remember that as soon as the trial period ends in Crunchyroll. The payment will be made, in case you want to continue with the same account.