3.5 GB of internal memory

Sweat resistance (not submersible)

LED indicators

Bluetooth 4.1
WE LIKE…
Bluetooth 4.1

Certificate of resistance to water and sweat (without certificate)

Acoustic isolation

Great design and ergonomics

Multi-function touch button

3.5GB high internal memory
WE DO NOT LIKE IT…
Not compatible with Apple (iOS)

Short battery life

High price
Samsung's first True Wireless bet
The Samsung Gear IconX is going strong and it is that these in-ear Bluetooth headphones are not like any seen before.
They are like a 3 in 1, since it offers technology adapted to monitor the sports activity that we carry out, an internal memory to store your own music and they also work completely without cables.
The Samsung Gear IconX range of products is focused on health, offering the ability to monitor physical activity without having to use bracelets, quantifiers, or smartphones, since these bluetooth headphones perform all these functions.
From MA we have wanted to analyze them thoroughly to understand how something so small can be so revolutionary.
Design-Comfort
The finish and design of the Samsung Gear IconX begin with its sophisticated case, which also serves as a charging station, as is the case with the  Syllable D900S. Together with the fact that it provides charge to the Gear IconX Bluetooth headphones, this case serves as a small external battery since it has a 315 mAh battery that we will previously charge with the micro USB port.
The headphones are elegant and striking at first glance since they have a very simple and minimalist design line. Available in 3 different colors: blue, black, or white, these headphones have a touch surface with an LED light around it.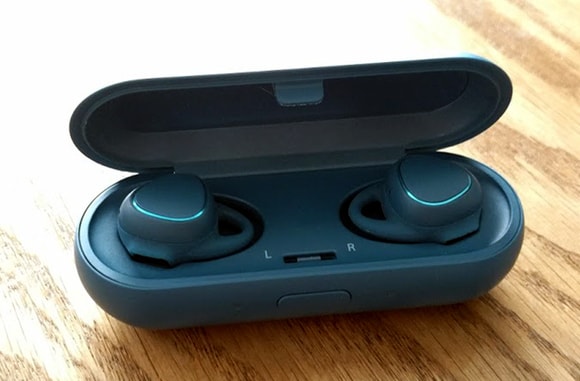 CUSTOM ERGONOMICS
The Gear IconX belongs to the group of in-ear Bluetooth headphones, their pads are inserted into the ear canal in a way that isolates us from external noises, offering an improved sound quality.
Charging case that doubles as a small external battery
In addition, they are ergonomic and comfortable thanks to the fastening flap that they have on the top of the headphones. Comfort is one of the fundamental characteristics when choosing a Bluetooth headset. If we are going to use them for sports, a good grip is also essential. These Samsung Gear IconX will be as secure and comfortable as possible, as long as we have chosen the pair of fastening fins that best fit our ear and we have placed them correctly. The Gear IconX comes with three pairs of fastening fins and three pads of different sizes so that we can find what best fits our ear.
If we have never used in-ear headphones with this type of support, it may seem strange at first, but it will not take you long to get used to them.
On the other hand, to synchronize them we will need an Android device that works at least with Android 4.4 KitKat and has 1.5 GB of RAM. In addition, we must download the Samsung Gear App, to be able to link the headphones with our device.  Once the Gear IconX is linked, we can select which one we want to be our main headset, and configure many other things, (notifications, sounds, volume …)
If your Smartphone is less than 3-4 years old, you will not have any problem with these specifications. However, it is always better to inform yourself before purchasing a Gear IconX.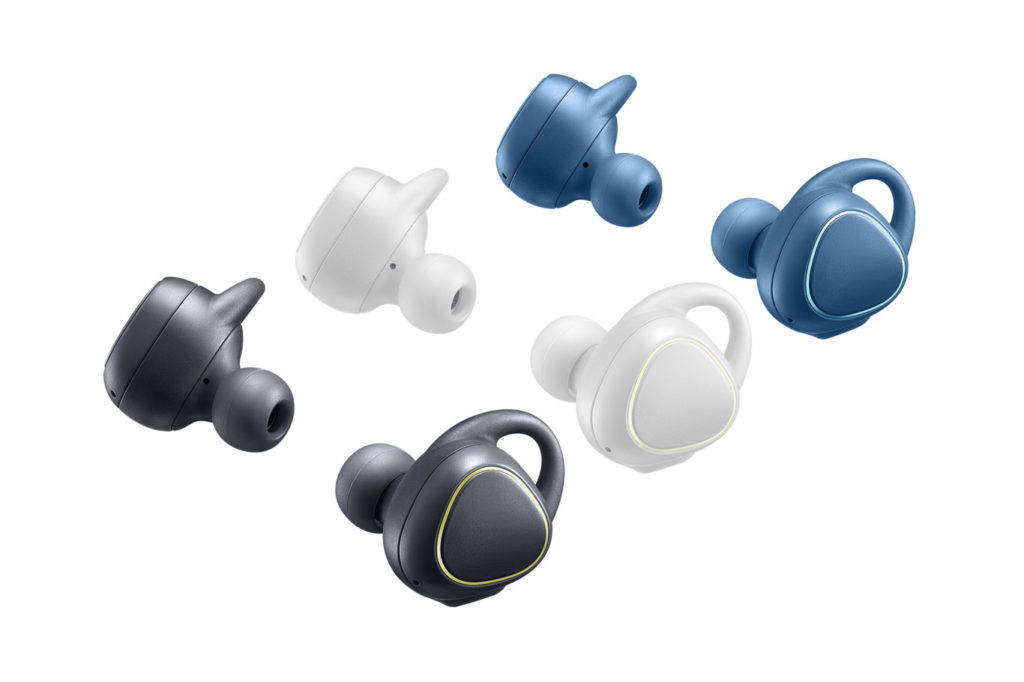 MONITOR YOUR PHYSICAL ACTIVITY



This is perhaps the most important qualitative leap of these headphones. The Samsung Gear IconX wants to position itself as part of the existing market for sports quantifiers, therefore, they have been designed with wireless HR sensor technology and accelerometer.
The Samsung Gear IconX are capable of measuring our heart rate
In this way, they track the physical activity that we do in a simple way. They are able to count the steps we take and can even measure our heart rate. On the other hand, they do not have GPS to locate us but we have this at our disposal on our smartphone if we carry it with us.
In order to monitor our exercise, it is necessary to download the Samsung S Health APP, only available for Android devices. Once the app is downloaded, by pressing and holding the multifunction touch panel for a few seconds we will access our physical information.
INTERNAL MEMORY 3.5 GB
The Gear IconX has an internal memory of 4GB of which 3.5GB can be used to store music. This means up to a total of about 1,000
It is not necessary that we carry our smartphone with us
songs approximately in mp3,  so that we do not need a Smartphone in our running outings . Also, it supports Spotify playlists. Although, now we will need a Smartphone.
One of the main problems of the Gear IconX is that we can only play the music from a Windows PC , since it does not accept Mac devices. We all know that between Apple and Samsung there is one of the most bloody business wars of the moment.
Price quality
As we have previously discussed, the new Gear IconX Bluetooth headphones are more than just headphones. They are a new concept and this shows in the price. They analyze our physical activity and are one player at a time. All this, without the need for cables and with the most advanced technology. Taking into account everything that they make things easier for us and the savings in elements, the price is not exaggerated, although comparing them with other wireless in-ear Bluetooth headphones it seems that it is.
On the other hand, a drawback of the Samsung Gear IconX is its poor battery life. And is that the headphones have a 47mAh battery while the cylindrical charging case offers a capacity of 315 mAh. With this capacity, the headphones offer an autonomy of two hours  that is even less if we use the training mode. It seems that they are focused on short races rather than marathons or long training sessions.
If what you are looking for is an in-ear bluetooth headset to perform intense sports such as in the gym, this may be your product, if on the other hand you practice long-term sports, we advise you to opt for another model of headphones.
Sound Quality
After putting on the headphones for the first time, you find that the ambient sound is no longer perceived as before. And is that the D900S have good insulation thanks to their extra long pads.
The Syllable D900S offers a  wide frequency range that covers all sounds, both high and low, from 20Hz to 20Khz, according to the manufacturer.
This is the section in which the Syllable stand out the most
The sound quality in vocals and treble is good and decent in bass.
The Syllable D900S have the aptX codec so that we do not have latencies with the sound or some type of cut generated in the transmission of the signal. Which on the other hand is very complicated because they have Bluetooth 4.0, one of the newest versions with a very wide bandwidth.
Apart from remarkable sound quality, the Syllable D900S offer a battery life of up to 4 hours in operation and 90  hours on standby.  To charge them, the case serves as a charging station, in this way we will not lose sight of them and they will be well protected.
To charge them we simply have to place them in the hooks of the case and a blue led will light up, warning us that the charge has begun. What strikes us is that the case works as an external battery, since once the case is fully charged, it can offer up to 6 full charges to the headphones. That is, we connect the headphones to the case,
Be careful, to pair them we must pair both headphones separately
and the case through a micro USB port we connect it to the current. When we have to go out, we can take the case with us and continue charging our Syllable D900S up to 6 times without having to recharge the case to the current again.
Sound Quality
A very innovative and sophisticated element is its multifunction button. All the controls we need are in a single button. Depending on the gesture or the times we press, we will control one function or another.
In the image we can see the types of commands that we can carry out and what they are for: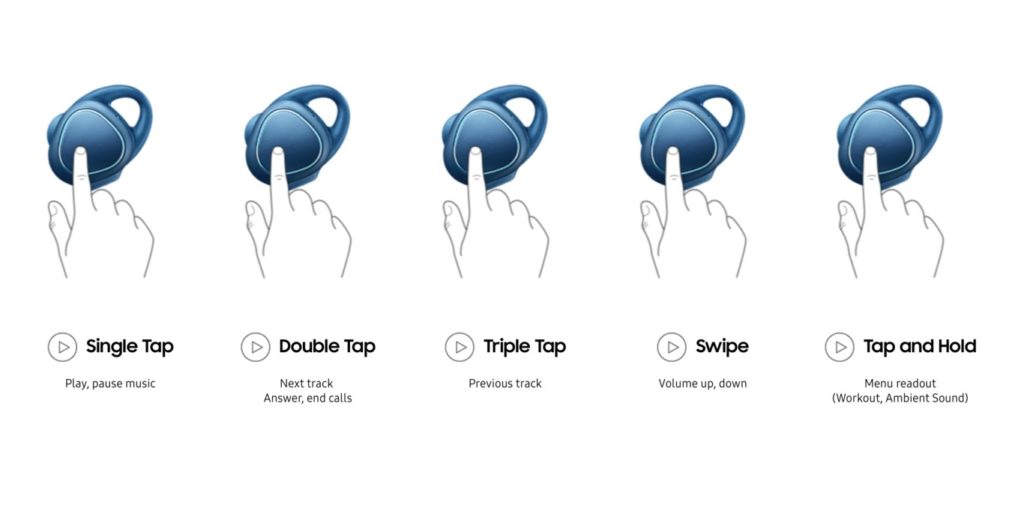 Once paired for the first time, we will no longer have to worry about pressing any button to turn them off or on, they are smart so they know when to activate/deactivate them.
Once set, if we want to start the training mode and the monitoring of our exercise, we will have to press and hold the touch panel for a few seconds until we hear a sound. Once the session is finished, we will press the touch panel again for a few seconds to transfer the information to the S Health app.  In it we can see our distance traveled, the average speed, duration, and the heart rate or calories burned.
The problem is that they work exclusively with running since they do not monitor data if we go out on a bicycle or others such as skateboarding, skates … but they do have a certificate of resistance to water and sweat, although they cannot be considered as aquatic headphones.
The sound quality of the Gear IconX is very good, with powerful sound and clear voices. The bass is louder than most in-ear Bluetooth headphones. Another great point in its favor is that there will be no cuts in the sound since these headphones work with version 4.1 of Bluetooth. This means that it has a very high transmission speed and we could even play uncompressed formats.