FOR THIS MANUAL YOU WILL NEED THE FOLLOWING TOOLS AND COMPONENTS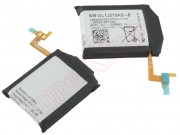 EB-BR760ABE battery sports watch for Gear S3 Frontier, R760 / Classic, R770
€ 12.15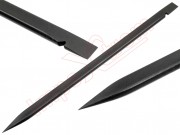 Opening tool Smartphone, mobile, tablet,
€ 2.15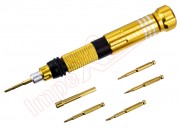 Precision screwdriver 6 in 1 devices for iPhone
€ 6.42
MANUAL: STEP BY STEP
Step 1  strap
We unhook the straps, for this, we will have to press the tabs that we indicate in the second photograph.
Step 2  Middle housing with NFC antenna
We remove the 4 Triwing screws (Y0.6) and unhook the casing with the help of an opening tool.
Step 3  Base plate
We disconnect all the flex cables that are connected to the motherboard, remove the 2 Phillips screws (PH # 00) and we can lift the motherboard, but carefully because there is a flex that is soldered.
Video  Manual summary
In the video, you can see a quick summary of the manual, but we recommend to follow the steps with the images, with their explanations, and their images of higher quality and detail.