With 1.2 billion users, WhatsApp is a similarly popular target for scammers like Windows. A successful distribution path are chain letters, which are distributed by strangers or directly from your friends. Do not be unsettled. Here are tips to identify WhatsApp scams and how to respond to them properly.
WhatsApp regularly changes and extends the range of functions of the chat app. But every change unsettles some users. Fraudsters take advantage of this uncertainty to make profit with links in wrong messages in WhatsApp chain letters. We have listed the usual scams for you and give general tips on how to deal with them at the end.
The warning of dangers
A classic among WhatsApp chain letters. Regardless of whether it is against criminals, "dangerous" curses, contagious diseases or a new cell phone virus: This message claims to warn you, but it actually only wants to spread terror. Gladly there is also a link attached here, which should provide you with more information or forward you to a protection app. But actually there is often a danger behind it:
"A dangerous cell phone virus called XY is currently making the round! If you catch it, it will break your phone in a few seconds. But luckily I have already found an app with which you are safe: [http: // … a.url / with.malware.or. worse]
Here, of course, it is important not to click on the link and to question such a message more than critically. Search the web on really trustworthy sites for the alleged danger if you are unsure.
Activates a new smiley
In April 2017, a hoax went around, according to which WhatsApp should get mobile emojis. However, the feature is only supposed to be activated if you forward the message to 13 of your friends. Already here you should answer the friend who sends you this with an evil selfie. The original sound of the message:
"Kraaasss! There are now emojis that move! Unlock the new mobile emojis now! [Http: //…eine.url/mit.viel.werbung]"
If you click on the URL (which we changed for your protection), dozens of porn advertising sites open and your cell phone starts to vibrate. Mobile phones with outdated Android may trigger SMS subscription traps, which have expensive follow-up costs. So do yourself and your friends a favor and simply delete the message so that you don't even accidentally click on the link.
Creepy creature momo
Since the beginning of 2019, Momo has been up to mischief on WhatsApp and scares young people and children worldwide who don't know what to do with this message. An unknown number suddenly appears in the WhatsApp contact list. The profile picture is a portrait of a woman, which reminds a little of a crow and Samara, the girl from "The Ring". The latter climbed out of the television in the film to scare people to death. The message, including spelling mistakes, says:
"Hello I'm Momo and I died 3 years ago. I was hit by a car and if you don't want me to be in your room at 00:00 tonight and watch you asleep then send this message to 15 contacts. You do not believe me?
Angelina 11 considers the message to be fake and doesn't send it to anyone else at night she hears noises from a corner of her room she wanted to look but suddenly something ran towards her the next morning she was found dead in her bed
Tim 15 just sent the message to 6 people next morning the next morning he woke up with an eroded leg and a cut arm
Linda 13 sent the message to everyone who found her true love today and lives with her boyfriend in a modern villa
If you do not send this message further you know what happens so pay attention and send it on "mainpost✔@mainpost
Eine #Horrorfigur namens #Momo klinkt sich im Internet in eigentlich harmlose Kinderprogramme ein und fordert die #Kinder zu gefährlichen Aktionen auf – bis hin zum Suizid. #MomoChallenge http://www.mainpost.de/10225524 Internetphänomen "Momo" treibt Kinder zu gefährlichen AktionenEine Horrorfigur namens Momo klinkt sich im Internet in eigentlich harmlose Kinderprogramme ein und fordert die Kinder zu gefährlichen Aktionen auf – bis hin zum Suizid.mainpost.deTwitter Ads Info und DatenschutzWeitere Tweets von mainpost ansehen
Of course there is nothing to it and there is no Angelina, Tim or Linda. However, the letter is particularly scary for children and young people. Here the police urge to talk to the children (even if Momo has not yet reported) and to make it clear that this is just a nonsensical chain letter.
Chain letter "WhatsApp will be charged"
Since September 2016 chain letters have been circulating, which should come from the WhatsApp boss himself. If you do not forward the letter to ten friends, you will have to pay for WhatsApp in the future. Of course, the message is gross nonsense, WhatsApp is and remains free.
Dear Whatsapp users!
We, (the Facebook team) (as you have probably already noticed) bought the free messenger 'whatsapp' for a total of $ 16 billion.
Since we now have Whatsapp, we only want the users to have Whatsapp.
Therefore, we would like to ask everyone who has received THIS message to forward it to all contacts. If that doesn't happen, we'll take that as confirmation that this user no longer uses Whatsapp, and his account will be removed.
Sincerely
your WhatsApp community
If WhatsApp has something to tell you, this happens right at the start of the app. Otherwise, official news will be posted on the blog .
Coupons and winnings
Occasionally, links and images also lure to online competitions. In order to increase the chances of winning on the free iPad, the free flight ticket or the money, you should share your participation with your friends at the end. In the background, the scammers are only concerned with getting your e-mail address cheaply or simply confirming that your telephone number is working. It is not uncommon for the links to lead to fraud websites with scareware , which should further unsettle you. These websites are happy to refer directly to WhatsApp.
WhatsApp needs to be updated
Do not be encouraged to update WhatsApp as a downloaded APK file. With the Android operating system, you should only use the Play Store to install WhatsApp updates. Files from any website could be Trojan horses manipulating your smartphone software. The Play Store, on the other hand, is automatically checked for malware by Google and is considered safe. In a separate article, we deal with the possible scams in those files .WhatsApp Messenger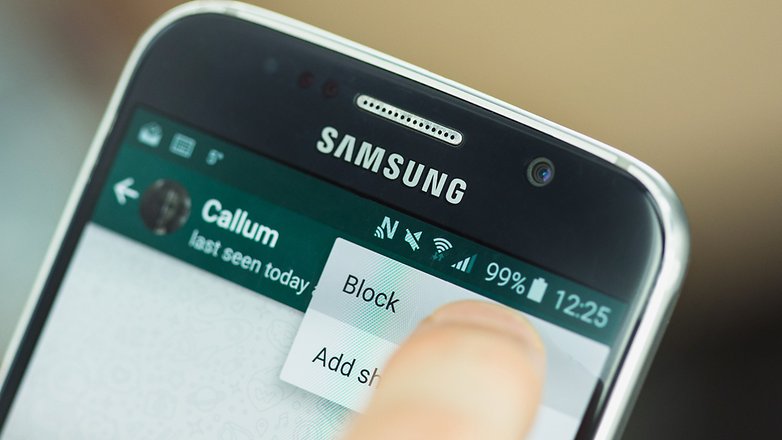 General tips for WhatsApp chain letters
In the official WhatsApp support, the following tips are given for chain letters :
Beware of messages that:
Have spelling and grammatical errors.
ask you to tap a link.
ask for your personal information (e.g. credit card or account number, date of birth, passwords, etc.).
ask you to forward the message.
ask you to tap a link to "activate" a new feature.
tell you that you have to pay for WhatsApp. (WhatsApp is a free app. We will never ask you to pay to use WhatsApp and you will never have to do anything to keep using WhatsApp for free.)
The so-called " strange messages " include the following types:
The sender claims to be acting on WhatsApp's behalf.
The content of the message contains the instruction to forward it.
The message claims that you can avoid a penalty, such as blocking your account, if you forward the message.
The content of the message promises you a reward or gift from WhatsApp or another person.
As an action, WhatsApp recommends blocking the sender, ignoring the message and deleting it because …
"Spam and chain messages can come from your contacts or someone else. These types of messages spread false information and seek to deceive you and elicit some behavior from you. If a message appears suspicious or is too good to be true to be, don't tap it, don't share it and don't pass it on. "