Interested in your Nintendo Switch, but worried that your battery might drop out along the way? We offer a selection of small actions to take to optimize the battery life of your hybrid console.
The Nintendo Switch will be supported for many years , with games and accessories releases to offer new experiences in the long term. Big N has planned a longer lifespan for its hybrid console than for its previous generations, portable and living room combined. But to enjoy it to the end, it is still necessary that the hardware hold up all this time. We are thinking in particular of the lithium-ion battery , which is very often the weak point of the durability of electronic devices (smartphones, laptops, etc.). This is why we give you here some advice to take care of the battery of your Switch and thus try tomaximize its lifespan .
Maintain the battery
As on cars, the battery of Nintendo Switch must be used and be recharged regularly to avoid falling flat . If you buy a PS5 or an Xbox Series X when they leave and you put your Switch in the closet, you must imperatively take it out from time to time to turn it on and recharge it . "Make sure to charge devices with a battery at least once every six months. If the battery is not used for an extended period of time, it may become impossible to recharge it "explains Nintendo. A tip that applies to the Switch as well as to your other battery-powered devices. This also applies to your old smartphone that you have kept in reserve just in case, and which may not be operational when its time is finally ripe.
Sleep mode
The Nintendo Switch has a customizable sleep mode . This allows, among other things, to automatically activate standby on the console after a predefined period of inactivity. You have the choice between 1, 3, 5, 10 or 30 minutes in portable mode and in table mode and between 1, 2, 3, 6, 10 or 30 minutes in television mode. By doing this, your device does not turn for nothing at full speed when you are not using it. And after a few years of use, the difference in the state of the battery is felt .
Beware of heating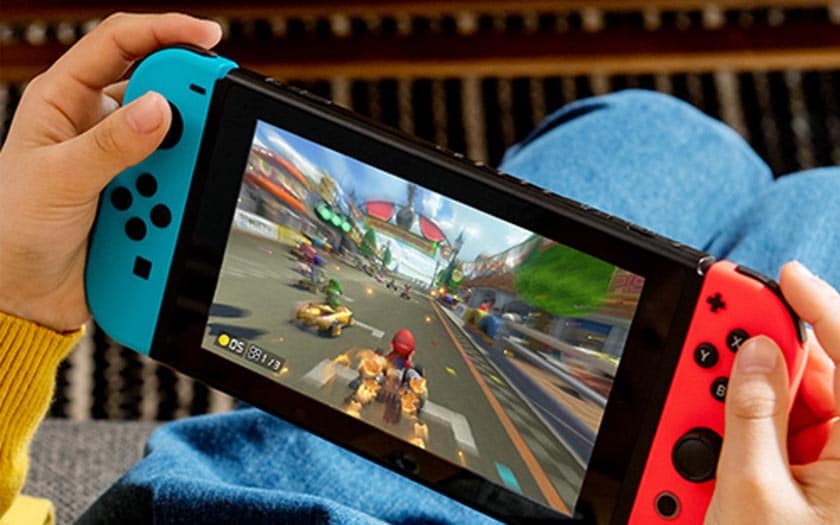 Avoid overheating your Nintendo Switch to conserve battery life. For example, it is not recommended to play a resource-intensive title on the console while it is being recharged . Like any electronic device, the Big N hybrid is sensitive to heat . In case of high temperature, do not leave it exposed to the sun . Do not forget it in front of a stove or radiator during the winter. Finally, moisture is not a friend and should be avoided.
Do not forget to go hunting for dust at the ventilation so that it does not enter the bowels of the device. Dust will not directly damage the battery, but may damage other components. And if these do not work properly, it can cause the console to overheat, which would damage the battery.
An external battery to blow the main
The problem with the external battery is that it adds weight to the console, which can be less pleasant to use in portable mode. But there are models, high-end, which manage to combine high capacity , compact design and relative lightness .
On its official website, Nintendo announces that " as the charging cycles progress, the battery life gradually decreases ". This is the case for all lithium-ion type batteries. If you use an external battery, you boost the autonomy of the console, but also the life of its battery , since it is less used and therefore requires fewer recharge cycles.
Optimizing the use of the Switch's battery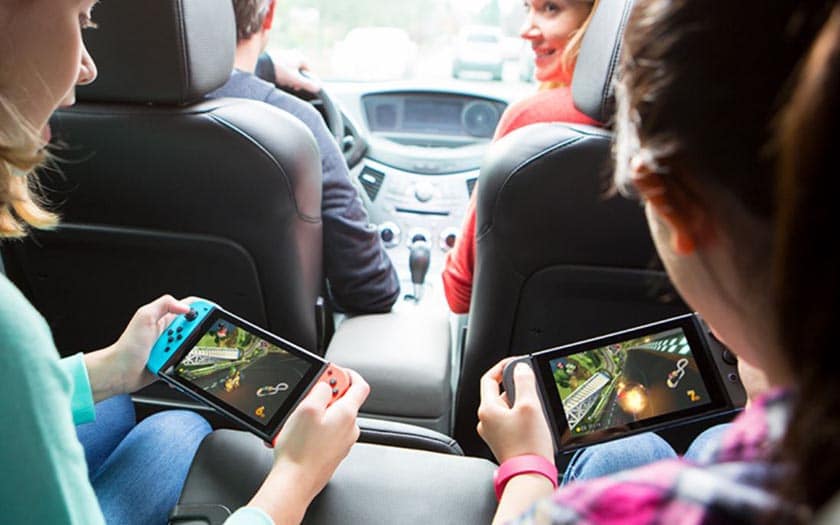 As we could see a little above, the main cause of the deterioration of the health of the battery is quite simply the recharge. And to avoid recharging the Switch too often (without stopping to play it or imposing top constraints), it is possible to optimize some settings to regulate its energy consumption.
As on smartphones and laptops, it is often the screen that is one of the most demanding elements in this area . When possible, we suggest that you lower the brightness of it. When you are in a dark environment for example, which requires only a little backlight from the LCD panel of the console.
If you don't need connectivity, switching to airplane mode can also help . Network search is also an energy-consuming feature. The vibrations of the Joy-Con can help strengthen immersion in the game, but the motors that allow this also draw on the Switch's energy reserve. You can deactivate them if you do not consider them essential.
Replace the battery
On the long dull, all those little touches can help snack a little while and extend the life of your battery. But if you bought your Switch in March 2017, as soon as it was released, it is likely that even if you pay attention or play very little in portable mode, your battery at some point indicates serious signs of weakness.
In this case, you will either have to rely only on an external battery or replace your battery . Nintendo, which applies a policy fairly close to that of Apple in this regard, strongly advises not to change the battery yourself or to go through a third-party service to do so . Instead, you are invited to contact Nintendo Customer Service to proceed with the substitution. You will have to send your console to the manufacturer, as in the case of a repair.
To pay less, you can also ignore Nintendo's recommendations and buy a battery to replace it yourself. You can help yourself with tutorials available on YouTube. You can also go through a specialized third-party company if you don't trust your capabilities. Attention, take into account the fact that this will cause the warranty to lapse if it is still active.