The MIUI Android interface has been in development at Xiaomi for a long time, even before the manufacturer started producing smartphones and other gadgets. MIUI is now in its tenth version and is better than ever. Do you have a Xiaomi smartphone? Then you shouldn't miss these tips and tricks.
---
Warning: some features may not be available on all Xiaomi smartphones and in all versions of MIUI. We used a Xiaomi Mi 9 with MIUI 10 as a reference .
A whole world of topics
One of the best aspects of MIUI is the ability to deeply customize the smartphone software. The attention to detail of Xiaomi is not lost and there is no need to use extra applications.
To change the design of your interface, you first have to download new themes. Simply open the Themes application , which you can find on your home screen. You will immediately be redirected to the online shop, where you can search, download and buy new themes for your smartphone.
You can then decide whether you want to use the entire theme or only parts of it, for example if you only like the symbols or the font used. So you can customize your smartphone by mixing different themes.
You can under Settings – Themes check , which packages you have downloaded.
The display can do much more
It's true, no display is perfect. But MIUI makes it possible to adapt the display so that it largely satisfies us. Under Settings – Display you have access to a variety of screen adjustments:
Reading mode – Reduces the blue light so as not to strain the eyes. You can program the activation and deactivation of the function at certain times or after sunset.
Colors and Contrasts – Here you can change the color temperature and the intensity of the color saturation.
Always-on mode – By activating this switch you can see the time, date and notifications even when the display is switched off. This is particularly useful if your smartphone has an AMOLED display.
System Font – The font and size can be adjusted in this section.
Double touch to wake up – Activate this switch to wake your smartphone with a double touch on the display instead of pressing the power button.
Raising to wake up – Similar to the function implemented by Apple on the iPhone, the display turns on when your smartphone lifts up.
Dark Mode – Dark Mode is only available with Android Q, but Xiaomi already makes it available on some smartphones. Dark mode is easier on the eyes at night and helps to save energy with an AMOLED display.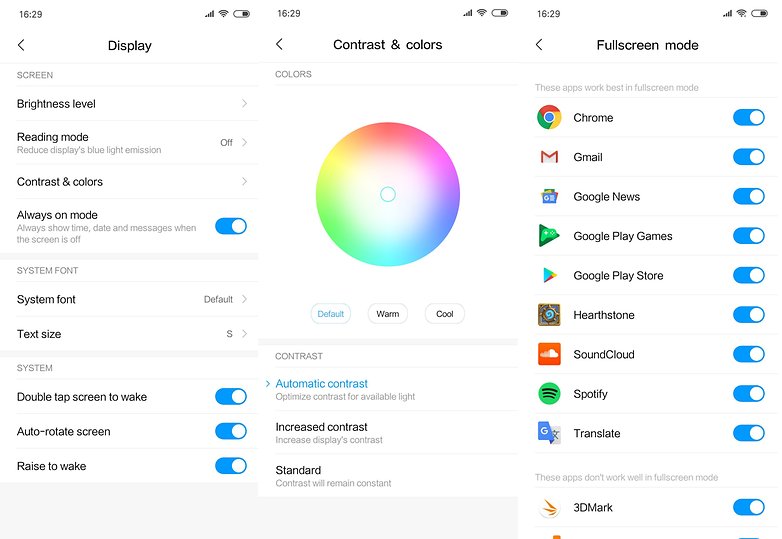 A status bar full of useful information
MIUI has specific options that allow you to display additional information in the status bar.
Go to Settings – Notifications and Status Bar to adjust the options from there:
Notification folder – MIUI groups the notifications you mark as unimportant in a separate folder.
Show connection speed – This shows the speed of the data or WiFi connection in real time.
Change operator name – Would you like to christen your first SIM "private" and the second SIM "work"? It works here.
Battery indicator – The remaining battery charge can be shown graphically or in percent.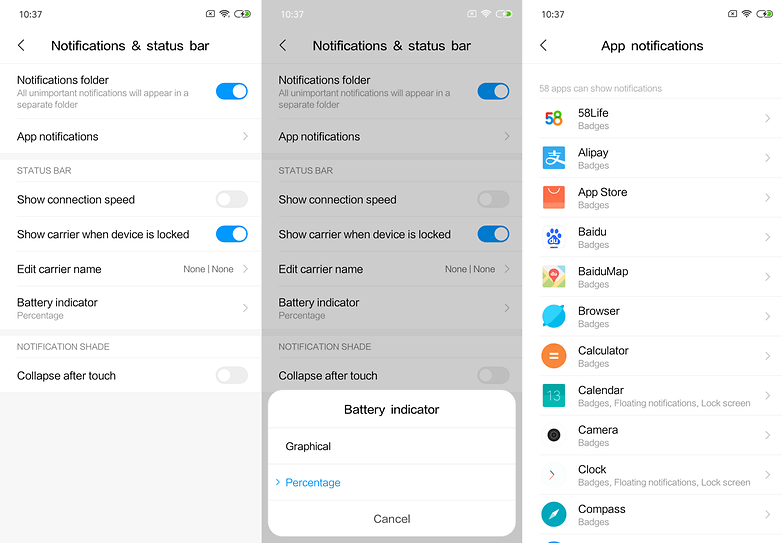 Unlock your smartphone – without the fingerprint sensor
If there is one feature that I think is really practical, it is facial recognition. Thanks to this biometric method, you can unlock your smartphone by looking at it. With some Xiaomi smartphones, this function is faster than the fingerprint sensor.
Go to Settings – Lock Screen – Password – Add Face Data.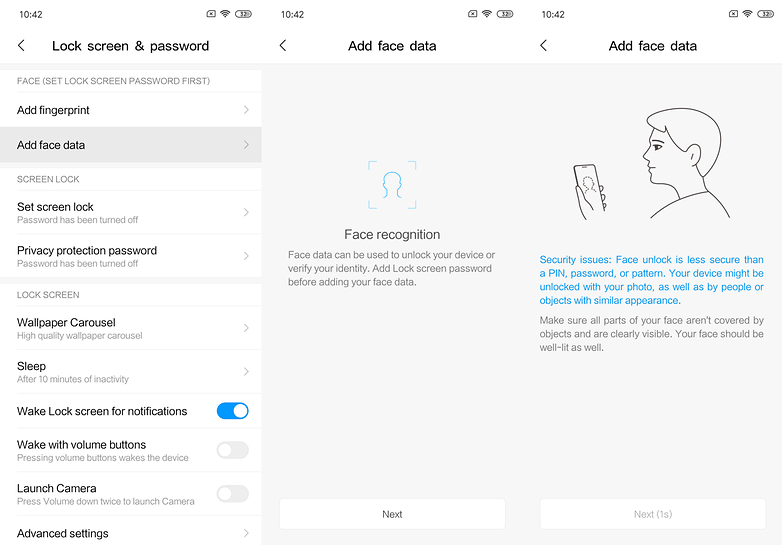 One version of the app for you and another for work
Do you often have to use multiple accounts in social or messaging applications due to your hobby or profession? Many apps allow you to quickly switch between accounts, but not all. Xiaomi has a solution for this: You can use apps with two accounts at the same time.
You can find the Clone app function in the settings below . With this element you can easily and intuitively choose which apps to split.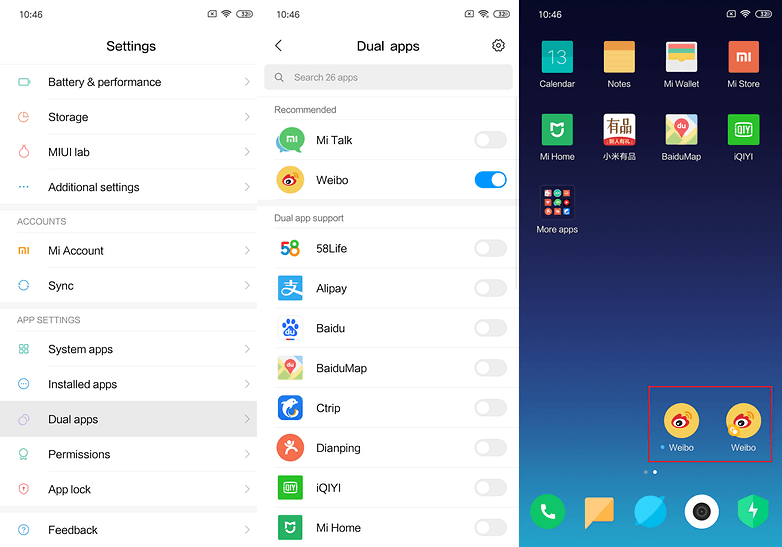 Protects apps with personal content
MIUI also offers many functions that were developed for app and data security. In the App Lock menu item of the settings, you can block some apps to prevent them from being opened by the curious if your smartphone presses someone else's hand.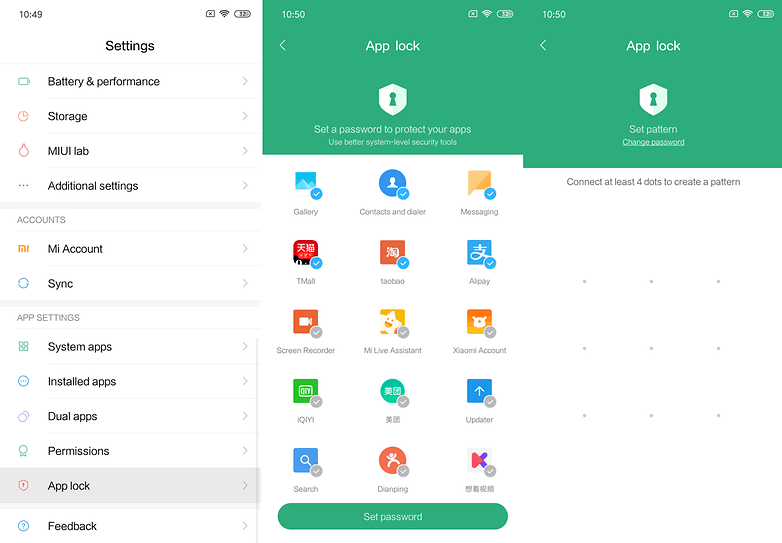 Time to relax
Now that you have calibrated your display, adjusted your smartphone and secured your apps, you can finally breathe a sigh of relief. Did you know that the MIUI watch app has a meditation and relaxation function built in? Simply open the app, select the timer and choose a relaxing sound from the duration.
Forest
Summer night
Beach
rain
Bonfire