Any time passed was better? Discover how to see old photos of Google Maps places from Street View and see how everything has changed
Google Maps is celebrating and continues to add features that make it one of the most complete Google applications. Now it will make it easy for us to see old photos of places on Google Maps from Street View . We may not be able to see when a place "was all countryside", but surely we will see the most recent changes that show the constant transformation that the main cities undergo, the same one that applications like this one face.
This new feature will be added to our phones in future updates to mark the 15th anniversary of Google Maps, which has been celebrated this week. Users of Android and iOS devices will be able to see in Street View what a specific location was like in the past , which will allow us to see the change that can occur in a short space of time after major works, as has recently happened with the Gran Via of Madrid.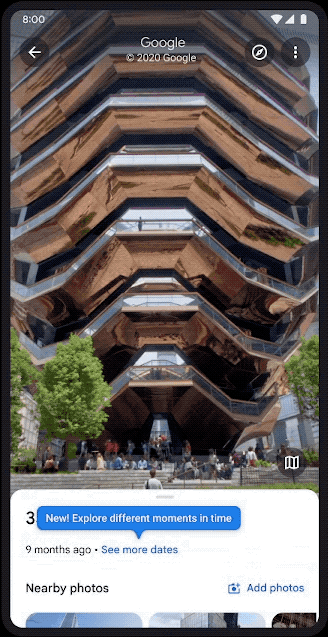 The new feature of Google Maps on mobile will be called Historical Street View and will take advantage of the historical archive of 360-degree photographs that Google cars have been taking from the streets to get an idea of ​​the evolution of the recent past. It is still in the adoption phase in the updates that are coming, so if you still can't find it on your device, it will be a matter of time, until you see a button that says 'See more dates' that will show images of that same location more ancient.
Actually, this function of Google Maps was already accessible from the desktop version (by clicking on the clock that we find in the upper right part of the screen we will see the historical images), but for the first time it will be incorporated into the mobile application.
Although Google will include the images collected since 2007 to show these changes , not all areas of a city will be available, so it is likely that this function can only be enjoyed in the nerve centers of large Spanish and European cities. Those who live in small towns will probably have to make do without old images of their locations.
OTHER NEW GOOGLE MAPS FEATURES TO COME
Google is making more and more improvements to its apps, and in this year that marks the 15th anniversary of its GPS and navigation app, there will be other new Google Maps features to come . With Street View Studio, without going any further, users will be able to upload their own 360º images, as if they were the Google car. Before publishing these images, they can be previewed so that the user can check that they are to their liking.
It is also in the plans that the expansion of Google Maps reaches more places than it has done so far. The Palo Alto company assures that it will use a new camera that will occupy the same space as a cat's house weighing less than seven kilos. This can make Google Maps expand its limits and can access streets and narrow places where it has not been able to slip in because its dimensions are incompatible with those of its cars. Thousands of charming towns in Andalusia will surely be much more complete when Google begins to use these new cameras that are easier to handle and move.
Another detail that shows that Google Maps is celebrating is that Pegman, the characteristic yellow doll that we drag where we want to activate Street View mode , now has a hat and a balloon to celebrate the application's 15th birthday. This cute feature is only available on the web version of Google Maps, and you can also change the car icon while navigating to choose your Street View car .