The only way you have to protect the WhatsApp profile picture is to configure your privacy and prevent strangers from seeing it.
There is no control to prevent them from saving your WhatsApp photo. Unlike. If a person can see your photo, the application offers the option to download it or even share it. And even if there was no such possibility, it is not difficult to make a copy of it.
How to prevent my profile picture from being stolen from WhatsApp?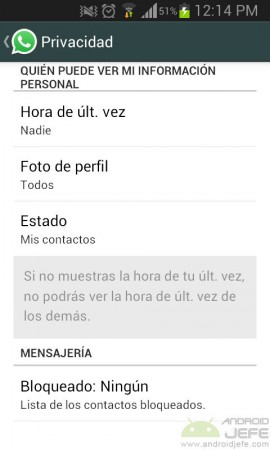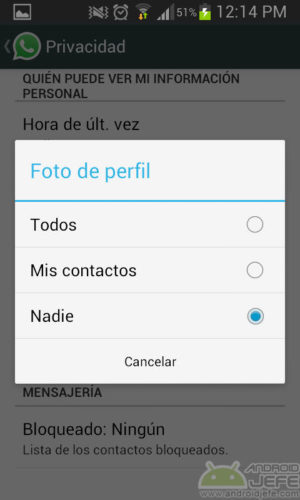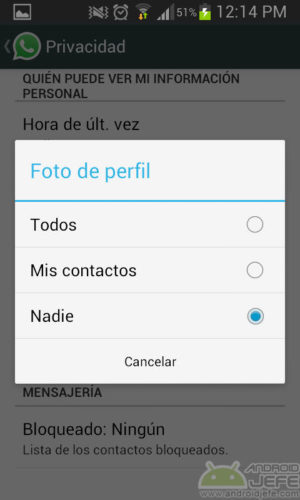 As we said at the beginning, the only way to protect your profile picture is not to show it:
Open the WhatsApp application
On the Chats screen, tap the menu button (top right)
Select "Settings"
"Bill"
"Privacy"
"Profile picture"
Choose "My Contacts" or "Nobody"
Obviously, when selecting «My contacts», it means that only those numbers that you have stored in your cell phone's agenda will be able to see your photo. "Nobody" means that your profile picture will not be visible on any other device, except yours. You will only see the typical figure of the "mysterious man".
It's a bad idea to use the "Everyone" option, because it means that anyone with your number will be able to see your profile picture (even those who aren't in your phonebook).
Certainly WhatsApp could remove the option that allows others to download or share your profile picture. You could even lock screenshots within the app, to prevent them from saving it like this. Unfortunately, there is no indication that these things will be done in the future. And even if it were, obviously your profile picture would not be safe anyway. Nothing prevents other people from capturing your photo with another cell phone, for example. If you really want to keep your photo safe, it is best not to put it as a profile.
How to protect your photos from the Internet or cell phone
How to hide or block Last Time on WhatsApp, Photo and Status, without tricks
KeepSafe, application to hide your photos and videos
Receive updates: SUBSCRIBE by email and join 10,000+ readers. Follow this blog on Facebook and Twitter.