You don't necessarily have to go a photo studio in a formal suit. You can use any of the informal photographs you have on your cell phone and add the suit and tie quickly. There are Android applications that allow you to do this. The result can be obtained with just a few taps on the screen to put it on the card or resume.
If the photo of your face is straight and frontal, surely the photomontage will give you the final result you expect. In case the photo is toned (as in the illustration below), you'll need to do a little more pre-editing work to better fit the suit's perspective. You can use an app like Snapseed to crop, rotate, or even change the perspective of your face before putting it on a suit template. If after making the photomontage you have residues or parts of the photo that stand out and you want to erase, you can use an app like Background Eraser. If you want a perfect result, you will already need something like the Adobe Photoshop PC software.


Photomontage of men's suit made with the first application of this listing. Result perfected with Adobe Photoshop.
Photomontage Men's Suits (EvSoft)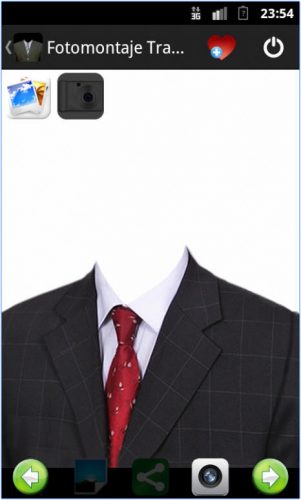 The suits in this app are quite classic. They are not waisted. There are several designs, although in all cases only the upper part of the suit can be seen. Also, the perspective or view varies slightly.
Download Photomontage Men's Suits (EvSoft) : play.google.com
High Quality Photo Montage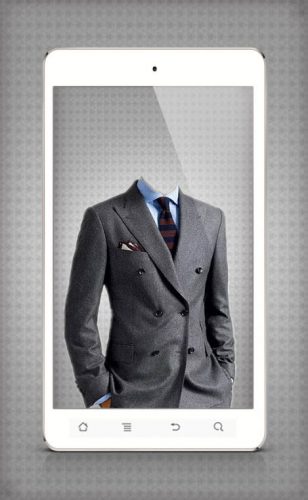 This app offers fashionable outfits. They are body-shaped designs with modern colors, so it will be ideal for young people. Most of the costumes are complete, from head to toe, and are in very varied perspectives. This makes it more likely that you will find a template that precisely matches the perspective of a photo. This app has allowed me to find a suit that adapts very well to my difficult photo (shown above), where I am lying down and with a slight rotation of the face.
Unfortunately this app disappeared from Google Play, but there are several alternatives available.
Once the photo montage of the suit has been made and the result has been saved in memory, it is recommended to uninstall these applications. They are among the best rated on Google Play and fulfill their purpose acceptably well, but the advertising is annoying. Even when not in use they often bring up ad screens.
How to put people in photos (photomontage)
Take passport-size photos with your cell phone
The 3 best APPS to erase imperfections in your photos, body or face
Receive updates: SUBSCRIBE by email and join 10,000+ readers. Follow this blog on Facebook and Twitter.