Do you have an Echo speaker with Alexa and want to play music from Spotify? Nothing's easier ! To do this, simply link your Spotify account with the Alexa application or connect your smartphone via Bluetooth. We explain how to perform the operation in this quick tutorial!
Wondering how to play songs from Spotify on an Amazon Echo speaker with Alexa ? With over 83 million subscribers, Spotify is the most popular streaming platform on the market. However, Amazon, like Google, has its own streaming solution. In the case of Amazon, it is Amazon Music . However it is very simple to use Spotify instead – you just have to perform these few simple steps on your smartphone. As an alternative we offer you the method to connect your smartphone via Bluetooth if you do not have a Spotify Premium subscription.SUMMARY
How to play music from Spotify with Alexa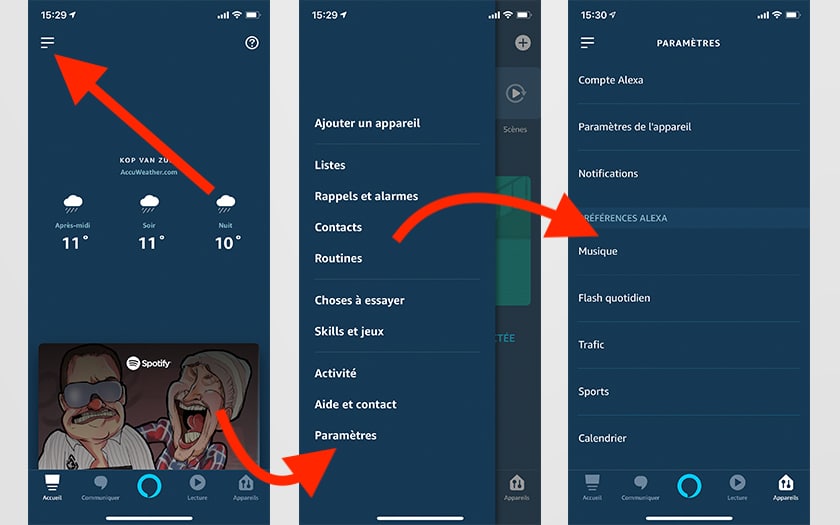 For that :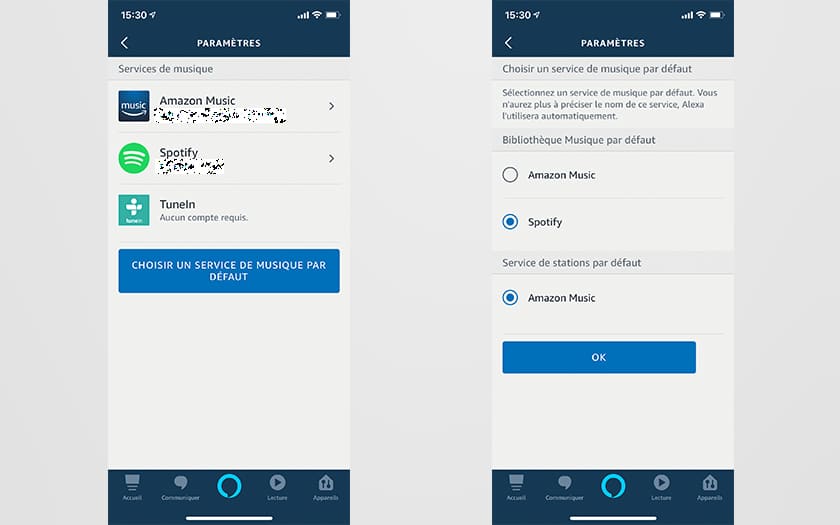 Then go to Choose a default music service
Obviously choose Spotify
•• To be able to use Spotify in this way with Alexa, you must have a Spotify Premium account
Now, as soon as you ask Alexa to play a piece of music, it will be played from Spotify. You can also ask them to read one of your Playlists, including Weekly Discoveries . You can also stop playback, skip to the next sound, or turn up the volume by simply requesting it. We recommend that you read our file on the best Alexa controls to get the most out of voice commands for music playback.
In addition, from the moment a song is played from Spotify, you can control the playback and play other songs without voice command, from your computer or your smartphone, as long as you use the same Spotify account on these devices and your speaker. In Spotify, at the bottom of the window, you can also click or touch Available devices and choose your Alexa speaker to play music on it, without using voice commands.
How to use Spotify with Alexa without paying a Spotify Premium subscription
There is currently only one method: connect your smartphone to your speaker using Bluetooth. For that :
Make sure the smartphone can be discovered and paired via Bluetooth in the settings
Tell your speaker: "Alexa, Bluetooth"
Your smartphone is now connected and you can choose your speaker as audio output
Launch Spotify on your smartphone: it will play on the speaker until you disconnect it
Did you succeed or encounter difficulties? Share your feedback in the comments.