You probably want to see who is connected to your WiFi to know how many devices are connected or if your internet is stolen . And if it is the latter, make sure to disconnect or block the potential intruder. This is very easy to do from your own cell phone or computer.
Even though the WiFi network is keyed, you may have intruder equipment connected to your network. If the internet is slow, you can't play online or the videos don't load fast, maybe someone is stealing your internet, taking up your valuable bandwidth.
Application to know who is connected to my WiFi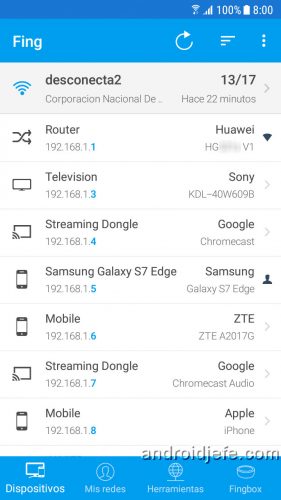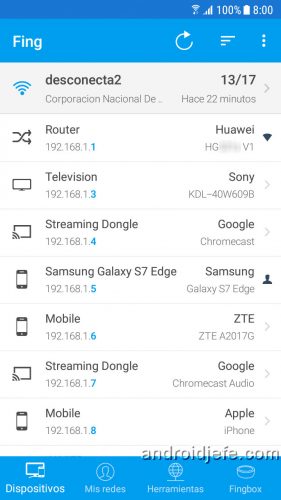 Devices connected to my WiFi
There is a very easy way to find out this. From your Android cell phone, using a great free application like Fing.
This app allows you to see who is connected to your wifi and something else. You just have to be connected to the network. Open the application and you will immediately know which and how many devices are currently connected.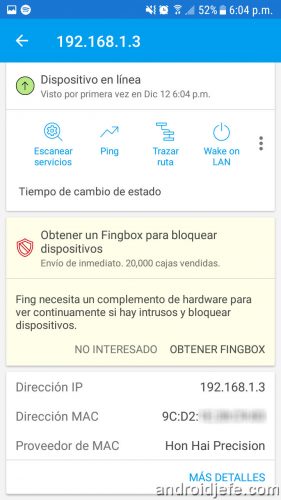 Fing displays the name, IP address, MAC address, and network card manufacturer of all connected computers. PCs, laptops, phones, TVs, mobile devices, modems, routers, etc.
I don't recognize the devices connected to my WiFi
It is very important that you register and log in to the Fing app. Only then will the app show you the brand, model and type of device in all cases. And so you can recognize which computers are yours and which are intruders.
In my case I came across names that I did not know what they were, such as Hon Hai Precision ( Foxconn , a huge manufacturer of electronic equipment), or AzureWave Technology (wireless modules). They are companies that make network cards for a multitude of computers. But after logging in, I was able to know which of my devices they corresponded to.
Hon Hai Precision ( honhaipr ): Sony TV, Laptop HP
AzureWave Technology : Google Chromecast
China Dragon Technology : TV Rivera
Murata Manufacturing Co. Ltd .: Samsung Galaxy S7 Edge
Tap on each of the computers you don't know and write down their "MAC Address". It will serve you next to be able to block them.
Despite being logged in, you may still come across devices under the name " Generic ". In that case, you can use this page to find out information about the seller.
Program to see who is connected to my WiFi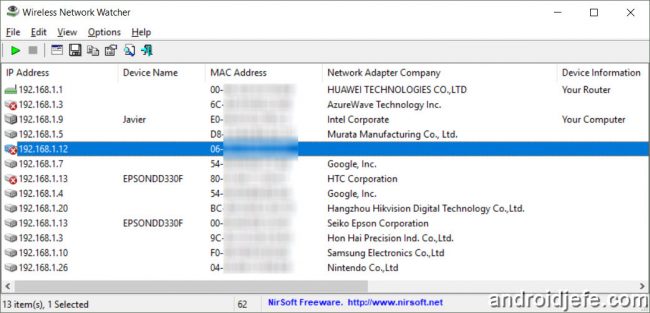 To know who is connected to your Wifi from a computer, you can use the recommended program for Windows Wireless Network Watcher, from the renowned developer Nirsoft. This program is not 1 MB in size and it is executable, so it is not even necessary to install.
Block intruders connected to my WiFi
Once you have detected intruders on your WiFi, it is time to disconnect or block them. The easiest is to change the WiFi password , and thus they will automatically lose access. But you can also do something more advanced, such as blocking access from your device.
This is done in the configuration of the device that provides the internet signal in your home. It is called a modem or router .
Unfortunately, the steps to follow vary from one team to another. But the idea is the same for everyone.
Change the WiFi password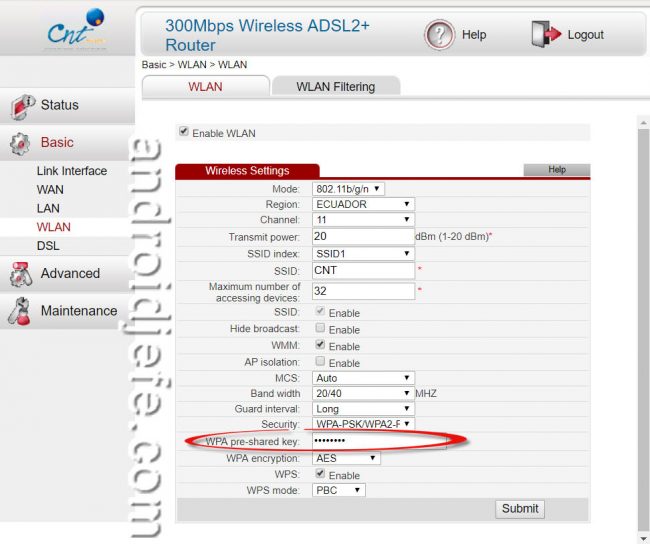 Open the web browser on a computer.
In the address bar, enter the IP of the modem to enter (commonly 192.168.1.1 or 192.168.0.1)
Go to the WLAN (Wireless Lan) menu or something like that.
Choose WPA PSK as Security.
Enter the security key, of at least 8 characters.
Save the changes.
Block access to WiFi
How to Block WiFi Intruders
Open the browser and enter the IP of the router or modem.
Select WLAN (Wireless Lan).
Click on WLAN Filter (or a related term).
Enter the MAC address of the intruder's computer. You can see the MAC Address in the Fing application.
Save the changes.
We have done exactly this in a Huawei HG532S modem. We have detected that, in this particular model, when the intruder tries to connect, "connection error" appears. That is, it cannot even get hooked to the network and there appears to be a problem with it.
More about the Fing Network Tools app
If you need to see more information about the connected devices in the Fing app, just tap on them to see details. For example, the first time you were online, the time you have been online since, and the name of the network group, if you have one configured.
Additionally, Fing allows you to send a "Wake on LAN" package from the Android device to any of the computers on the network. This is useful, for example, in case you want to turn on a PC from the Android device, as long as the PC is in sleep mode and has this function configured. It also allows you to ping a computer to see if there is correct connectivity with the mobile.
When a device has recently disconnected from the network, Fing may also display it in the device list, but with an opaque color. If that device is selected, it will be seen in the displayed information that it is not active ("down"). Active devices are displayed in bright color and indicate "up" in their detailed information.
If you use the English language, you can enter the settings part where you will find various parameters related to all your wifi networks you have connected to, TCP, Ping, «Traceroutes», DNS, Wake on LAN, TCP connection tester, etc.
Now that you know who is connected to your Wifi, you can check that the MACs of the listed computers correspond only to the computers in your home. If you find an intruder, the first thing you should do is change the Wi-Fi password and restart the modem or router.
Download Fing
How to know when someone connects to WhatsApp
How to appear offline on Facebook and Messenger (remove green dot)
How to turn the cell phone into a surveillance camera with local or remote access
Receive updates: SUBSCRIBE by email and join 10,000+ readers. Follow this blog on Facebook and Twitter.