It is possible to be reimbursed for an application purchased on the Google Play Store. Sometimes, we cracked a little impulsively for an Android application which turns out to be very disappointing. To recover your money without administrative steps, you have 2 hours to act. We explain the maneuver from A to Z.
First of all be aware that Google has several refund policies , the first is the possibility of being reimbursed within 2 hours and without any particular question. The second is the possibility of being reimbursed within 14 days . Finally, the third is the possibility of asking the developer directly to be reimbursed. As a reminder, the Google Play Store may soon offer a Play Pass subscription , which will give you access to hundreds of euros of applications.
For the last two it will be necessary to justify this request for reimbursement, either for example because the application no longer works after an update or even because we have changed phones and it is no longer compatible with the new one. So let's see together how it goes in each case.
How to get a refund from a Google Play Store app within two hours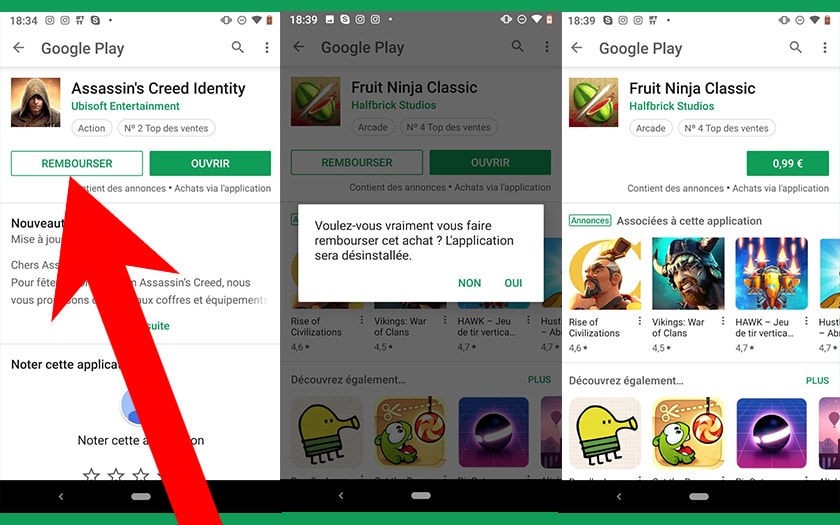 You have just bought an application, unfortunately the latter does not suit you or then malfunctions on your smartphone, do not panic you can be reimbursed within two hours without justification . For that you need :
Go to the page of the application you want to get reimbursed for
Press Refund
Confirm by pressing yes
That's done !
Here under the minutes that follow you will have the confirmation of the refund, again it is repeated this method works only within 15 minutes after the purchase of an application. Please note that you can only return an application or a game and get reimbursed once . If you buy it again, you will not be refunded.
How to get an application refunded within 14 days
The method is a little different, actually to be reimbursed for an application within 14 days you will have to fill out this form . In this last Google asks you your name, first name, type of purchase and reason for refund .
Because yes, this method also works to be reimbursed for an in-app purchase or a monthly subscription to an application. After Google asks you how to contact you, it is better to select by call, as this will be faster. The study of the request takes approximately 15 min for an application and up to two working days for the other requests.
How to get an application reimbursed directly from the developer after 14 days
Finally last case, if you exceed the period of 14 days or if you have a problem with an application you can request a refund directly from the developer , it will be up to him to decide whether or not he accepts the refund.
To do this go to the application page, then at the bottom in the details is the developer's email, copy it then send an email with the reasons for the refund. The duration of the treatment will really depend on the developer, for large developers it can take a few minutes for the smallest several days.
Here I hope this little tutorial will be useful for you to reimburse an application or an in-app purchase. And if not, have you ever used a refund on the Google Play Store? Have you encountered any problems with these few systems?