Google now allows you to schedule the erasure of your web history and location. It thus becomes possible to delete it automatically every three months or every eighteen months. A welcome option which is added to those allowing to activate or deactivate this history completely, so that we can continue to benefit from recommendations and other personalized services, while limiting the risks for your privacy. This tutorial allows you to simply activate automatic deletion.
Google constantly keeps track of your activity on your devices. This is particularly true when you use Google Assistant on your smartphone and / or a Google Home speaker – you then have two choices: either deactivate this history completely, and no longer benefit from personalized results, or activate this history permanently and risk that 'one day this data will play tricks on you, or be exfiltrated by malicious people. However, Google has just announced the establishment of a sort of in-between: automatic deletion of history web and localization. The functionality allows you to delete your history without intervention on your part every three months or every eighteen months. This feature is being deployed, so if the steps in this tutorial don't work today, try again in a few weeks.
How to schedule automatic deletion of your Google web history and location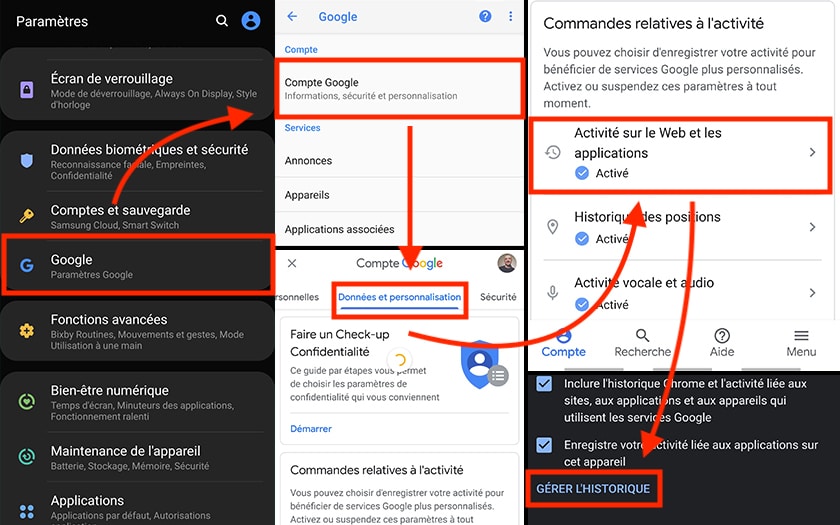 For that :
Click on this link to access My Activity on your PC, Chromebook, smartphone or tablet (regardless of device), or go to the Settings on your smartphone, then Google> Google Account> Data and personalization> activity on the Web and applications
In the Activity on the web and applications section, click on the Manage history button.
Select Choose to delete automatically
Important : if the functionality is deployed on your account, the Choose to delete automatically button must appear in the Activity section on the web and applications . If necessary, you will have to retry the steps of this tutorial in a few days / weeks.
Then choose 3 months or 18 months depending on the recurring duration after which you want the deletion to take place
Validate
Note : the first time you confirm automatic deletion, all content older than 3 or 18 months (depending on the case) will be deleted.
Read also: YouTube – how to clear video history?
Have you successfully activated this feature? Do you find it useful? Share your opinion in the comments.