GitHub's mobile app is now available to all users. The company wants to make it easier for developers on the go.Reading time:1 min.Save in pocketRead outPrintviewRead comments14posts
GitHub Mobile is now available to all users. So far, the smartphone app was only available as part of a beta program for iOS and Android. Developers can use it to comment, evaluate and add code on their smartphone or tablet. The app is supposed to be your extension of the website and is "an important part of GitHub's future".
The app was launched for iOS as a beta version of the developer conference GitHub Universe 2019. Android users were put off and only started using the app in early 2020 . According to GitHub, both apps are based on the same code base, but are completely native applications on the platforms. 10,000 iOS users and 50,000 Android users participated in the beta programs.
The work that developers do in the app can be seamlessly continued on the website. The work on code reviews is synchronized across all platforms.
Five developers and two apps
In an interview with heise online, Ryan Nystrom, who heads the app's five-member development team, reports that a lot has been learned from the feedback from the beta users and that numerous features have been or will be integrated at the request of users. "We have a feature backlog of around 6 months," said Nystrom. The developers also use their app for daily work, which makes it easier to find problems.
Syntax highlighting was a particular challenge. The responsible code and the underlying data models date from the company's founding. You had to invest a lot of work so that the data models interact with the highlighting in the app. The highlighting for the dark mode has doubled the work again.
It was easier to use the new notification system that GitHub was also presented as a beta during the Universe. The code was brand new and the teamwork went well with Nystrom explained.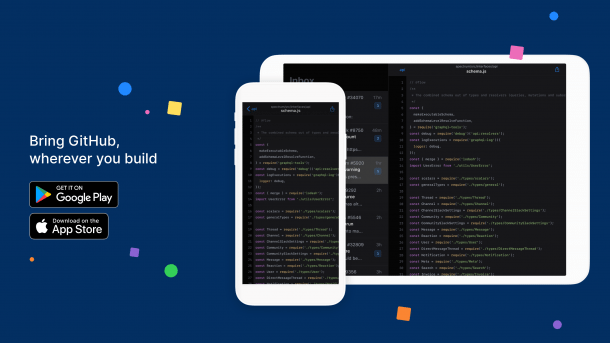 More features in the near future
Nystrom emphasizes that the current version is "really only a 1.0 release". Not all features are integrated yet. In addition, the use on Android tablets is not yet as you would imagine, but work is being done on it. In the future, they want to release new versions every five weeks.
A feature that is often requested by users are suggestions for mentioning users in comments. So far there has been no time for this. The app has an overview of favorite repositories ahead of the website. You can mark repos with an asterisk on the page, but just not mark them so that they are always displayed first. If the favorite repos are well received by users, they could also become part of the website. ( mls )