Developers have to accept restrictions when reviewing and approving apps. Google also promises help for the community.Reading time:1 min.Save in pocketreadPrint viewread comments
Delays in reviewing, releasing and publishing apps via Google Play are one aspect of the restrictions that Android developers have to accept, at least temporarily, given the Covid 19 pandemic. As the Play Store team explains in a blog post, the review process can currently take up to seven days or longer. However, Google wants to prioritize critical apps to ensure that important updates can be made available to users as quickly as possible.
In order to be able to pass on information about Covid-19 in a precise and timely manner, apps in this regard should preferably be processed if they have been published, commissioned or authorized by state institutions or health organizations. In addition, Google only plans to list apps on this topic in the store if they do not contain any mechanisms for monetization – for example, advertising, in-app purchases or calls for donations.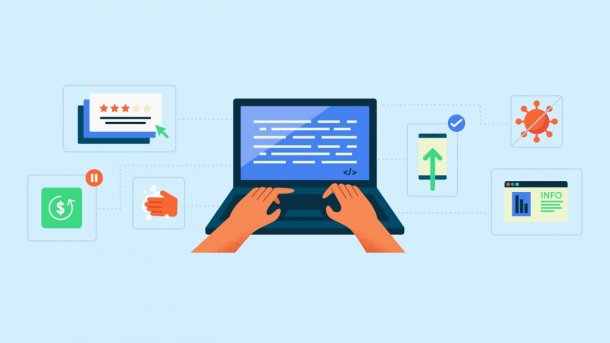 Offers of help and best practices
In order to accommodate developers affected by the exceptional situation, Google Play also announces help for the community. The group has launched a $ 340 million advertising credit fund for small and medium-sized businesses. SMEs that have been active advertisers on the Google Ads platform since at least early 2019 can apply for support. Further details on the conditions of the initiative can be found in the relevant support document . Organizations that develop new offers for distance education for children want to support Google with the likewise new Distance Learning Fund, which is endowed with at least 10 million US dollars.
The blog entry from Google Play summarizes an overview of all measures and offers . In addition, the team has compiled a collection of best practices for developers who subscribe to their apps and want to help their customers in the current crisis – for example through delayed invoicing or refunds. ( map ) Comment on contributionTo home page